Learn stonemasonry and more at Moulton College
The art of stonemasonry has existed for centuries – ever since humans started making and using tools to survive. From those seemingly 'menial' tools to some of the world's most impressive buildings, stonemasonry has evolved over the years to produce many architectural wonders! The Eqyptian Pyramids, Stonehenge, famous temples in Asia like Angkor Wat and Borobudur, the Acropolis in Greece and the Parthenon are just a few examples. Stonemasonry allows artisan craftspeople across the world to leave a beautiful legacy – appreciated for centuries and even millennia.
That is how Emma Dexter thinks of stonemasonry. Since 2015 Emma has headed the stonemasonry courses at Moulton College in Northamptonshire. Before that she spent her time as a freelance stonemason, carver, artist, teacher / lecturer and furthering her post-graduate education.
The stonemasonry courses she runs at Moulton are for anyone who is interested in a career in stonemasonry, conservation, restoration or construction. "We provide you with hands-on banker work experience; relevant subject theory lessons and skills-based training. There will be continuous practical and theoretical assessments as you work through the course," she says.
"Would you like to make your mark on a historical building? You can! Students have the opportunity to complete two weeks work experience at Exeter Cathedral – completed in 1400 and boasting stunning features including a vaulted ceiling, a set of misericords and an astronomical clock. This is a fantastic opportunity for students to put their stonemasonry skills into practice."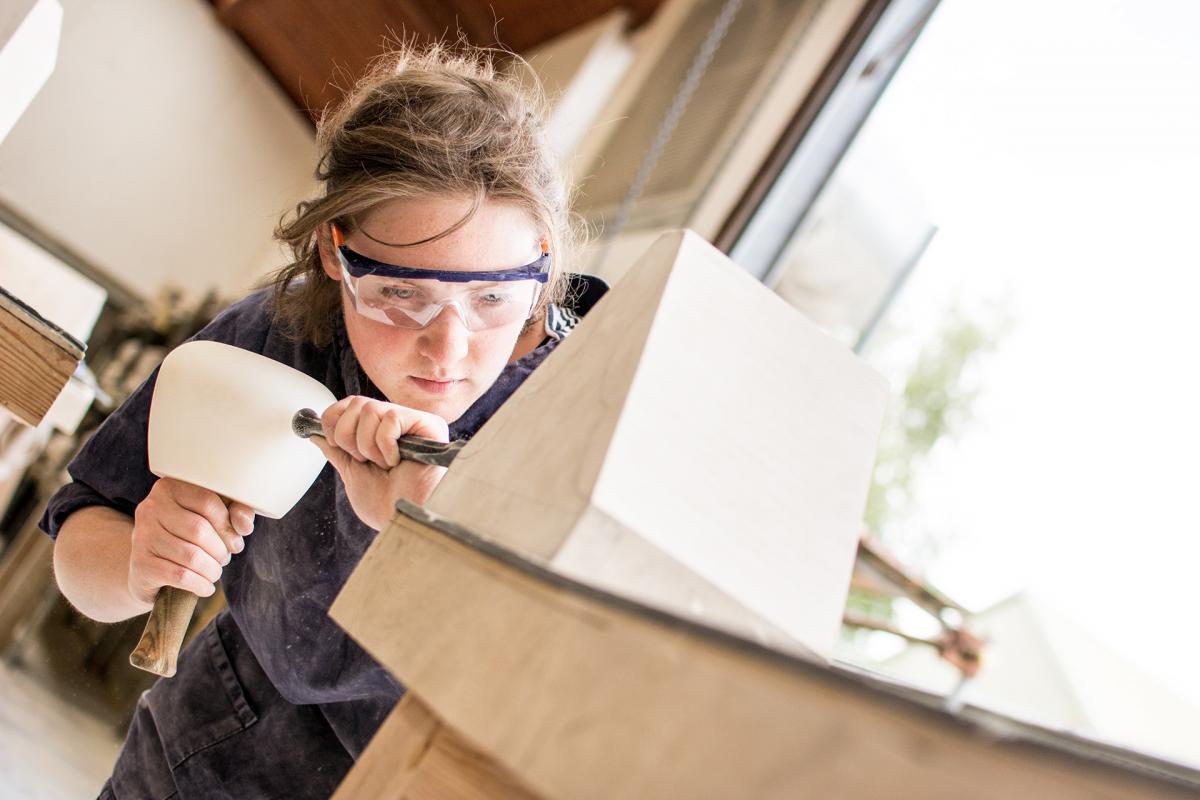 At Moulton you can progress through Diplomas in Stonemasonry at Levels 1, 2 and 3, be helped to look for an apprenticeship in stonemasonry and continue your studies with NVQs once you are in a job. 
This course is free for 16-19 year olds, although students are often more mature and for them the Worshipful Company of Masons, one of London's Livery Companies, provides funds to help with course fees on application. Find out more about this funding here.
Once on a course, there are opportunities for additional training in lettercutting and stone carving, as well as the work experience in cathedrals and with local stonemasons. You will also have the chance to enter national skills competitions. If you want to take a look around, you can attend a college open day or try a taster day if you want to know if this course is right for you.
Contact: Course Manager, Stonemasonry Lecturer Emma Dexter, MA, 01604 491131 ext 2272 / [email protected].