A qualified workforce: by Mark Priestman
Mark Priestman has more than 20 years' experience in the natural stone sector. He plays an active role in the development and delivery of training in this specialist environment. Along with his father, David Priestman, he runs a training consultancy whose mantra is: Qualify the Workforce!
It's that checklist time of year again! And training and development ought to be part of our considerations for the year ahead. Here are some desirables you might want to include on your checklist.
CSCS and 2020
There is no escaping the fact that CSCS cards are increasingly a requirement on contracts. Tenders ask questions about a company's take up of the card scheme, as do pre-qualification questionnaires.
It is almost a certainty that on-site your managers, supervisors, heritage skilled workers, skilled operatives, trainees / apprentices and labourers will be asked to show a card that matches the skills set of the work they are carrying out.
The parliamentary committee that steers CSCS nominated 2020 as the year that CSCS needs to adjust its requirements so all card holders have achieved a card through an NVQ (or an approved alternative). Hence the news of the death blow to the Construction Site Operative, Construction Related Operative, Site Visitor and Industry Accredited cards in recent times.
Health & Safety Executive and dichloromethane
Natural Stone Specialist has repeatedly joined me in flagging up the legislation against the use of façade cleaning paint strippers containing dichloromethane (DCM).
The use of DCM on site by contractors is generally banned across the EU, including in the UK (even after Brexit). The UK does have an exemption to that rule, mind, where an operative holds an HSE certificate of competence to use the chemical.
If you use paint strippers, check out the ingredients on the packaging to see if DCM (sometimes called methylene chloride) is included. If it is, stop using the product until you have these certificates in place. Don't fall into the trap of believing HSE is too busy to police this. Take note of the 10-month prison sentence reported above.
Trainees
Many more projects these days require contractors to show commitment to qualifying the workforce through a traineeship or apprenticeship as a requirement of the tender. One way to prove traineeship commitment is by using the CITB Specialist Applied-Skills Programmes (SAPs).
I am aware of two that I co-deliver. The first is Facade Preservation, the second Stone Fixing. There is a third for Heritage Stonemasonry.
SAPs are available fee-neutral to CITB registered firms for delivery to employees. Typically, the learner is mentored at work for the first year, during which they also attend a handful of off-site training events with a training  provider. For the remaining six months the learner is guided in building a portfolio of evidence and is assessed for the NVQ.
*********************************************
We at Priestman Associates had an early return to training at the start of the year with a company called Building Transformation. We covered our 'Principles of…' training packages for facade cleaning systems and also for supervision and leadership. On day three, a smaller group undertook our dichloromethane course and passed the HSE test for their certificates of competency. I was impressed to see not only operatives present but also supervisors, admin teams and the business owner.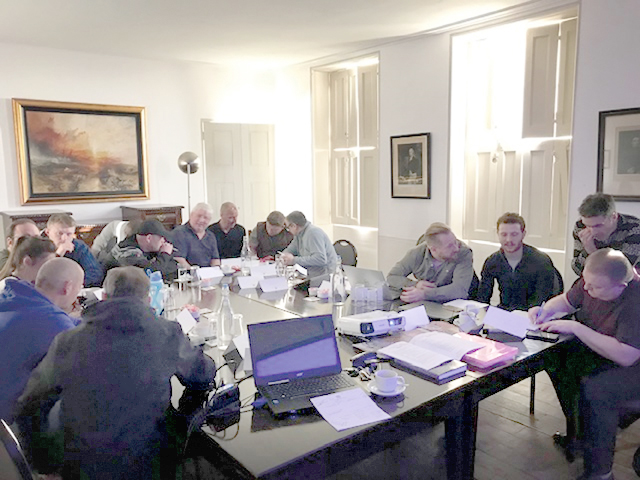 The team at Building Transformation during a training exercise.
Mark Priestman is a Partner at Priestman Associates LLP, a leading façade preservation project consultancy. From stonemasonry and heritage skills through to Site Supervision and Conservation Management, the partnership is trusted by the leading brands of the sector as an NVQ provider for experienced, upskiller and apprentice workers.  Mobile: 07876 687212.