Adhesives, sealants and enhancers: For surfaces that can cope with lockdown
Kitchens can be harsh environments, with hot pans, steam, corrosive and staining materials and a lot of use, especially when they are also being used for home working and schooling. It makes it more important than ever for fabricators to use the right adhesives, sealers and enhancers on the surfaces.
The pandemic has made life tougher for kitchens. Children at home 'helping' with the cooking can be punishing for worktops. So can their homework with its marker pens and crayons.
When adults are working at home on kitchen worktops, food and drink can get spilled and you don't always want to break off from a Zoom or Teams meeting to mop it up straight away.
Kitchens have always had a hard time and for many have always been the hub of a home, where the family comes together. It's a role that has been increased in many homes since March last year, becoming a full time centre for work, schooling, cooking, eating and family living.
It has also encouraged people spending more time at home to refurbish their kitchens, which has kept worktop fabricators busy.
Hopefully, when hard surfaces are installed, appropriate sealers and enhancers have been used to keep the worktops in tip-top condition to survive the extra use that kitchens are now getting, just as appropriate adhesives have been used in the manufacture of drop fronts and waterfalls.
Normally when this magazine focuses on adhesives, sealers and enhancers, the suppliers have something new that they want to encourage customers to try. The past year has not generally been considered a good time to launch new products, especially as most of the exhibitions where they would normally be introduced have either gone online only, which both exhibitors and visitors are still getting to grips with, or have been cancelled all together.
However, there are one or two developments as well as some old favourites you might like to be reminded of in case you have not used them for a while or want to explore something different just in case it is better or easier to use than what you are currently using.
Of course, many stonemasons are fiercely loyal to their favourite brands and, especially with glues, often have their own secrets that they don't want to share about how to use them for best results. Nevertheless, if you are looking for a particular product or want to try something different, here's a quick run through what some of the suppliers suggest you might like to try from their ranges.
For consumers there is all sorts of advice on looking after natural or engineered stone worktops available online, including a new blog and video from Affordable Granite in Charlwood, Surrey, which is owned by Andy Phillips, one of the founding directors of the Worktop Fabricators Federation (WFF), which is championing professional worktop fabricators. You can see the blog at www.affordablegranite.co.uk/sealing-granite-worktops/#.
For those who are using Dekton, Lapitec and Neolith sintered stones and large format porcelain to make worktops there is Iridium from D Zambelis. This is an epoxy adhesive that uses the same hardener and paste pigments for colouring as are used with natural stone. It is a strong glue for interior use, including on mitres, and comes as transparent, black and white.
As sintered stone and porcelain have become more popular in the past few years, D Zambelis says it has been selling more of this. Companies like it because it is the same as using an adhesive on stone.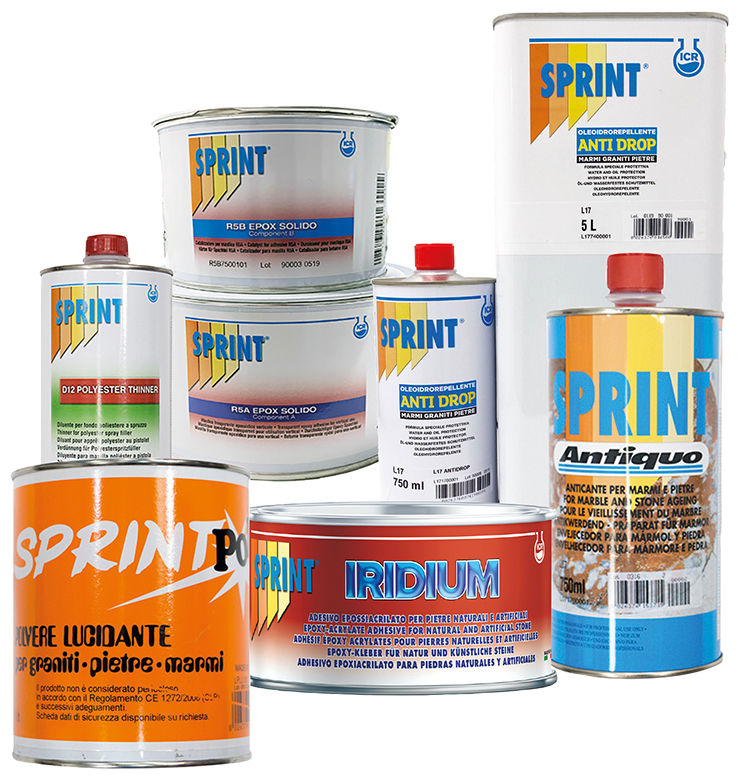 Then there's the 2K system from ICR Sprint, another epoxy adhesive (R5A used with the R5B hardener). Made In Italy, it can be used for all hard surfaces, including sintered materials and porcelain, and can accommodate a wide range of temperatures, so can be used for exteriors as well as interiors. It is also good for vertical surfaces. It is transparent but can be coloured with paste pigments.
ICR Sprint also makes the Antidrop solvent-based sealer that D Zambelis sells, which repels both oil and water. It does not change the appearance or colour of the stone and is available in 750ml or five litre dispensers.
If you want to enhance the colour of the surface as you seal it, ICR Sprint makes Antiquo, which is a resin-based product that gives the stone an aged, patinated look to really bring out the colour.
A traditional wax finish for a high gloss shine, especially on dark worktops and vanities, can be achieved using Glossy, ICR Sprint's liquid wax. It is light resistant, waterproof, non-yellowing and provides protection against kitchen acids in foods and condiments.
If you require a high polisher on an application where a polish is difficult to achieve by traditional methods, such as draining grooves, then Brillo from Ilpa is the answer. It is a silicone-based wax that will provide the required shine.
Diluente is how the Italians say 'thinner', and Diluente from ICR Sprint is a polyester used for thinning solid glues like the company's Policrystal clear adhesive (unobtrusive on marble joints), so it can be used for filling in small holes and fine cracks. It can be used with any colour of stone or glue.
Finally, Poteen Powder from Sprint, sometimes used with the combination of Oxalic Acid. This is a traditional method used by masons for years to restore or polish natural stone. Mixed with water to a paste consistency, Poteen enhances further the polish already achieved from abrasives in new material, or to revitalise existing surfaces.
Advanced Stone & Masonry Supplies (ASM Supplies) was formed in 2018 by David Coster, who represented Dry-Treat in the UK for many years, and Gary Timpson to sell Dry-Treat products in the UK and Ireland.
Since then there have been some changes. Dry-Treat is now branded as Stain Proof and  ASM Supplies has added the Tenax range of glues (mostly) to the products it is selling.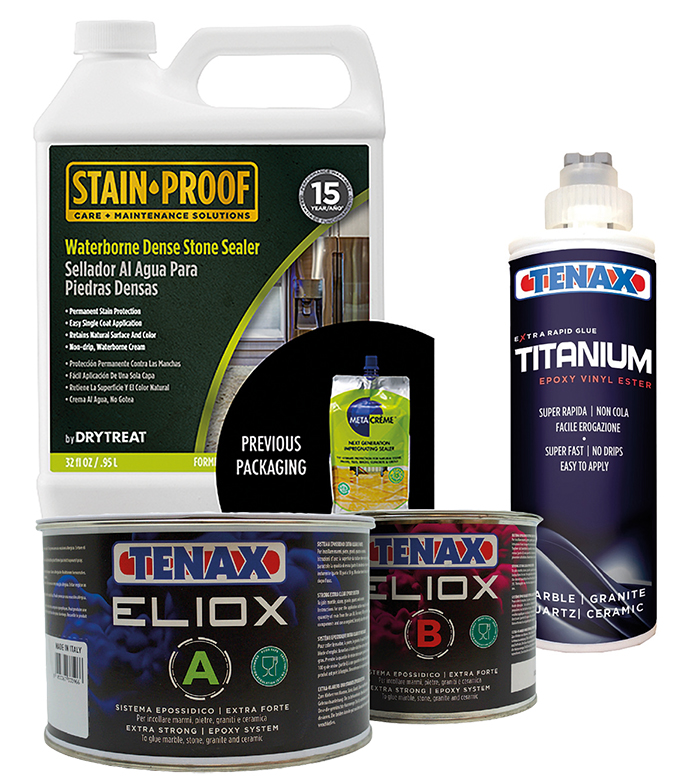 David Coster said from the beginning that having a distribution company of his own would allow him to look at supplying a broader range of complementary products and it looks as if there are more to come as the company's belatedly launched website also includes categories for tools, blades and PPE, although there are currently no products on those pages.
The Stain Proof (Dry-Treat) range of products have always been highly regarded sealers and cleaners for stone and other kitchen hard surfaces. The sealers work by creating Van de Waals forces that prevent liquids from penetrating porous surfaces – and most worktops are porous to a greater or lesser extent – rather than adding a coating to the surface that can be damaged so its sealing abilities are compromised. Stain Proof penetrates the surface and cannot be compromised.
Tenax has also been a favourite in stone workshops for many years and covers the whole gamut of adhesives as well as some sealers and cleaners of its own.
Tenax adhesives include Eliox, a clear (although it can have colours added) epoxy knife grade glue approved for food contact.
It is used to fill, glue and laminate marble, stone, granite, quartz and ceramic. It can be used indoors and out, is easy to spread, has particularly low levels of shrinkage and leaves a bright surface that is easy to polish.
Then there's Domo, an  epoxy that gives a particularly strong bond for use on interiors and outside. If you really don't want your 2+2 edges to come apart, this is the Tenax glue you should use.
Domo is available in white or black. It starts to set in two hours at 25°C. Stone does not have to be dried as it sticks effectively to wet surfaces. Note: If you want to colour the white Domo you should use colour powder, not polyester colour tubes.
Tenax polyester 3G solid resin is similar to the standard Tenax polyester resin, using the same hardener. It is suitable for natural stone and agglomerates and can be used vertically. 3G can be coloured and, when dry, can be sanded and polished. It is slightly less creamy and a little cheaper than standard Tenax polyester glue.
Polyester liquid resins have a consistency like treacle and flow well into holes and pits in the stone, helping to produce a strong bond. Colour pigment can be added to change the colour of the resin, which is then mixed with a small amount of hardener. Once set, the resin can be sanded and polished.
Tenax Titanium is a two-component cartridge supplied in individual units for loading into a Universal Cartridge Gun. It is supplied with two mixer nozzles that will always produce the right mix of vinyl and hardener.
It bonds quickly, the hardened product is flat, shiny and easy to polish, and Titanium comes in a choice of 35 colours.
It is for use on quartz, marble, granite and natural stone and is designed for mitring, laminating sheets, glueing seams and mounting sinks.
These are just some examples of the Tenax range. You can see the whole range on the new ASM Supplies website.
Waters Group now holds in stock the full range of Bellinzoni, Akemi and Integra products – plus several other leading brands.
The Akemi products cover everything you want to do with stone, from cleaning and sealing to adhesives.
For any material used for worktops there is a product to be found, and demand for those Waters supplies just keeps increasing. "We have found demand for the products sometime overwhelming and we've had to double what we envisaged keeping in stock," says Director Daniel Waters.
He says the best sellers are the Akepox Mini Quick epoxy adhesive, Akemi Platinum epoxyacrylate adhesive and colouring pastes."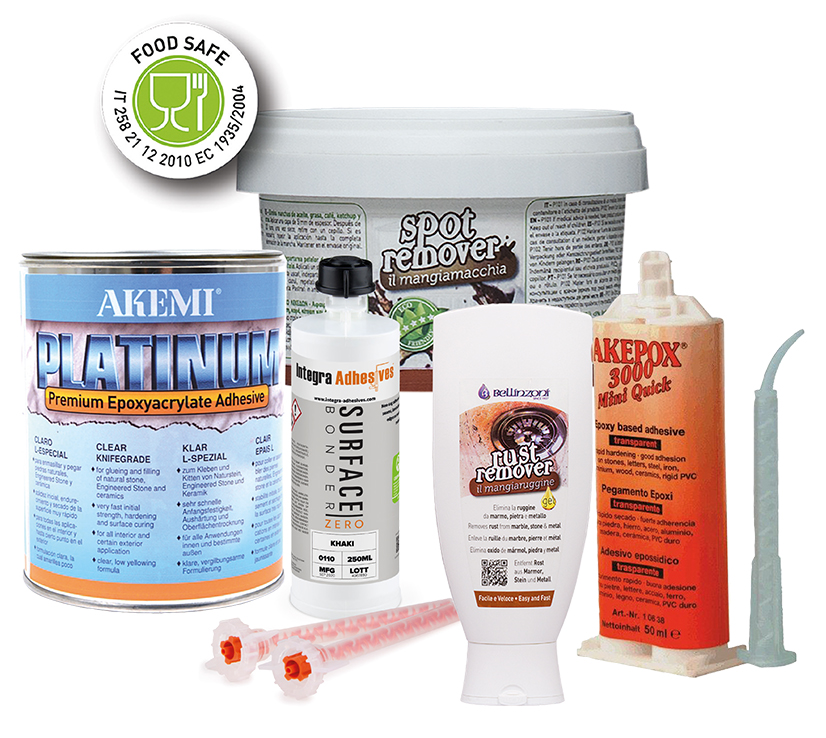 Waters Group has been selling Bellinzoni products for more than 10 years, with the problem solving stain removers, such as Mangia Macchia and Mangia Ruggine, always being popular, both to the Waters Group's own trade customers and to homeowners where a stain has developed that needs removing.
Like Akemi, Bellinzoni offers a comprehensive  range of cleaners, sealers and adhesives.
Integra is now making adhesives in the UK, which, post-Brexit, brings jobs to Britain and benefits the economy. Waters Group stocks more than 100 colours of the new Zero adhesive for next day delivery and any standard colour not in stock can be obtained within 48 hours.
There is an app from Integra Adhesive that helps customers select just the right colour required for the material they are using from the already matched library. The app includes a colour swatch and a calculator to work out how much glue is required.
Zero has replaced Bonder XI for colour-matching glue for indoor use. It is slightly thicker than Bonder XI, which makes life easier for customers.
Ultra is the version for outdoor use. It is UV resistant and stronger than Zero, but comes in the same range of colours.
Rodding bonder, for securing worktop strengthening bars, and component bonder for metal-to-stone adhesion (for sink clips, for example) are also made by Integra and available from Waters Group.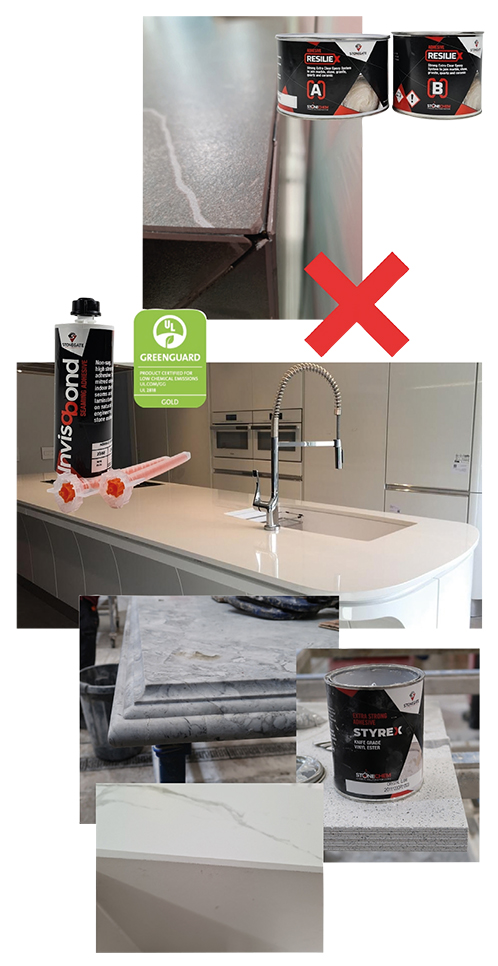 The market for stone adhesives and sealants is expected to grow by 9% in the next few years, with much of the growth coming from the increased demand for home improvements and the rise of new property developments.
Kitchens have long been the heart of our homes, but now they are expected to fulfil multiple other functions which is seeing them grow, as the trend for open plan living continues, and incorporate more mixed materials to create a space with contrasts. Waterfall worktops are right on trend, adding to the beautiful multifunctional spaces customers are seeking.
Colour has always been used well in kitchens and with a return to darker worktops, colour is coming from the upstands, bright and bold splashbacks, and zonal flooring.
With all the choices of materials, textures, and colours available now, the question: is how do you work with them for a 'mix and match' to create a perfect, seamless finish for your customer?
Stonegate believes it has the answer with an extensive range of adhesives and sealants to suit every need and demand asked of fabricators. You can see the full range on the Stonegate Tooling website, but the company has here highlighted some of the range to bring to your attention.
First is the new version of the seaming acrylic adhesive, 'Invisabond'. It lays claim to being eight times stronger than the leading polyester brand, with a new and improved formula being more viscous to respond to the seaming snags, sunken joints, and pin hole challenges that frustrate Stonegate's customers. It makes the fabricators job easier and quicker from the first application. 
Invisabond is a colour match adhesive, so you should find a colour to match the stone and designs you are working with and have the seamless finish you need. Being more viscous, it will not drip in the way older adhesives did and can be used in vertical applications. It means it can be used anywhere in your workshop or on site, there is so little mess with it.    
Another customer favourite from Stonegate is Styrex. This is a Vinylester clear adhesive, perfect for bonding mitres and seams. It can be used on any stone, ceramic and ultracompact surface, making it ideal for fabricators using the whole range of surfaces available these days and for coping with requirements for built-up edges. Styrex is a particularly strong adhesive that cures quickly and, when mixed with Base Colours, can be used to colour-match across the board with the range of surfaces available. 
If you're looking for a really versatile adhesive capable of taking on any job inside or out, Resiliex might spark your interest. This extra clear epoxy adhesive is food safe and easy to spread, giving you a high gloss brightness.
Working outdoors creating a barbecue area? No problem. You can use Resiliex indoors and out with the peace of mind that it shrugs off wet conditions and won't yellow in the sunlight, giving you a guaranteed seamless joint that won't split over time, no matter what the weather throws at it.
Fill, glue, laminate and bond marble, granite, engineered stone, porcelain, and ultra-compact surfaces, certainly, but it doesn't stop there. It can also be used to bond wood, metal, and a whole host of other substrates. And, once again, Base Colours allow you to achieve a perfect colour match with whatever materials you are using. 
LTP has sealers and enhancers developed and manufactured in the UK for all types of natural and engineered stone. Using advanced water-based technology, the LTP range combines high performance with low odour and low volatile organic compound (VOC) formulations.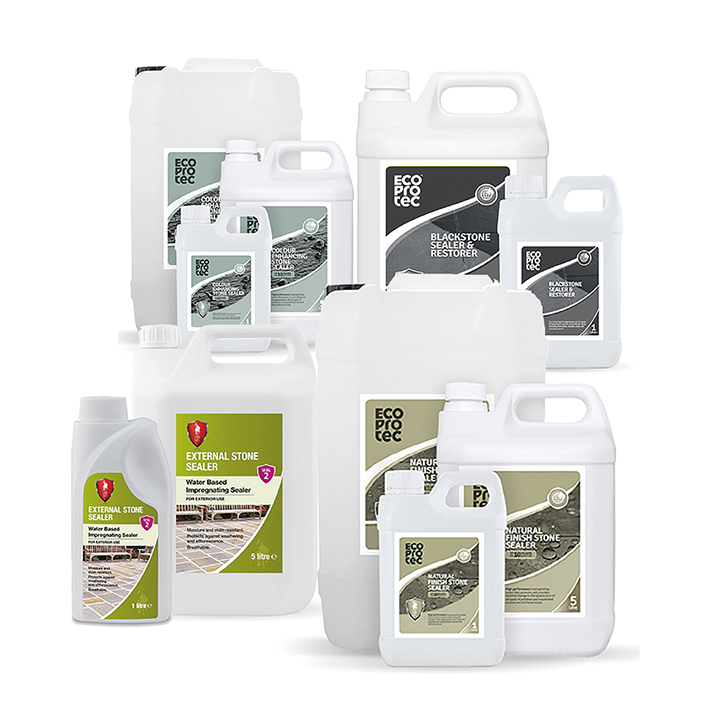 Best-selling treatments for the contract market include Ecoprotec Natural Finish Stone Sealer, Ecoprotec Colour Enhancing Sealer and LTP External Stone Sealer.
Ecoprotec Natural Finish Stone Sealer provides invisible protection, while Colour Enhancing Sealer intensifies the natural pigments of a surface while sealing it. Both are impregnators, so they protect against staining while allowing surfaces to breathe.  They can be used on surfaces indoors and outside and, once treated, those surfaces will strongly repel water, oil and grease.
LTP External Stone Sealer is designed specifically for outdoor paving. It is also a water-based impregnator that provides breathable protection. It has subtle colour enhancing qualities as it protects against moisture, weathering and UV rays, as well as stains, moss, mould and efflorescence. 
Other new water-based treatments include Ecoprotec Blackstone – an outdoor sealer and restorer for dark natural and artificial stone surfaces. Blackstone creates a permanent finish and provides protection against the elements. It can be applied in multiple coats until the level of colour intensification required is achieved.
Comprehensive guides, datasheets and demo videos can be seen on the Ecoprotec and LTP Online websites, along with information on LTP's full range of cleaning, sealing and maintenance products.

CRL Stone offers a comprehensive range of stone tools and accessories to make installation, maintenance and aftercare of surfaces simple.
New to the adhesives ranges are Akemi Platinum Transparent and Akemi Spectrum Paste. This knife-grade or liquid super-fast drying adhesive boasts a high bonding power glueing and filling natural and artificial stones, including in vertical applications.
Available in 45g tubes, the Akemi Spectrum Paste comes in a wide range of colour options to match all CRL Stone's quartz and Ceralsio surfaces, as well as any other quartz, ceramic or ultra compact surface.
Using Akemi's colour coding system, app and website, it is easy to find a perfectly colour matched silicone, dye or resin for the material you are using.
Cleaning is also taken care of with CRL, with a range that includes the CRL Stone Solid Surface Cleaner and Akemi Stain Repellent Nano. And the Akemi Transformer can be used as a sealer for unfinished edges of ceramics, such as Ceralsio, for a seamless finish.
Aftercare solutions include the CRL Quartz care kit of Akemi products, comprising Intensive and Crystal Clean cleaners for both daily cleaning and more thorough occasional clean, all helping to keep hard surface worktops and vanities looking as good as new.
Amastone is an online supplier offering a whole range of products and some smaller machines used  by stone companies.
The site was established by Italian company MMG Service Srl, which sells used and reconditioned stone machinery. Amastone is run from Italy and its products are shipped directly from there.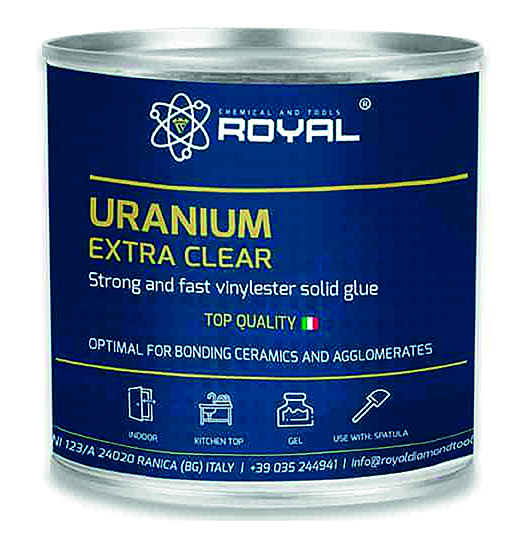 One of the recent additions to its ranges is Silirub Color sealant from Soudal, adding to the neutral colour product it already sold.
Silirub Color comes in 26 colours in 310ml cartridges. It is a single-component, pH-neutral elastic sealant for joints in natural stone, ceramics, sintered stone and quartz that require a color-matched sealant.
In glues, Amastone has Soudal's rapid setting epoxy called Epofix, a strong, professional quality adhesive that holds in 5-10 minutes and cures in 20 minutes. It is water resistant. 
Amastone also offers Jolly adhesives and sealants made by Italians Ilpa, such as the Tixo mastic putty used for gluing and grouting marble, granite, natural and synthetic stones. It is strong, hard and can be polished to the same finish as marble so it is almost invisible.
Tixo can be used for small restoration and repair work and thanks to its creamy consistency it makes light work of the process. A liquid version is used for gluing slabs horizontally. It is supplied with a paste catalyst and can be used with polyester-based colouring pastes for colour-matching.
Also take a look at Uranium from Royal, an extra clear solid glue especially for ceramics and engineered stones.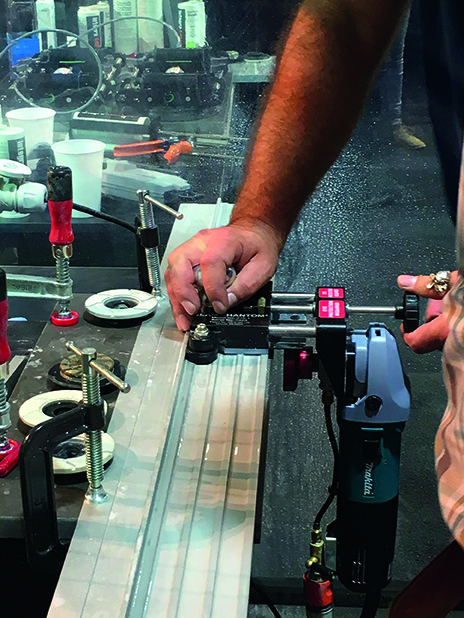 No matter how good the glue and the polish is, customers don't like to see joints on their worktops. One of the most common complaints customers have once their new kitchen has been installed is how conspicuous the joints are, especially when nobody has warned them about it. And once a shoddy join is seen, it can't be unseen.
Of course, there are going to be joints but they should be as nearly invisible as possible.
That is easier to achieve in some materials than others, but at least if the joint is perfect you have a chance of impressing your customer.
Your CNCs will get you close, but Seam Phantom can take you the rest of the way.
Seam Phantom is made in America by NSI Solutions and sold in the UK and throughout Europe by LPE (Leading Production Equipment). It is simple to understand and use and is not going to break the bank to acquire.
One of the reasons it is just what you need is because it is the brainchild of a fabricator who thought there had to be a way to achieve better joins. He couldn't find one so he made his own.
He was Kris Jorgensen. His original design was a plastic fixture for his angle grinder. Having made it and been delighted with the result he shared the idea with his colleagues in the American Stone Fabricators Alliance (SFA).
Other members of the SFA kept hounding him to make the device for them and the Seam Phantom was born.
Kris got a couple of aerospace engineers involved to perfect the tool and the Seam Phantom in the three configurations available today evolved. It's still an uncomplicated solution for wet grinding with electric or air tools, in the workshop or on-site, so you can produce nearly invisible joins with or without a CNC.
Seam Phantom uses a diamond cup wheel to back grind a rebate below the top of the seam edge, followed by diamond abrasives to polish the surface joint. Precise depth adjustment eliminates chips as you go. The result is a clean, sharp edge and a super-tight seam every time.
Ash Butler, who is selling the Seam Phantom in the UK at LPE, says the device can be a super-effective sales tool for fabricators.
"When you use a Seam Phantom to consistently deliver incredible, tight seams, and then showcase that capability to designers and kitchen showrooms it can be a devastatingly effective visual way to help you win new and repeat (and hopefully lucrative) business.
"You'll have them eating out of your hand, rocketing to the top of their preferred supplier list, because you've shown them clear as day the top-notch output you can deliver to them to amaze and impress their customers.
"That makes a Seam Phantom an investment rather than a cost, and certainly more than just a new toy... although everyone loves new toys as well, of course.
"One thing's for absolute certain – you'll never be satisfied with the old standard ever again."