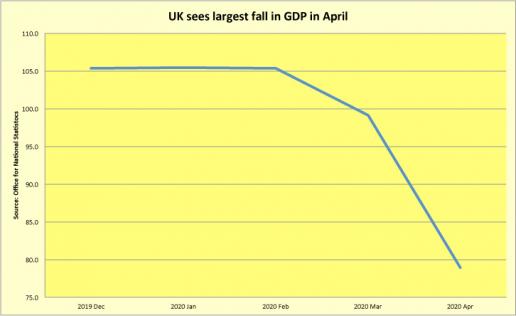 April saw the largest fall in GDP recorded on the current series of figures.
The UK economy fell 20% in April compared with March, the largest fall recorded on the current series of figures that began in 1997. 
Commenting on the figures published today (12 June), Jonathan Athow, the Deputy National Statistician for Economic Statistics at the Office for National Statistics (ONS), said: "April's fall in GDP is the biggest the UK has ever seen, more than three times larger than last month and almost 10 times larger than the steepest pre-COVID-19 fall. In April, the economy was around 25% smaller than in February.
"Virtually all areas of the economy were hit, with pubs, education, health and car sales all giving the biggest contributions to this historic fall. 
"Manufacturing and construction also saw significant falls, with manufacture of cars and housebuilding particularly badly affected." Construction fell 18% from February and manufacturing 10.5%.
Jonathan Athow said: "The UK's trade with the rest of the world was also badly affected by the pandemic, with large falls in both the import and export of cars, fuels, works of art and clothing."
The Bank of England, which put another £210billion into the economy through quantitative easing in March, has predicted the economy will fall 30% in the first half of this year, recovering to end the year down 14%. Its records go back further than the ONS series and it says the first half contraction of the economy will be the largest since the Great Freeze of 1709.
By comparison, the fall in the economy as a result of the credit crunch in 2008-09 that was blamed by the government for more than a decade of its austerity measures was just less than 6.5%.
But the Bank of England is optimistic and forecasts GDP could make up all its losses resulting from the coronavirus pandemic next year (2021).