Check out this extraordinary computer-designed, self-supporting limestone structure at the Venice Biennale
There is an extraordinary, computer-designed, self-supporting limestone pavilion bending around the supporting columns in the vaults of the 13th century Corderie dell'Arsenale at this year's Architecture Biennale in Venice that opened on 28 May and continues until November (click here to see pictures of it and a report).
It is called The Armadillo Vault and is made of 399 limestone slabs that span 15.8m. There is no glue or mortar, no hidden substructure holding the 24ton edifice together, just the traditional use of stone under compression. It uses the same forces that stonemasons have employed for millennia to hold up great structures such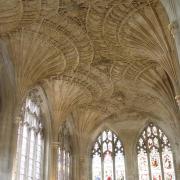 as cathedrals – the picture left shows the spectacular fan vaulting at Peterborough Cathedral in the UK, for example. In the same way as the Peterborough Cathedral roof is supported, The Armadillo Vault forms a series of conjoined arches. There is a minimal use of tension ties to help balance the structure at ground level. 
But the shape is complex. It would be difficult – probably impossible – for an architect and engineer to achieve this result without the help of a computer. "There's no way to imagine this kind of shape without computation," says Philippe Block, director of the research group at ETH Zurich that developed The Armadillo Vault as part of an exhibition called Beyond Bending, a joint project of the Block Research Group at ETH Zurich and Ochsendorf, DeJong & Block (John Ochsendorf being Professor at the MIT; Matthew DeJong at University of Cambridge) with The Escobedo Group. Through various visual and constructed elements, the exhibition champions the logic of compression-only forms to achieve beautiful results sustainably by minimising the materials used and curbing waste.
The software used by the Block Research Group is RhinoVAULT, developed some years ago by the Group. It allows architects to manipulate tension and compression forces within a 3D model. The team had to distribute the loading on the floor to have as minimal a footprint as possible. The undulating shape is what the software came up with.
To build the pavilion in the stone from a West Texas quarry, the masons had to have each individual stone produced and numbered for its specific location. They then built a wooden form and laid the stones in place on top of it. Coming from America, the stones are measured in inches. They are 2in (50mm) thick at the top increasing to 5in (127mm) thick at the bottom. When the wood was removed the stones supported themselves as the computer predicted.
And just as the vaulted ceilings of cathedrals support the weight of timber and lead of the roofs above them, so the stones of The Armadillo Vault could support a lot of weight. Philippe Block says the structure could easily survive the weight of an American football team standing on it.