Digital stone – virtually real
Building Information Modelling (BIM) may still be in its infancy but it is already beginning to look out of date as technology continues to evolve. And BIM is only one of the digital technologies transforming the industry.
The winners of the 2019 Construction Computing Awards were announced at The Grand Connaught Rooms in London's Covent Garden on 14 November. Some 220 people sat down to a meal before the Awards were presented in 25 categories.
The Awards are not exactly new – this was the 14th time that Construction Computing magazine had staged them and even on the first occasion there were 14 categories.
You can see the full list of this year's winners on constructioncomputingawards.co.uk. They include Asite, which won the category for Best Use of IT in a Construction Project for Ballymore's 804-home Goodluck Hope development on the River Thames at the historic Leamouth Peninsula. Asite also had its Adoddle Platform named as Cloud Technology of the Year.
The fact that there are now annual awards for computing in construction and that the subject has a magazine devoted to it demonstrates the degree to which computing is penetrating every aspect of construction – and every other industry, of course.
Computers are no longer just office equipment but are also routinely used onsite through the ubiquitous smartphone and/or tablet.
In stone workshops and factories, computer numerically controlled (CNC) saws and workcentres are commonplace and the digitising technology goes onsite through digital templaters such as Prodim's Proliner, LPE's American Laser Products templater and Intermac's ELaser, also from America.
Computer-aided design (CAD) and computer-aided manufacture (CAM) with programs such as AutoCAD and Alphacam Stone are widely used by worktop fabricators and traditional masonry companies.
Customer Relationship Management (CRM) can answer the phone and respond to email contact by customers. It gathers information and automates procedures, so no customers get forgotten or ignored.
CRM-Light
Like most computer technology, it is not quite as simple as it seems. It is not just a question of buying your preferred system and installing it on a computer. It does require some effort to set it all up. While CRM might still be making its way into the stone industry, on the memorial side there is what might be termed a CRM-light from SNA Software Systems, the newly updated version three of which was introduced at the NAMM Tradex exhibition in June this year.
It is CRM-light because it cannot be modified by the user, whereas CRM would normally require a considerable input from the user. Nevertheless, it automates responses to customers, keeps a customer's files in order for inscriptions, decoration, vases and so on, and gathers information for debt management and tax purposes.
For the workshop there are systems for digitally recording and managing stock and tracking it using bar codes through the manufacturing processes. One such system is LPE's Slabsmith, which is being used by a number of fabricators in the UK.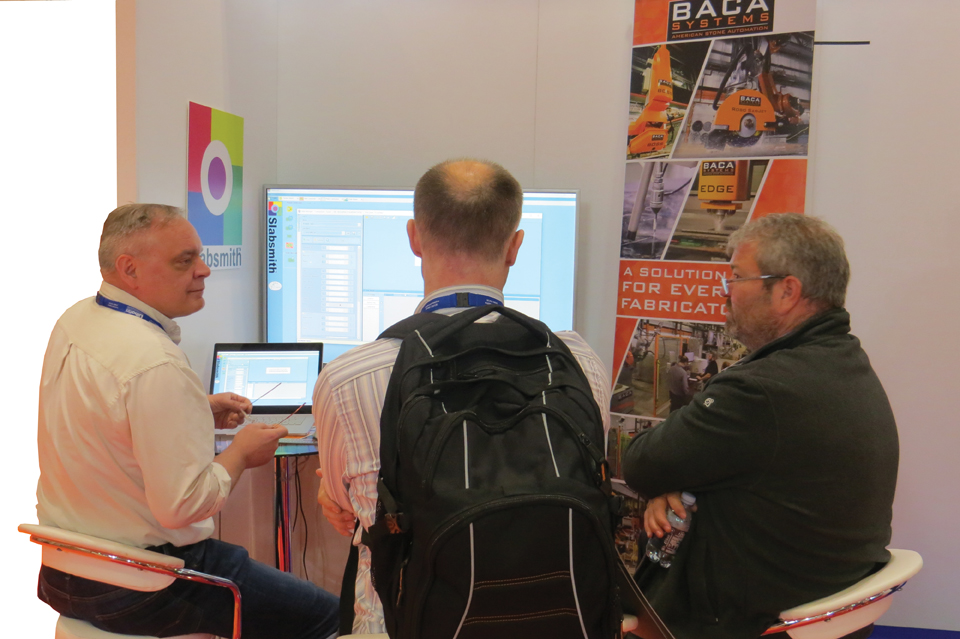 Slabsmith being demonstrated on the LPE Group stand at the Natural Stone Show in London last year. It is being used now by several fabricators in the UK.
Using Slabsmith involves a more powerful computer than is found in most offices and the system includes its own hardware as well as its own software. It also requires the permanent setting up of a camera and a frame to hold slabs so that each slab can be photographed accurately for size and shape as it enters the factory.
This produces highly accurate digital representations of the slabs, true to life in both colour and dimension and containing all the relevant properties of the original slab.
Slabsmith uses these digital slabs for inventory management, 3D visual layout of projects, sales and marketing tools (customers can be shown pictures of their kitchens and bathrooms with the actual worktops that they will eventually have), streamlined manufacturing and targeted business decisions.
It is already being used in the UK. In the USA, where it originated, there are hundreds of fabricators using it with plenty of testimonials about the improvements in profitability the system has brought.
Building Information Modelling (BIM)
When it comes to construction, the leading development for several years now has been BIM – Building Information Modelling.
It certainly appeared in many of the categories of the Construction Computing Awards – Innovation of the Year, VisiLean for BIM; Mobile Technology of the Year, Graphisoft for BMIx; BIM Product of the Year, Graphisoft for Archicad 23... and more.
This is a platform used by the whole team to share information. It includes 3D graphics that help identify problems such as one contractor's work making it impossible for another contractor to carry out their part of the project, or one design element unintentionally going through another.
BIM enables changes to be made to a construction project with minimal additional costs, time and communication effort. And changes made in a project are seen immediately by everyone involved in the project. New quantity and cost calculations resulting from the adjustments are also synchronised automatically.
Many companies make their products available for use on BIM so they can easily be incorporated into a project.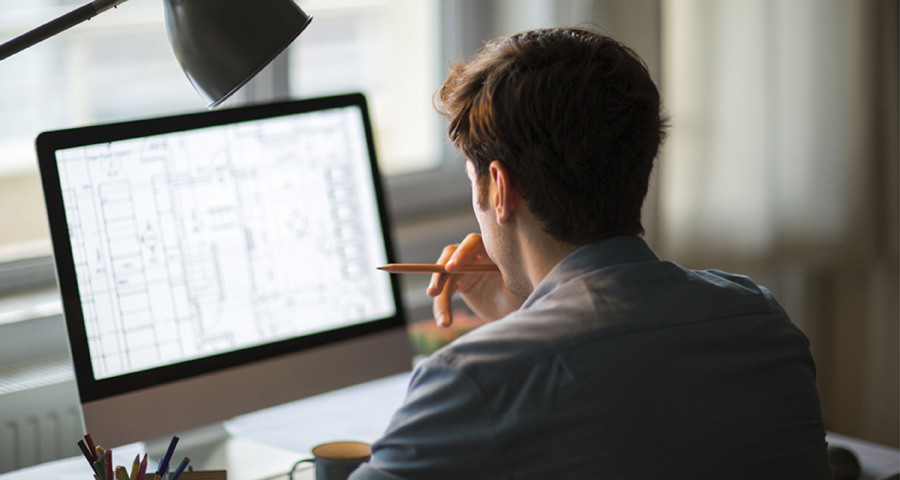 A BIM download service has been added by German intelligent building technology company Gira, which has a UK base in Uxbridge, Middlesex. It offers a 3D model-based process so architects, interior designers and developers can plan, design, construct and manage intelligent buildings efficiently. Find out more at bit.ly/GiraBIM.
BIM is a significant and still evolving technology. Plenty of stone companies will not have used it but that is likely to change eventually, especially if the construction industry is to become more productive, which it needs to. 
According to the Office for National Statistics, construction is the least productive industry in the UK economy. It was more than 20 percentage points below the average output per hour for the whole economy in 2017 and there was another fall of 4.8% in 2018.
Many believe BIM will eventually help reverse that trend, although BIM has been around for about 30 years and productivity has not improved yet. However, the technology is evolving all the time. After all, at the end of the 1980s even those who had computers (and many did not) did not have access to the Internet because the World Wide Web had not yet been launched. Mobile phones were rare, the size of a brick, and you were lucky if the battery lasted half an hour before it needed recharging. And it could take all day to charge.
The technology has finally caught up with the idea of BIM, although it is still a bit slow for some people.
The important part of BIM is the 'I' (information) that is supposed to be openly available, used and contributed to by everyone involved in all phases of a building's life, from design and value engineering through use to eventual demolition.
Including the lifetime costs should help reduce the emphasis on build cost against use costs and produce more environmentally friendly buildings, which is important because buildings account for about a third of the UK's greenhouse gas emissions.
BIM is supposed to make it easy for everyone to add details, including photographs, about their own work. When the building is handed over, so are its BIM files, to be used for future maintenance, repair, alteration and, in the end, demolition.
Like CRM, BIM requires a certain level of interaction with the people involved and some people just want to get on with their work. They see putting information on to a computer as somebody else's job. Others are frightened about sharing their information, or want to hold on to the power it gives them. That is changing with the generations but is one of reasons BIM has been slower to roll out than it might have been.
On the other hand, it might simply have not been quite the right technology – and will possibly even be superceded before it can become universal.
Digital twinning
What will take its place? Probably some kind of artificial intelligence (AI) based on digital twinning.
AI teaches itself by sampling millions of examples of what humans do. It learns chess or mahjong by watching millions of games. It learns to read by reading millions of books. It can even write – AI bots are already responding to some of your emails. And it both hear and understand what you say. It can respond and converse to some extent – witness Alexa.
Digital twinning is using AI, the Internet of Things (IoT), the Industrial Internet of Things (IIoT) – which involves machine communicating with machine and is also known as Industry 4.0 – and data analytics to supplement and manage the kind of information used in BIM.
Digital twins are virtual models of the real world. And in case it all seems a bit remote, there was an example on the Breton stand at Marmo+Mac this year. Digital twins of the Breton machines had been put on to a system called Hype Rock. The dimensions or drawing of a factory yet to be built can be entered into the system and populated with the machinery. It allows for the optimal configuration of the machinery and handling equipment within the space. The electricity, water, air and drainage systems are configured before the factory is built. And by using a virtual reality headset you are able to walk through the factory before it is built.
Once the factory is built and the machinery installed, the AI will optimise its use, allocating processes to particular machines.
The machines themselves are all built with sensors incorporated into them in order for them to report on their own conditions, which is known as telemetry. The interiors of the machines that are normally hidden behind panels can be included on the digital twins with real time information from the sensors related to a computer to enable you to be able to watch the machine as it works without removing its covers. Any problems and the system will flag up the need for them to be replaced before they fail.
Digital twinning has moved on from manufacturing and is already being used by other industries including retailing, harnessing data for rapid product development and changes in consumer fashions. It has not yet transferred to construction projects, but it is not difficult to see how it could be put to that use.
In the meantime, the stone industry's own fourth industrial revolution continues to make use of the Internet of Things and its industrial version.
Meet Sophia
Telemetry is included in most Italian CNC machinery now. Anyone buying machines from Intermac, for example, can sign up to its system, called Sophia, which was introduced by Intermac last year.
Intermac (as part of Biesse) is one of the few Italian manufacturers that has its own, full-blown operation in the UK. It has its own team of sales people and engineers, a technical centre where a range of stone working machines can be seen and used by customers and its own centre monitoring the data fed back to it by Sophia on machines in the UK.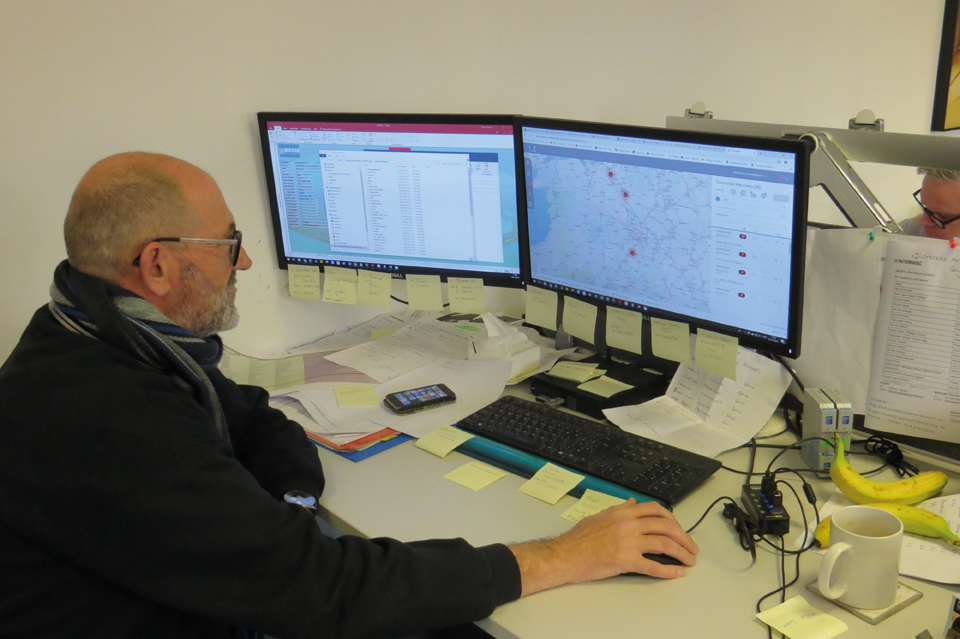 From Intermac comes Sophia, and keeping a watchful eye on it at Intermac headquarters in Daventry is Richard Fathers.
It is up to customers to decide whether or not they want to use Sophia when they buy the machines, but it is there all the same.
Sophia feeds information back to Richard Fathers at Intermac's UK headquarters in Daventry, Northamptonshire. He can see on his computer screens when the machines have problems or need maintenance and will call customers to flag up any issues.
Because the machine is monitoring itself it should flag up when maintenance is needed before a part fails, reducing unplanned down time. But if a minor fault does occur, customers can use their phones or tablets to send a live video feed back to Intermac while they are being told what to do to remedy the fault to make sure they are doing it correctly.
If they need a part, it can be ordered from the Intermac parts store using Sophia and will normally be with the company the next day. You can watch a short video about Sophia at bit.ly/InterSophia.
To strengthen the integration and interconnectedness of the machine-operator relationship, Sophia is now also accompanied by Supervisor, software capable of communicating with external management systems for automatically generating work schedules on the machines available for a perfectly interconnected factory.
It would theoretically be possible to set up a factory with hardly any people on the shop floor with automatic feed and unloading but that has so far not been how the technology has been used in the stone industry because of the bespoke nature of most of what is produced.
Chris Arund, the Intermac UK Business Development Manager, says it tends to be 'cells' in a factory that are automated rather than the whole factory. If some process can include a robot arm (Intermac gets its robots from Fanuc in Coventry) so machine doors can be left open because there are no people in the area rather than repeatedly opened and closed, throughput of work can be doubled, says Chris.
"Fully automatic factories are for high production repetitive work, and that's not what the worktop market is like," says Chris.
Point Clouds
Another technology making its way into the stone industry is digital mapping using point clouds, especially (but not exclusively) for surveying buildings for the heritage sector. Using a drone with a laser scanner can produce highly accurate 3D representations of a building facade with a resolution of 0.5mm or better between the centres of the points if required.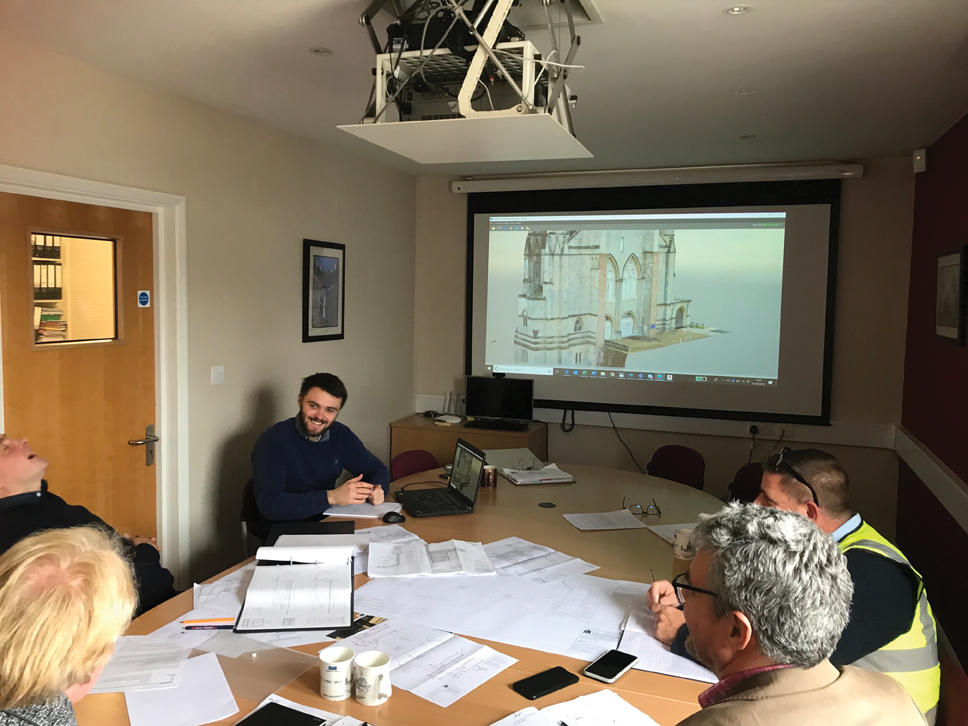 Point cloud scans provide detailed information for planning meetings at Chichester Stoneworks.
Point clouds successfully present a large amount of data in a displayable form because, in contrast to typical CAD objects, individual points have only those properties needed to display the correct position and colour. No other information is necessary, which makes it possible to display a huge number of points even on a relatively old workstation.
Chichester Stoneworks in Sussex used this technology to survey the Old Bailey in London as long as 10 years ago and has been using it again lately to survey the stonework of Lancing College in Shoreham.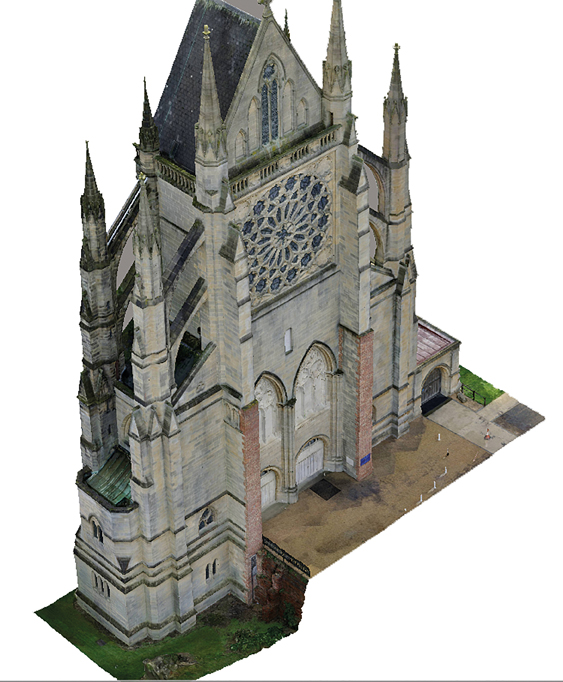 The scanners are fixed to a drone to carry out the survey and Lancing College is near Shoreham airport, where the use of drones is tightly regulated. There was a lot of hoop jumping required by Chichester Stoneworks and the company it used to carry out the survey.
It was worth the effort of carrying out a survey in this way because it avoids the use of cherry pickers or erecting scaffolding. The scans produced are so accurate they can be used to reproduce individual stones in the building. And because they are digital, turning them into files to be used on a CNC saw or workcentre is straightforward.
Chichester Stoneworks also has a hand held 3D laser scanner that it uses all the time to reproduce replacement stones for conservation work.
The same technology has been used by Maptek lately to create the same highly detailed 3D scan of Southwell Minster in Nottinghamshire. And one stone company that prefers to remain anonymous until it is ready to launch is establishing its own point cloud scanning business to offer the service to other companies.
2020.1 from Alphacam
To conclude, an update from Alphacam. According to Gary, who uses Alphacam on the machines at Toffolo Stirling, which specialises in stunning interiors including staircases, it is easy to learn how to use. He was recruited by Toffolo from outside the stone industry (he came from metal processing) because he was familiar with using CNC machines. He had not worked on stone before but says it only took him four days to pick up the Alphacam system. He says he finds its 3D simulation useful for making sure machining paths are clear and says developments have made it even easier to use in the six years he has been at Toffolo. "Some wee change can make such a big difference," he says.
The latest version for stone (2020.1) has improvements for waterjet cutting and for sawing surfaces and solids.
Users can now specify parameters specific to waterjet cutting. Abrasive flow rates can be defined as well as how far the nozzle should be from the top of the material.
There are now three waterjet operations that can follow a profile, clear areas, or cut and pierce holes in both 3- and 5-axes machining. A simulation can be run to check for collisions.
Product Manager Chip Martin says: "The software has been successfully driving waterjet and saw + waterjet machines for many years. But this new waterjet tool and cycles provide a consistent and highly professional way of calculating toolpaths."
The new release also defines boundaries when cutting surfaces and solids with a disc. Users define multiple boundaries, and Alphacam will avoid machining those areas.
A new job type has been introduced in 'Multiple Process Jobs' to make it simpler to create jobs and orders in Automation Manager for outputting to more than one machine or that require secondary processing on the same machine.
In the past, users had to create multiple jobs but now a single job can be created containing all the different machines and manufacturing processes that the part goes through.
Undoubtedly Stone Age 2.0 has arrived – and it is digital.