Don't forget the basics : Safe handling on-site and in the workshop
With so much of this year having been spent trying not to catch or spread Covid-19 under a succession of government instructions it is easy to be overwhelmed by health & safety. But let's not forget the basics.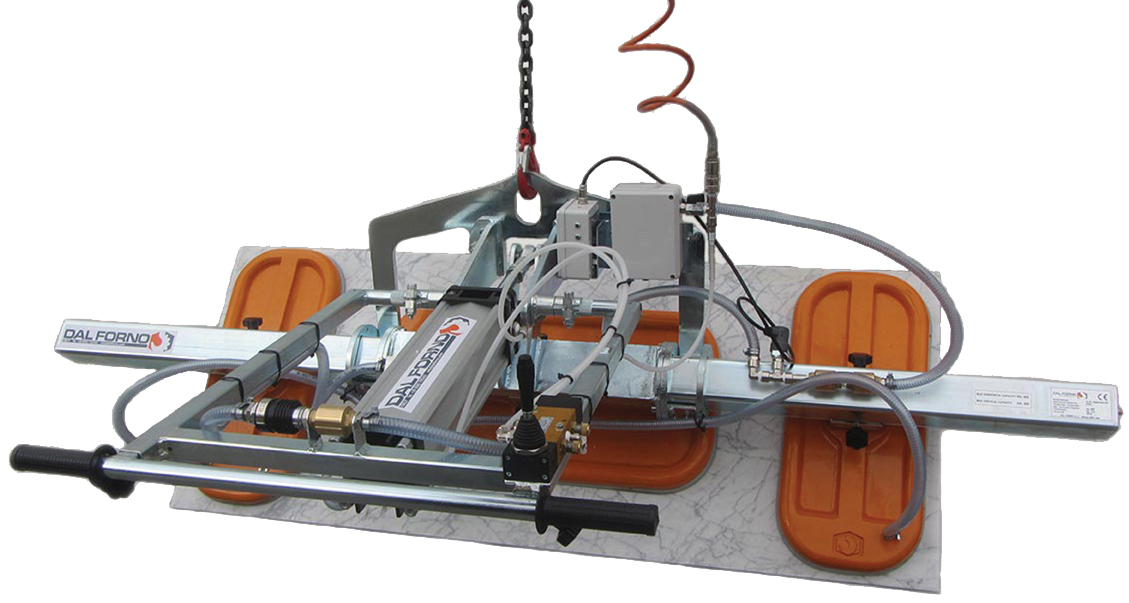 Vacuum lifts have taken the back ache out of moving work around the factory. This three-pad Dal Forno pneumatic lift (the VL3L 2550/70) from D Zambelis is particularly popular among kitchen worktop fabricators.
Death and taxes. The two certainties of life. Nevertheless, it was a bit shocking to hear the owner of a worktop fabricator business say: "If a couple of people die of silicosis..." he shrugs his shoulders "... they could die in a car accident on their way home."
Silicosis is now second only to asbestos as the cause of work-related lung disease and death. In the July/August issue of this magazine there was news of a Spanish report suggesting AS (artificial stone) silicosis is different from other forms of silicosis and develops particularly quickly. Possibly the resin in the material aggravates the condition caused by silica dust.
But when fabricators have bought all the latest wet-processing machines, water walls and LEV (dust extraction), and have supplied employees with masks (that they don't always want to wear) a feeling of frustration and resignation can develop, and even some irritation when a Health & Safety Executive Inspector tells them they should be doing more.
The same has happened with the coronavirus pandemic. Most people know few (or any) people who have died of it or even had it. Some people think they might have had it, although it might have been 'flu or a cold.
Most workplaces have hand sanitisers dotted about the place, a packet of masks, notices reminding people to wash their hands and maintain social distancing, but mostly work continues much as it did before the pandemic, even if a bit more care is shown when going into customers' homes.
Health & safety fatigue is becoming apparent in some quarters. Add to that a feeling that Brexit might lead to a relaxation of health & safety regulation and enforcement and the culture that has led to a steady decline in workplace injuries and deaths over many decades could go into reverse.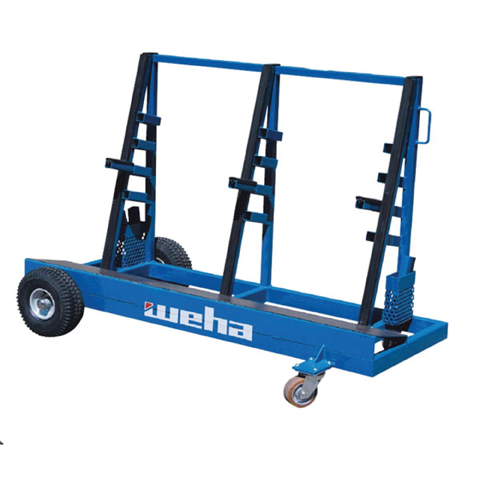 The 12 months to the end of March this year saw 111 workplace deaths in the UK. That is the lowest number ever recorded. The construction industry killed more (40) than any other single sector, three quarters of them as a result of falling from heights.
The popular German-made Weha brand includes a wide range of well engineered products to make handling stone easier and safer. Weha products are available from Stone Equipment International, Combined Masonry Supplies, and others.
The next non-fatal injuries report is due out this month (October), but 2018/19 saw 581,000 workers suffer non-fatal injuries that were reported and 1.4million workers suffer from work-related ill-health.
Each year there are about 30million working days lost as a result of injuries and work-related illness, which is estimated to cost the British economy around £15billion in total.
In 2018/19 there were 364 health & safety prosecutions, which resulted in employers paying fines totalling £54.5million – and the penalties have increased considerably since the courts were given guidelines for sentencing in England and Wales in 2016. Carrying out risk assessments and investing in some generally relatively cheap aids like those featured on these pages to make work safer in the factory and on-site is certainly the less expensive option.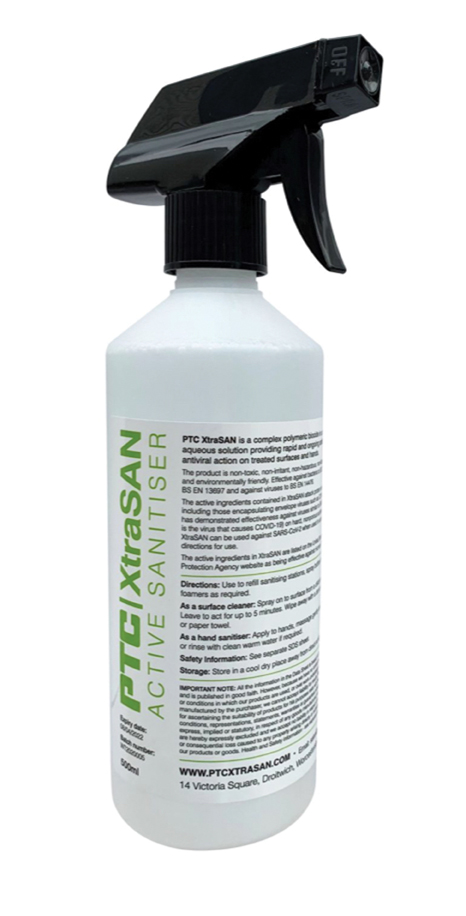 On the subject of Covid-19, you might be interested in a new British-made product being sold by a business called Stone & Surfaces Direct, newly established by Nick Williams (formerly Strata and Burlington – read more about the new company here).
XtraSan is a new, long-lasting, safe British-made surface and hand sanitiser not based on alcohol.
The product is XtraSan. It is an alcohol free, non-toxic liquid that can be sprayed on to all surfaces, including stone and skin, to not only kill Covid-19 (and any other virus or bacteria) but also provide a residual barrier that provides longer term protection. It is already being used in some schools on floors and surfaces on a daily basis.
The government has been made aware of it but as this is written has not yet responded to being offered it.
XtraSan is described as a "complex polymeric biocide in a ready to use solution providing rapid and ongoing antibacterial and antiviral action on treated surfaces and hands".
It is said to be non-toxic, non-irritant, non-hazardous and environmentally friendly, making it an ideal combined hand and surface sanitiser.
Promoting the fact you are using it on worktops or floors could be used as a selling point for your business. And with Nick selling it at £18 a litre or £12 for 500ml, it could be given to customers by installers as a goodwill gesture, with the price being absorbed into the installation cost.
It should be noted that many of the companies that regularly supply consumables and materials handling equipment to the stone industry also have other versions of sanitisers, as well as masks and rubber gloves, to help their customers respond appropriately to the coronavirus pandemic.
The Health & Safety Executive (HSE) considers the stone industry a relatively high risk area of industry, with its silica dust, HAVS (hand arm vibration syndrome), crush injuries from falling stone and musculoskeletal injuries from the lifting of heavy products. Consequently, stone companies are more likely to receive a visit from an HSE Inspector than some other businesses.
Lately HSE has also been concerned about unguarded machinery and has warned companies not to disable safety devices that stop the machines if someone gets too close or leaves doors open.
Most accidents in the workplace do not  happen when people first join a firm. In the first few months employees are not quite sure what they are doing and are quick to spot potential dangers. They generally take care. It is when they are familiar with work practices and routines that accidents happen. They forget the dangers and become blasé, perhaps cutting corners.
It is one of the reasons the Covid-19 cases are on the increase again now. Some people who have survived unscathed are less fastidious about isolating, sanitising and wearing masks.
It is also one of the reasons why masons tend to ignore the risks of silicosis from dust in the atmosphere and why there are still so many working hours lost because people have back problems as a result of musculoskeletal disorders or injuries.
Back ache was for many years the most common reason given by employees for needing time off work – and still is in stone companies, although in the past few years in industry in general it has been overtaken by stress. That tends not to be commonly given as a reason for absenteeism at stone companies.
Both are hard to verify, which leads to some scepticism among employers about the true level of incidence. Nevertheless, days lost to back problems do seem to be reduced in companies that identify and eradicate awkward lifting and provide aids to help employees transport heavy products.
Some of the reduction may even be because employees feel more valued and are less likely to 'pull a sickie'.
One way some companies have found of reducing the number of days lost to sick leave is with a return to work interview.
Call the employee in when they return to work and ask them (with some sympathy) questions such as: Are you now well enough to work normal hours and duties? What do you think was wrong? Is there anything the firm could have done to help you avoid the absence (especially when it involves back pain)? Their answers to this question might even provide you with some improvements to the way you work that you have not thought of.
You might also ask them if they went to see a doctor and what the doctor said; and, if they did, have they been put on any medication that could affect their performance.
While it is unlikely an employee will confess to pulling a sickie (if they did), once they realise their absence is serious in your eyes, they might be less inclined to do it again.
On the other hand, injuries from repetitive motions, and heavy and awkward lifting are real enough. Musculoskeletal disorders (MSDs) are said to result in 7million lost working days a year and cost construction employers around £650million a year. 
When a person is asked to carry out work that is outside their comfort zone – like the awkward lifting of a heavy worktop up a flight of stairs, say – they are at risk. That risk needs assessing and if there is anything that can be done to reduce it, it should be done.
It might be a rare event, so the person will recover from the exertion quickly. Or it might not, and repeated lifting of heavy and unwieldy items can produce acute pain and long-term problems, as many in the stone industry can attest to.
MSDs should never be seen as an inevitable part of the job. Most injuries are not accidents. They could be prevented through planning and working practices that make use of products readily available. One of the easiest ways of reducing back injuries is to lift from waist height rather than bending down to lift from the floor. That benefit is increasingly appreciated in the design of materials handling products. Even simple mechanically operated carry clamps and suction lifters available from most suppliers offer a major improvement.
It is, of course, also important for workers to keep themselves physically fit and to seek advice if they start to experience musculoskeletal problems.
Companies should encourage them to do so and to report any process that is particularly difficult or painful for them to perform. They might have a good idea how it could be done better. And 'better' with anything to do with health & safety nearly always also means more efficiently, which improves profitability.
Training, planning and good working practices will help ensure people can work in the industry without suffering debilitating musculoskeletal problems.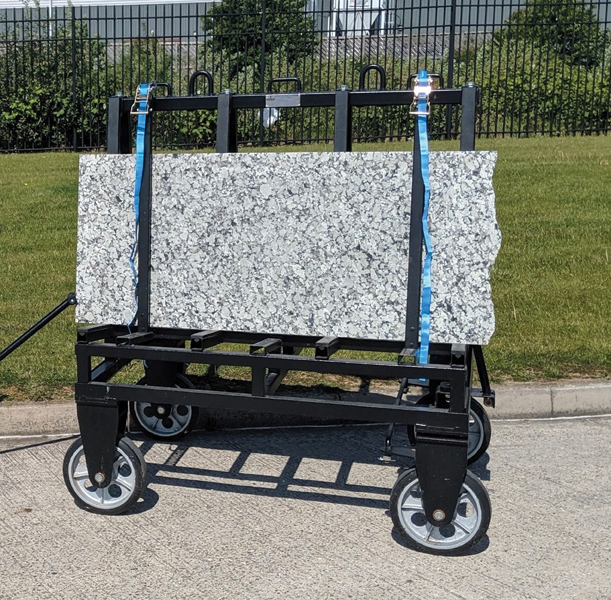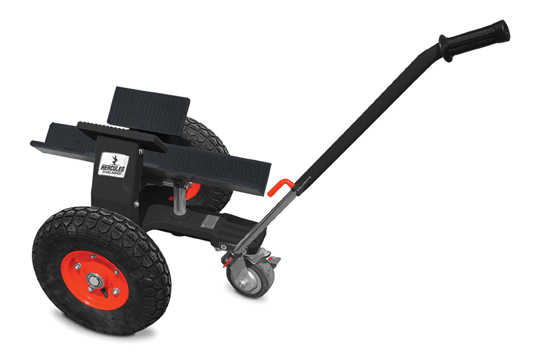 The Stonegate demountable A-frame has solid wheels (so they can't puncture) and can be taken off its chassis for use in vehicles. The stone sits 690mm off the ground so operators do not have to bend to lift stone. The Stonegate Self Locking Dolly has the option of a guide wheel or a kick stand.
As Stonegate, one of the leading suppliers of tools and equipment for the stone industry, says: "Stone fabricators are some of the worst offenders for exceeding a safe weight limit when lifting stone and the long-term effects can be detrimental to the health of your workers. This needs to change." It is trying to help change it with its range of Hercules handling products. 
In the past year another of the suppliers, D Zambelis, has made some changes to the selection of handling equipment it offers, including adding the products of another manufacturer, Giacomini Officine Meccaniche. The company's range of derrick, bridge and gantry cranes is now available from D Zambelis.
Zambelis also stocks Abaco lifting and handling products alongside its existing Aardwolf range and its Dal Forno jib cranes and lifters. Most of the popular lifting equipment – forklift booms, trolleys, slab lifts, carry clamps – is available from stock for next day delivery.
Another handling problem has arrived with the increasing size of porcelain slabs being used by stone fabricators in the interiors market. It has been addressed by Americans Omni Cubed, sold in the UK and the rest of Europe by the British LPE company Omni Cubed Europe.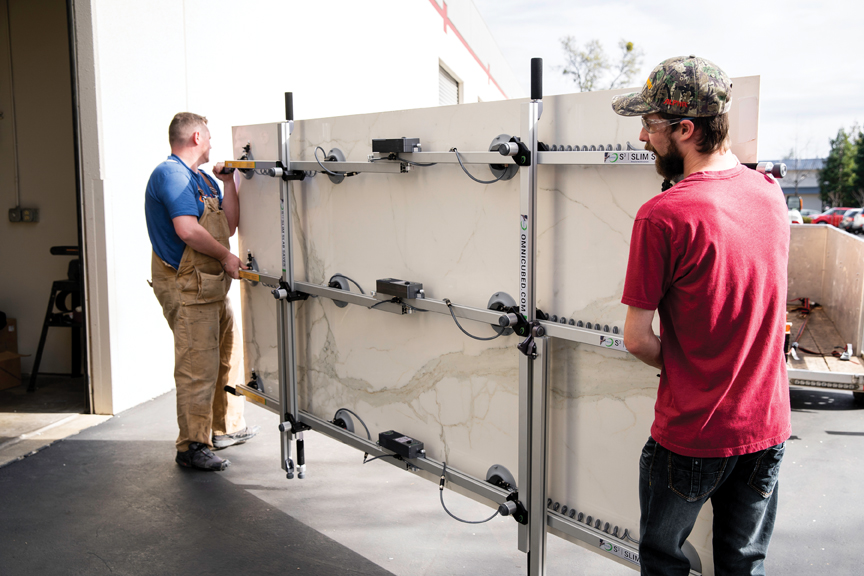 The American-made Slim Slab Saver range from Omni Cubed has a highly customisable and adjustable frame that allows fabricators to carry even the largest sizes of thin porcelain materials safely. The three-rail model pictured lifts up to 270kg.
American Omni Cubed claims to have developed the first sink hole saver and, seeing the trend for Large Format Thin Materials (LFTMs, as it refers to them) it has developed a version of the sink hole saver for porcelains, sintered stones and the like. It is called the Slim Slab Saver.
Like the original slab saver, the Slim Slab Saver uses the dependable Omni Cubed vacuum technology but with a new design of  non-marking cup to give even more suction.
Slim Slab Saver has a choice of one, two or three rails in manual or automatic versions.
The new automatic version (and there is now also an automatic version of the adjustable length original sink hole saver) has an improved pump design with a rechargeable power pack in the pump unit itself, giving hours of continuous power.
Also for LFTMs is the Omni Cubed Slim Slab Table, the first of which were due to arrive in Omni Cubed Europe's Beverly warehouse in  the East Riding of Yorkshire at the end of September.
With a simple, ultra-rigid design, the Slim Slab Table's purpose is to provide a flat, non-slip surface for safe jobsite fabrication of LFTM. It prevents the material from bowing, which leads to cracks and breakage.
Like the largest Slim Slab Saver, it can comfortably take a load of 270kg.
Made in aluminium to keep the weight down, the table has pitched legs that are bolted in place for rigidity rather than folding down. As Ash Butler, who heads the sales of Omni Cubed, says: just one prevented break and tools like this have already paid for themselves.
Another new product is Grabo, a hand-held, lithium ion battery-powered vacuum lift that can be used even to lift stone with rough or dusty surfaces thanks to a double seal of foam and rubber.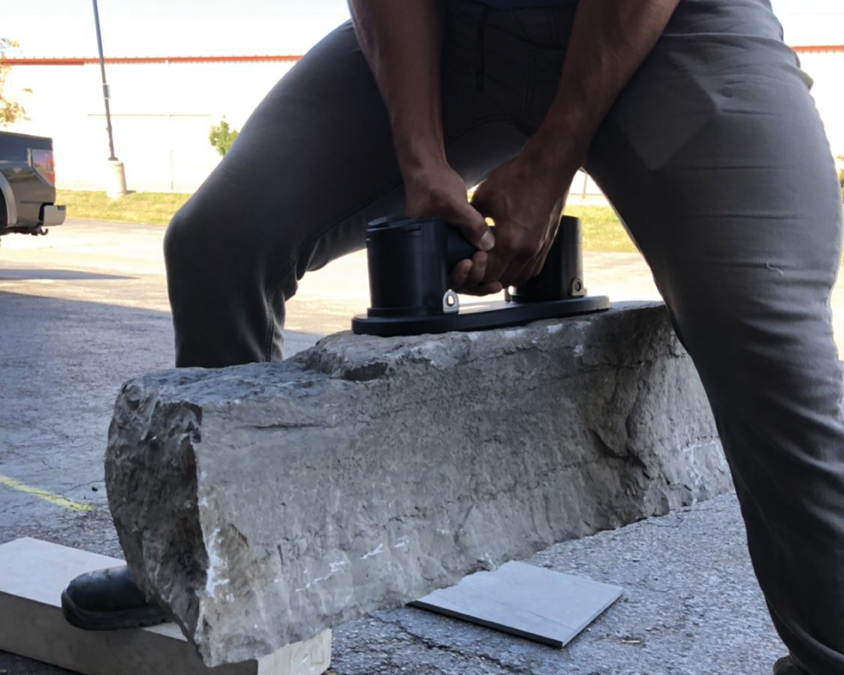 Grabo offers powered vacuum lifting onsite even for textured, porous and dusty surfaces. The lithium-ion powered Grabo can lift up to 170kg.
It is being sold by Marco Myatt of Exordia Global in Wickford, Essex, which is a company established to get innovative products into markets, although Grabo has its own website (thegrabo.co.uk).
Grabo can lift up to 170kg and the battery lasts about an hour-and-a-half with continuous use, which means it should last at least all day with intermittent use, although the purchase price of around £300 includes two batteries.
Grabo evolved from a range of power tools developed in Hong Kong initially for use in extreme conditions by scientific and governmental organisations. Customers included the US Navy and Israeli defence forces. The first commercial uses were for diving and offshore drilling, so the technology has been proven in some particularly harsh conditions.