Lepine limestone statue of The Queen unveiled by King Charles at York Minster
The new monarch, King Charles III, accompanied by The Queen Consort, has unveiled a statue of his late mother, Queen Elizabeth II, erected in a previously empty niche on the West Front of York Minster.
The statue had originally been intended to mark The Queen's platinum jubilee this year, but has instead become a memorial to her following her death as Britain's longest reigning monarch.
King Charles and Camilla were welcomed on arrival at the Minster by the Archbishop of York, Stephen Cottrell, Acting Dean Canon Michael Smith and members of the Chapter.
After attending a short service in the Quire, the royal couple met York Minster stonemason Richard Bossons, who was in charge of the design and production of the new statue.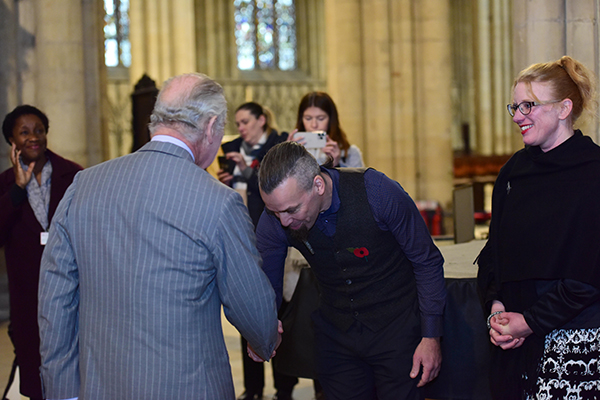 The statue was unveiled by the royal couple as they left the Minster through the Great West Door. The statue of the late Queen is in a niche adjacent to the door on the West Front of the 800 year-old cathedral.
The Archbishop of York blessed the statue, which is 2m tall and weighs nearly two tonnes. It is carved from a block of Lepine stone, a French limestone that has previously been used for figurative carvings at the Minster as well as the restoration of the West Window in 2000. 
Stonemason Richard Bossons is an expert architectural carver and stone mason who has been a member of York Minster's renowned Stoneyard team since 2011.
His skill in conjunction with laser scanning and CNC cutting produced the sculpture. He first produced a clay maquette of The Queen that was scanned in three dimensions and the stone roughed out under the guidance and instruction of Richard, who oversaw every aspect of the process. Using the scanning and CNC technology is calculated to have saved more than four months' work. Abbey Masonry and Measurement Solutions both played their part.
Richard's design depicts the Sovereign in her Order of the Garter robes with her orb and sceptre, the symbols of her office as Head of Church and State, and wearing the George IV State Diadem.
Richard's initial concept design was developed in close consultation with York's Fabric Advisory Committee and the Cathedrals Fabric Commission for England, which gave its permission for the principle of the statue under the Care of Cathedrals Measure, the legal framework against which all major changes to cathedral buildings are considered.
Richard said before he started carving the statue earlier this year: "There have been several challenges to overcome with this project in terms of the design. First and foremost I have to complement the magnificent medieval façade of the Minster. The statue needs to be part of the fabric, not a distraction from it, yet it also has to have the poise and presence befitting of the Queen's unique role as Head of Church and State. The figure is posed to form a protective gesture around the orb and sceptre, while Her Majesty's gaze is aligned across the proposed Queen Elizabeth Square, the principal approach to York Minster."
Following the unveiling The King said: "When this statue was first planned five years ago, during a reign of unprecedented duration and achievement, it was intended as a celebration of the late Queen's platinum jubilee. Now, as we have witnessed, with great sadness, the passing of that reign, it is unveiled in her memory, as a tribute to a life of extraordinary service and devotion."
He said: "The symbolism of the statue, combining the signs of Church and of State, is perfectly suited to its place on the West Front of this glorious building."