The competences needed for processing and fixing stone are becoming as much about computer and IT skills as they are about stonemasonry. And it is a change that has been accelerated by the Covid-19 restrictions.
Improving the productivity of construction is not exactly a new idea. It has been the aim of successive governments. But possibly the tools are now available to make it work – and those tools are digital.
Construction is complex. It requires a number of different companies to work together, often in an environment where none of them trusts each other because experience tells them somebody will be trying to avoid paying them for the work they do.
Even if they all trusted each other, getting diverse interests to work together is difficult because communication is difficult. Automating communications through information technology could improve matters.
Imagine a world where clients, architects, engineers, main contractors and specialist sub-contractors all share the same information. Where alterations or delays are immediately flagged up to the whole team. Where you can track materials en route to you and others can track products from you en route to site. Where drawings are dimensionally accurate and can actually be used to programme saws and workcentres. Where you can see every detail of the finished project before the first sod is cut, and where those details are recorded for future maintenance, repair and, eventually, demolition of the structure and recycling of its components.
It has been made possible by the adoption of digital technology across all the processes involved in construction, from the initial design to the manufacture of the products, delivery, and management.
This convergence will continue as the digital and physical continue to merge, eventually becoming digital twins as the integrated digital version of a physical entity such as a building is represented in every detail on a computer file. AutoCAD company Autodesk has brought this a step closer in the architectural world with the announcement of Autodesk Tandem. But digital twins are making equal strides in manufacturing.
In stone workshops and factories the growth in the use of CNC saws, workcentres, waterjets and robots are a familiar enough example of the digitisation and integration of design and production. Both the design and the operation of the machines to make the finished products is becoming increasingly automated and de-skilled.
Drones and autonomous robots are being used to scan, map, and manage construction projects and civil engineers can now use the new Grading Optimization extension in Civil 3D to generate site plans based on key parameters.
Sustainability
Sustainability is another driver of the changes taking place. Digital technology is good at analysing a lot of data to identify where  product, material and energy can be saved – and they are all savings that cut costs and improve productivity.
With both construction and manufacturing being significant contributors to global greenhouse gas emissions and governments apparently committed to reducing greenhouse gas emissions, reducing environmental impacts becomes imperative.
Joining it all together is cloud-based communication and file-sharing. The evidence is growing that use of the cloud increased considerably last year as people worked at home more and met in video conferences. It stopped the virus spready but also saved a lot of time, because physically getting places is time-consuming.
As all this technology evolves, each development leads to others because it makes something else possible.
That and more is the future of construction as envisaged by the Centre for Digital Built Britain (CDBB), a partnership between the Department for Business, Energy & Industrial Strategy (BEIS) and the University of Cambridge, announced by the government in the 2017 Budget.
The vision
CDBB is intended to be the home of building information modelling (BIM) and other digital approaches to construction in the UK. Its aim is to transform the UK construction industry's approach to the way it plans, builds, maintains and uses the built environment.
In order to fulfil that mission, CDBB works with partners such as the Construction Innovation Hub and the National Digital Twin Programme.
Unlike messy reality, the vision of a digitised life-cycle of built assets sees people living and working in comfort in an environment that encourages career development, export opportunities, a sound economy and social stability.
Lofty ideals perhaps, but the technology proposed for achieving them is already infiltrating every aspect of business and commerce, not just construction. And their use has been given a boost by the novel circumstances resulting from the coronavirus.
The technology existed before last year, but the shock of the pandemic has accelerated its adoption through necessity.
Emails, many from America, offering software to speed up, manage and automate design, office-to-factory and office-to-customer communication, and estimating and invoicing have become more prolific than emails from China offering stone.
Programs specifically for stone fabricators, such as Software for Countertops from the American company Moraware, or for construction in general, from companies like Procore, Deltek and WorkPad (now partnering with Flexi Offices) are seen more often these days in British companies. They include a variety of features from scheduling and tracking jobs through the factory to automatically generating emails to tell customers about the stage of progress their projects have reached and when they can expect them to be installed.
Too slow, too expensive
A company called 4PS, with offices in Birmingham, quotes McKinsey reports as saying large construction projects often take 20% longer to complete than the original programme allowed for and are up to 80% over budget. It is ridiculous, of course, but is not likely to come as a surprise to anyone reading this.
4PS also says that the construction industry typically invests just 1% of its turnover on digital solutions.
4PS offers enterprise resource planning (ERP) software. In a paper called 5 Recommendations: How to effectively manage risks in construction the company's Paul Broderick says when choosing ERP it is important to ensure it is tailored for construction, coping with, for example, the Construction Industry Scheme (CIS) for paying sub-contractors and applications for payment as standard.
Paul Broderick says these construction specific features are rarely seen in business management systems but have a big impact on efficiency and savings. 
ERP basically integrates all the core processes needed to run a company – finance, human resources, manufacturing, supply chain, services, procurement and so on.
It is sometimes compared to and pitted against business intelligence (BI) software such as SAP and MicroStrategy. But BI is more like an automated spreadsheet that analyses large amounts of data and presents it as graphs and tables in reports and dashboards so it is easier to understand and act upon. For many businesses, ERP and BI software are seen as complementary tools rather than competing tools.
Access to EasyBuild
Another company offering ERP to the construction industry (and others) is Access, which last year strengthened its position with the acquisition of EasyBuild, a company offering end-to-end construction financial and project accounting solutions with a suite of application software that addresses all the operational needs of a modern construction business – finance, commercial, project management and compliance.
The original development of the software was driven by a collaboration between the commercial and the financial functions of a top 100 contractor and house builder to enable it to share information across its projects in order to provide the critical tools needed to manage projects in a timely and efficient manner.
Brendan Flattery, Managing Director of Access ERP, says of the acquisition: "The Access ERP business already has a strong footprint in the construction sector, serving over 1,000 Access customers. Since the acquisition of ConQuest in 2018, we've been looking for other complementary solutions to expand our offering, primarily in the UK, but with an eye towards Europe. With their range of ERP solutions, specifically designed for the complex project management needs of this sector, EasyBuild was an obvious choice."
What allows the different applications to talk to each other in all ERP is an application programming interface (API), which is a software intermediary designed for the purpose.
Industry 4.0
It is all part of what is called the fourth industrial revolution, a term first used in Germany and then adopted by the rest of the world following the 2016 World Economic Forum annual meeting in Davos, Switzerland, which had as its theme 'Mastering the Fourth Industrial Revolution'. The fourth industrial revolution is now known as Industry 4.0.
The concept of Industry 4.0 encompasses smart connections, the Internet of Things (and the Industrial Internet of Things), big data, 5G, artificial intelligence (AI)...
It will not have escaped your notice that the sector is developing at an incredible and accelerating pace. A report by the European Patent Office (EPO) in December using data from patent offices around the world said the number of patents in Industry 4.0 technology grew at an average annual rate of almost 20% between 2010 and 2018 – nearly five times faster than the average growth rate.
Leading the field is the USA. Asia was a bit slow getting going but China and South Korea are now developing the technology faster than Europe. In Europe (the geographical area rather than the political area) Germany led the way with 29% of patents, more than twice as many as the UK, which was in second place just ahead of France.
London makes it into the top 20 most innovative regional clusters worldwide, but it is slipping and the top 10 are now all in the USA or Asia.
The report, entitled Patents and the Fourth Industrial Revolution – the global technology trends enabling the data-driven economy, says that nearly 40,000 new international patents were filed for these technologies in the final year included in the study (2018). They accounted for more than 10% of all patenting activity worldwide that year.
"Constellations of smart, connected devices, faster wireless internet, big data and AI are transforming the global economy and having a profound impact across many sectors, from manufacturing to healthcare to transport," says EPO President António Campinos.
"What we are seeing is not just an acceleration of the development of information and communications technology, it is a major shift towards a fully data-driven economy."
Particular game-changers are 5G, which has transformed mobile communications to make it feasible to send data anywhere, and AI, which helps sort, analyse and make sense of all the data that are flying about.
As the Internet of Things gradually connects everything to everything else, 5G will grow still more important (assuming all the masts don't get destroyed by conspiracy theorists who think 5G spreads Covid-19). It will be essential to handle all the data being transmitted. So will AI, otherwise people will quickly become overwhelmed by the sheer volume of information that is bombarding them.
The Covid perspective
Until last year you might still have been wondering what Industry 4.0 had to do with your business in the stone industry, even though all the CNC machinery you had seen at the stone exhibitions for the past few years had proclaimed itself Industry 4.0 ready. Last year changed a lot of people's perceptions as we rapidly got up to speed with video conferences on platforms such as Zoom, Teams, Google Meet, Facetime or whatever you favour. And we got used to looking round project sites and company premises using services like Smart Viewing.
One company that significantly increased its use of virtual and augmented reality last year was Neolith, which makes sintered stone.
It launched a new virtual reality (VR)digital platform, NeolithVirtualExperience.com, and an augmented reality (AR) app to bring its collection of more than 50 colours and finishes from the showroom into the customer's home.
With the Covid-19 pandemic having made face-to-face encounters less likely, Neolith decided to create this new suite of interactive features that are accessible to all.
The Neolith AR app (from Google Play or Apple App) allows the user to dress any residential or commercial space with a pattern from the Neolith collection, using either a photograph of the customer's own premises or one from the device's gallery. It has various functionalities, such as perspective, zoom and brightness toggles, to provide a render that is as realistic as possible.
Virtual Reality (VR) tours offer a similar experience to viewing Neolith's stands at trade fairs. Users can also visit (virtually) the Neolith Urban Boutiques (NUBs) that the company opened around the world in the past five years, including the one in London. These showrooms are used by design professionals and consumers.
Mar Esteve Cortes, Neolith's Chief Marketing Officer, says: "With combined AR and VR capabilities, we feel the Neolith Virtual Experience gives a truly comprehensive snapshot of the brand and its materials – as near as we can currently come to observing the material in reality."
Easier handling from Intermac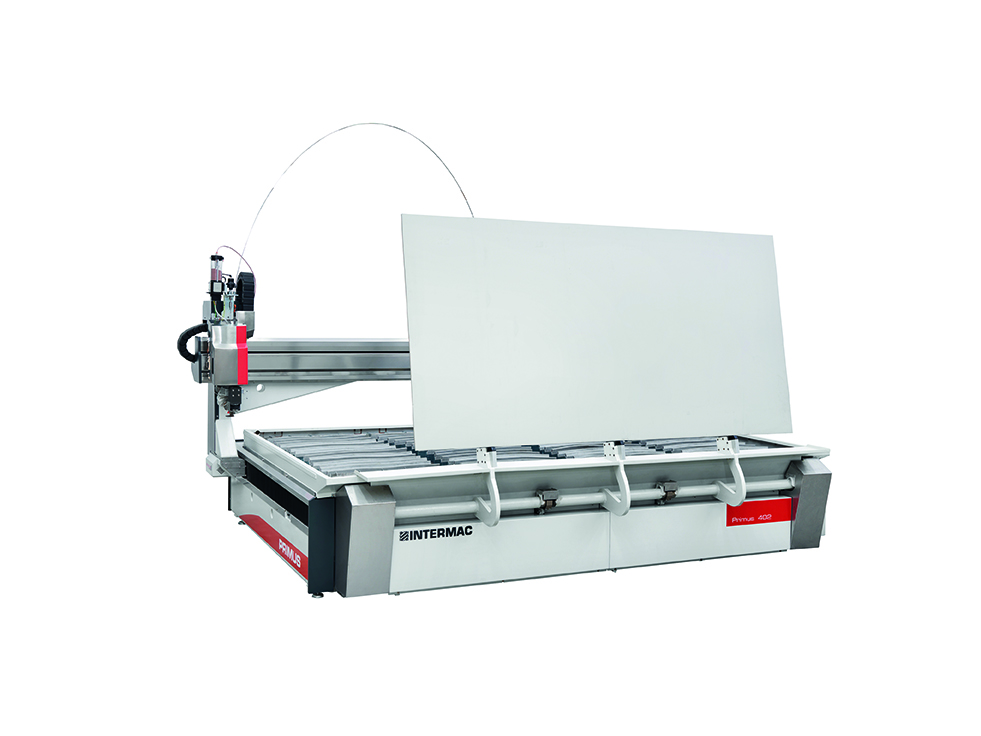 Many of the information technology (IT) advances are aimed at improving the collection and sharing of data among the various parties involved in actually constructing a structure on-site. But the same technology has also made its way into the factories and workshops of individual stone SMEs (small and medium sized enterprises).
While robot arms are still fairly uncommon, CNC saws and workcentres are well established, especially among worktop fabricators, with or without third party software such as the leading Alphacam Stone offering, the latest updates of which are due out in June.
Waterjets are also making their way into factory workshops, especially since sintered materials and large format porcelain slabs entered the product portfolio of stone processors and waterjets moved from three axes to five, so they could make angled cuts, including mitres. The automatic compensation for the spread of the jet of water as it cuts through thick material also helped.
Developments in diamond tooling have made it quicker and easier to handle the new generation of materials, and less likely to result in the workpiece snapping or splintering, but many companies are still attracted to the practically limitless shaping options available with waterjets and the fact that they can cut most materials safely because they avoid any risk of heat fracture or damage. Intermac says one customer last year bought one of its Primus waterjets specifically to cut veneers for cabinet doors so they would match the worktops.
Fabricators have also discovered it is an easy way to make sunken drainers. Producing a sunken drainer recess on a CNC normally takes 17 machine operations using seven tools. And you can't do it with many ceramics because the pattern is printed on the surface. With a waterjet the sunken area can be cut out, dropped down and glued back in minutes.
Waterjets used in the stone industry include those from Americans Flow and Italians Omag, GMM (which bought TWJ, an Australian company that makes Techni waterjets) and Intermac.
You might think there is not much else that can be improved on a waterjet. But Intermac introduced some developments last year for stone customers.
It had realised that getting slabs on and finished work off its original Primus 184 waterjet could be improved. Because the 184 bridge went across the width of the Primus rather than along its length, slabs had to be loaded from the end, which was difficult when the slab was being lifted by a grab on a forklift, especially as jumbo size slabs started to become the norm.
So the Primus 402 was developed four years ago with a bridge that spans the length of the machine carrying a head powered by an inverter motor for smooth and economical movement. That made the waterjet easier to load and unload, and the process has now been made easier still thanks to the addition of automatic loading arms (see the picture at the top of the page).
Last year Primus also started to offer the Easystone software that Intermac had made available with its other CNCs two years earlier. Because it was a programme already familiar to many in the stone industry it made sense to include it with the waterjets as well.
Other features of the Primus include the JPC (jet performance control) that keeps the cut on the workpiece at 90º to the surface (or 45º on a mitre) throughout the thickness of the material. It also has the  option of having two, independently operating cutting heads to speed up production.
Jason Barrett, Intermac's UK Product Manager, says he started this year with one sale and enquiries about waterjets from two other stone companies that three or four years ago would not have been considering investing in them.
If the companies decide to buy the waterjets, that will take sales of the Intermac Primus to stone compa-nies in the UK above 20, all of them five axes versions.
PPM in practice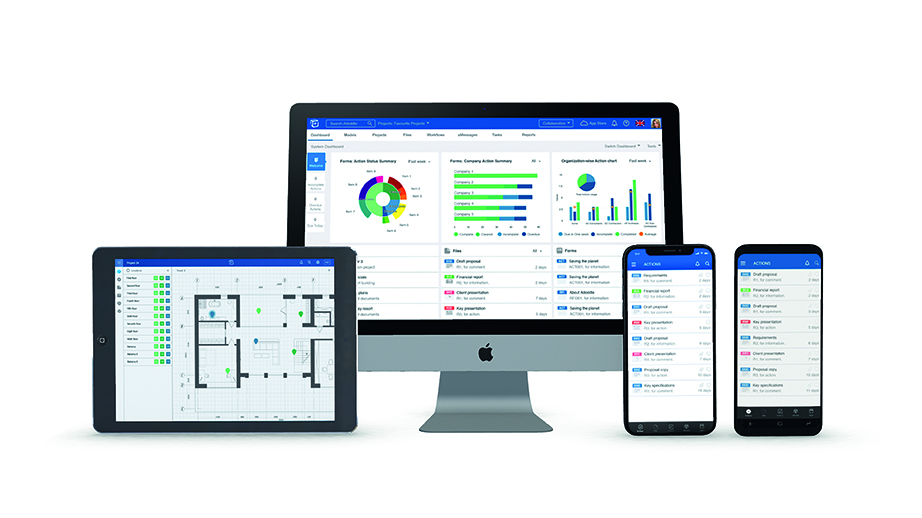 Baxall Construction is using Asite's Project Portfolio Management (PPM) solution to support its projects across the South East of England.
Baxall is a regional contractor working across London and the South East, delivering new build, design and build, refurbishment and project management to projects across the spectrum, including education, community, commercial, high quality residential, ecclesiastical, health and leisure.
As part of the Asite PPM solution, Asite's Common Data Environment (CDE) allows Baxall to configure its workspaces to best suit the project and manage 2D and 3D files in a secure and collaborative setting with BS1192 compliance, which involves using a standardised naming convention and working through the disciplined collaboration process.
The Asite platform means best practice is seamlessly integrated into the project, with access to documents on-site so they can be marked-up, forms raised and any defects recorded using the Adoddle Field for mobiles.
Asite's platform enables companies to work together, planning, designing, and building with seamless information sharing across the entire supply chain.
Asite SCM (Supply Chain Management) helps project owners and tier-1 contractors to integrate and manage their extended supply chain for deliveries. PPM (Project Portfolio Management) gives the contractor and its supply chain shared visibility of projects. And APM (Asset Performance Management) keeps track of a complex, ever-changing register of capital assets.
Asite is headquartered in London's Tech City, which has become a high-tech hub of England.
Global BIM Summit 17 March
The Centre for Digital Built Britain (CDBB) is holding a 'Global BIM Summit' on 17 March that it hopes will attract the public sector from around the world (although others are also welcome) to find out how it could be making better use of building information modelling (BIM).
The Global BIM Summit claims to be the first and only global event of its kind, sharing ideas and inspiration for a more productive and better performing public sector in construction.
It will be hosted by Phil Bernstein (FAIA RIBA), Yale School of Architecture's Associate Dean and Professor Adjunct, who is a celebrated author on the topic of digitalisation in architecture.
Professor Bernstein says: "Building information modelling is more than a technology, but rather a strategy for the integration and improvement of the global building industry.
"The Global BIM Summit is an opportunity for us to understand, share and improve BIM standards, methods and best practices across the world, and take full advantage of the enormous expertise of professionals in a variety of disciplines and markets."
The Summit signals the launch of the Global BIM Network, an international community of the public sector to help it leverage the opportunities of digital tools through the successful implementation of BIM.
Supported by the Construction Innovation Hub and the Foreign, Commonwealth & Development Office (FCDO), the Global BIM Network's aim is to foster a productive and more collaborative global digital construction market for the public good, facilitating innovation in the sector to drive increased value and be an engine for long-term sustainable growth.
The Global BIM Summit is preceded by a series of related webinars 3-11 March to bring everyone up to speed.
You can see the Summit and pre-event programme and register to attend (they are free) on www.globalbimsummit.org.
The Global BIM Summit is open to anyone who has an interest in learning more about BIM and its imple-mentation and benefits.