STONE CLEANING: Cleaned stone makes the best case for stone cleaning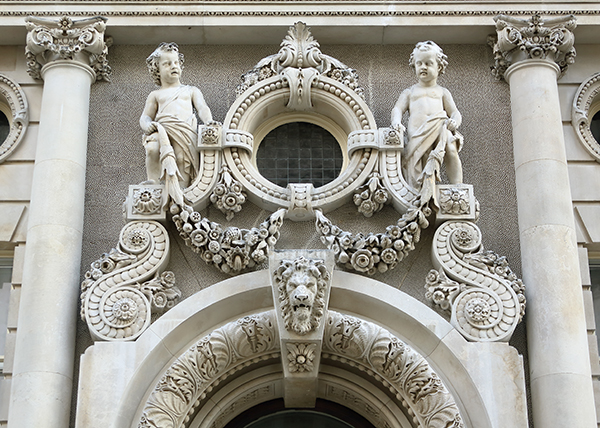 Stone cleaning is not the controversial subject it once was but it still requires the right equipment and the right skills.
Like a lot of aspects of stone care and conservation, stone cleaning is better understood now than it was in the past and the products available for carrying out the work are better than they have ever been.
Detail lost by aggressive grit blasting and façades discoloured by the use of inappropriate chemicals are (hopefully) consigned to the past. Research has shown that stone cleaning is not the enemy of stone it was once thought to be, especially sandstone.
However, cleaning stone still needs to be carried out by trained and skilled operatives to achieve the required results, but that is understood by the companies that specialise in stone cleaning.
Stone is, of course, used in many different applications, from worktops, floors, bathrooms and feature walls in domestic and commercial interiors to historical façades and memorials and monuments.
There tends to be different companies specialising in the different areas with their own specialist machines and chemicals, such as machines that use abrasives for cleaning and polishing floors and environmentally friendly chemicals for cleaning headstones without killing the surrounding grass and flowers.
The most visible form of stone cleaning that has the biggest impact on an area is when a façade is cleaned, often in association with stone repairs being carried out, further enhancing the impact.
The two companies that have had the biggest impact on façade cleaning are Restorative Techniques and Stonehealth. Both offer superheated water cleaning systems (ThermaTech from Restorative Techniques and Doff from Stonehealth) and gentle abrasive cleaning equipment (Torc from Stonehealth and VorTech from Restorative Techniques). They also sell various other specialist cleaning products such as latex for removing carbon deposits, poultices for drawing out stains, and various chemicals for specific cleaning applications and for protecting stone (for example against graffiti) to make it easier to clean in future.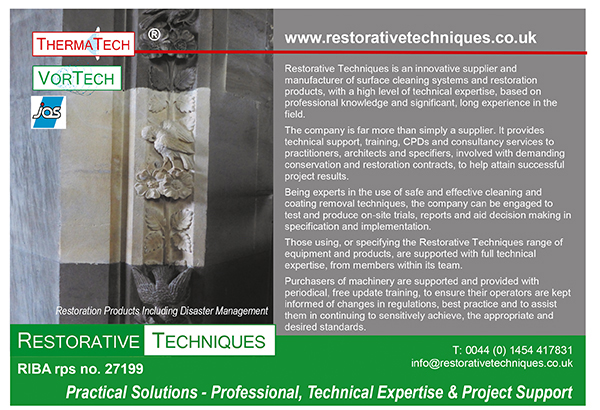 Both these companies offer training on the use of their equipment, maintain registers of those companies that have been trained in their use for the benefit of those looking for specialists to carry out the work, and act as consultants, analysing contaminants and deposits on stonework (including paint) and advising on the best way to remove them.
Both companies also sell their products abroad and Stonehealth has recently been in Canada training lecturers at a College in Ontario how to use the Doff and Torc machines they have bought, so the lecturers can pass on the knowledge to students. MD James Diamond says he would like to use the weakness of the pound against the dollar as leverage into the USA market as well.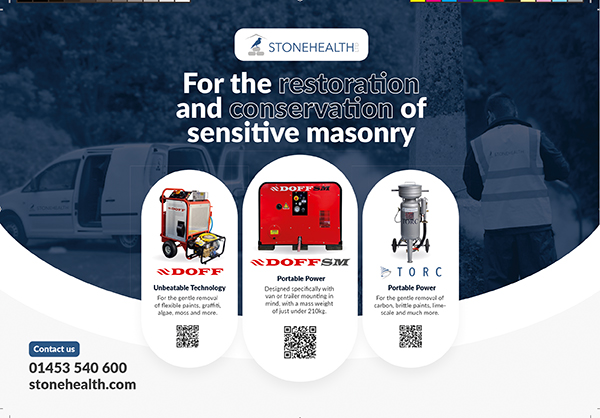 Restorative Techniques has lately opened a modern new laboratory at its headquarters near Bristol. It says an understanding of chemistry is fundamental to a scientific approach to the conservation and restoration of built heritage assets. The new laboratory will guide the selection of appropriate surface treatments and the formulation of remedial chemical products for specific conservation issues, from sulphation to graffiti.
Chemical analysis is also used to establish the original formulae used in antique paint and to colour-match it with new paint. For example, when the iron bridge that gives Ironbridge in Telford its name was renovated, samples of paint from deep beneath more recent layers were analysed in order to repaint the bridge to its original colour scheme.
Restorative Techniques says chemistry has guided its product research and development for many years and is fundamental to the formulation of its growing line of proprietary chemical products.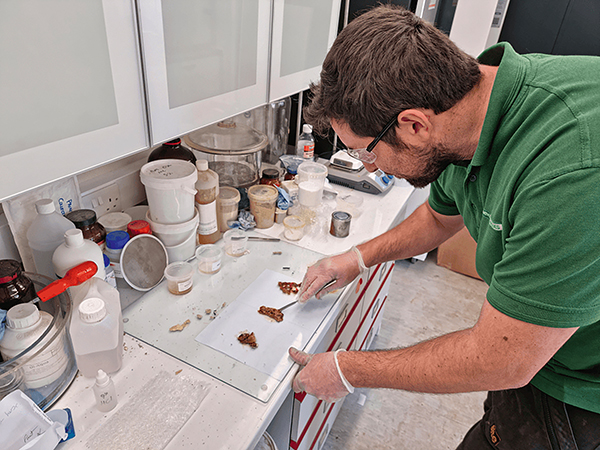 Nevertheless, the physical cleaning equipment is still a major part of the company's repertoire, such as the ThermaTech system used by Stonewest for cleaning 1 Derby Gate in Westminster, London, pictured on the previous page.
It is a Grade II* listed ornate stone building forming part of the same Northern Estate of the Houses of Parliament where it is proposed the House of Commons should sit while the Palace of Westminster is being renovated (and Restorative Techniques' products, including ThermaTechs, have been widely used for the ongoing maintenance of the Palace of Westminster).
At 1 Derby Gate, a grandiose Italianate palazzo built of Portland limestone in 1864-66 as a gentlemen's club and now, in conjunction with the adjacent former 45 and 46 Parliament Street, used by the House of Commons as a satellite library service, Stonewest was contracted to clean and repair the stonework. Stonewest worked alongside principal designer BDP, principal contractor Wates Construction and quantity surveyor WSP & Gleeds.
The Heritage Statement in the planning application for permission to carry out work on Richmond House and neighbouring properties in Parliament Street and Whitehall to temporarily accommodate Members of Parliament when work begins on the major refurbishment of the Palace of Westminster identifies 1 Derby Gate as of 'the highest significance'.
Stonewest was tasked with the extensive cleaning and repair of the intricate stonework of the building, which included chimneys and carved embellishments (a lion's head at high level, beneath the coping and console brackets along the cornice).
ThermaTech's super-heated water provided the delicate touch the cleaning required. Impressively, the Stonewest team was also able to salvage enough stone from the North East chimney that had to be dismantled and rebuilt for all the indents to the façades and the majority of other chimney repairs.
Before work started, Stonewest was engaged to advise on and carry out cleaning exemplars to establish appropriate specifications to achieve the light touch level of cleaning desired. Stonewest was then engaged to carry out the cleaning and repairs.
The cleaning was not all on the exteriors. Stonewest also cleaned and repaired a granite staircase and walls dating from the 1860s.
When it comes to interiors there is no shortage of chemicals to clean, enhance and seal natural and engineered stone surfaces, including porcelains, which are continuing to take market share in both interiors and exteriors.
And there are more chemicals for cleaning and protecting exterior stone these days, like those from Dry-Treat used to clean the stone sculptures pictured below. Dry-Treat products are sold under the name of Stain-Proof and it was Stain-Proof's SMC Peroxide Cleaner, previously known as Dry Treat Stone & Masonry Cleaner, that was used to clean these sculptures.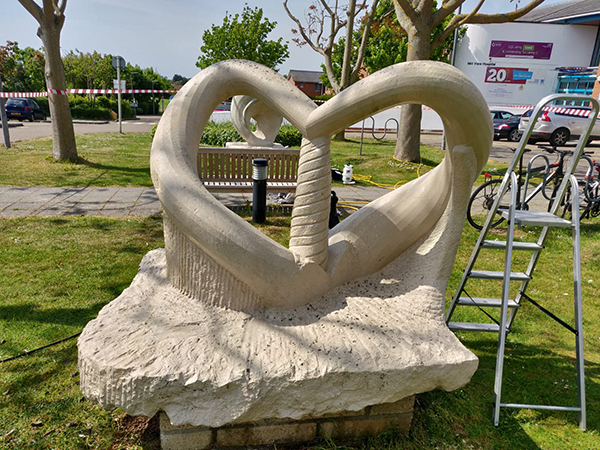 Stain-Proof and are sold in the UK by Advanced Stone & Masonry Supplies (ASM). SMC Peroxide Cleaner is for cleaning stubborn organic stains and deeply embedded dirt in porous stone and masonry using a deep, penetrating, foaming lifting action.
It is mildly alkaline with a pH of 7.5, so can be safely used on any stone, quickly lifting dirt and algae from stonework. And once cleaned, the stone can be sealed with Stain-Proof Premium Impregnating Sealer, which is invisible and breathable, for long lasting protection.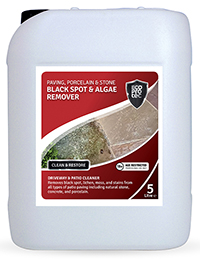 Another range comes from Ecoprotec, to which the latest addition is Black Spot & Algae Remover.
The new acid-free, ready-to-use treatment safely removes stubborn stains and slippery residue, restoring the performance and aesthetic of natural stone, concrete, brick and porcelain. 
The treatment is ideal for deep cleaning new and existing paths, patios, terraces and driveways in residential and commercial settings.
Made in the UK, Black Spot & Algae Remover targets organic residues, including black spot, white spot, lichen, moss, algae and other stains caused by damp leaf matter. Treatment in the autumn, in particular, breaks down microspores and hyphae before they can colonise the surface. 
The product is applied neat to swept surfaces with a plastic watering can or a light pressure garden spray. It fizzes, but not because it is dissolving stone. The formula breaks down residue in 2-4 hours and its bleaching action removes stains. Surfaces should then be hosed down with clean water. 
Ecoprotec Black Spot & Algae Remover can be used on dry and slightly damp surfaces and should be applied when there is the expectation of a few hours of fair weather. 
Following treatment, natural stone surfaces can be protected with Ecoprotec Patio Sealer, while the Ecoprotec Pre Grout Protection barrier treatment is recommended for matt porcelain pavers. Both protect the surface without altering its appearance. They prevent moisture and organic particles from being absorbed into the surface, reducing staining and the spread of algae, mould and black spot. 
Developed for the contract and landscape sectors, the Ecoprotec range includes surface treatments for all types of tile and stone. The new Ecoprotec website (www.ecoprotec.co.uk) presents the exterior range as a separate category from interior treatments and includes a library of supporting technical material.

Mapei UltraCare – a complete protection & maintenance solution
A good protection and maintenance regime ensures a stone surface retains its natural aesthetic and performance characteristics. To simplify each step and ensure every type of material and finish is correctly maintained, Mapei has developed its UltraCare range of cleaners and protectors.
Formulated in the Mapei Research Laboratories and designed for both professionals and end-users, the range provides a solution from installation to the protection and maintenance of surfaces in private, commercial and industrial settings.
Mapei's UltraCare cleaners are tailored to individual characteristics of surfaces, whether they are acid sensitive, acid resistant, polished or unpolished. Each formulation provides a safe and easy-to-use solution for diverse sites, whether new installations or renovations.  
For acid-resistant surfaces such as granite and quartz, Mapei UltraCare Acid Cleaner and UltraCare Keranet are ideal for a builders clean and stain removal. Both safely remove fixing residue (including cementitious grout), organic dirt, salt, limescale and efflorescence. 
The 'buffered' formulations do not emit fumes, so they are safe for the applicator and the environment and will not cause damage to stainless steel or aluminium profiles.
The range also includes Mapei UltraCare Keranet Easy, a ready-to-use spray that can be used as soon as grout becomes opaque, which saves a lot of waiting.
To deep clean unpolished natural stone before is it sealed, there is UltraCare HD Cleaner, an alkaline formulation that breaks down organic dirt. It can be used to restore a stone floor's slip resistance as well as its aesthetic.  Outdoors, it also tackles the removal of moss and algae and is effective as a remover for water-based and metalized waxes.
Once a stone surface has been sealed it should be cleaned with a pH-neutral product like diluted Mapei UltraCare Multicleaner. The dilution can be adjusted for a builders clean to remove dirt and grout residue from an installation and for periodic deep cleaning of polished natural stone, although it should be rinsed off afterwards.
For ongoing cleaning, ready-to-use UltraCare Multicleaner Spray is ideal for treated surfaces, especially natural stone in showers and wet areas, vanity units and worktops. It is safe to use on acid-resistant stone that has been treated with a protector.
Mapei's range of UltraCare protectors completes the company's maintenance range, meeting specific requirements, from colour enhancing and providing water and oil-repellent protection to the protection of tiles before grouting. The treatments are supplied ready to use and can be applied directly on to dry or slightly damp materials.
Water-based treatments in the UltraCare range include: Intensifier W high penetration colour enhancer and protector; Stain Protector W impregnator with a natural finish for unpolished surfaces; Stain Protector W Plus impregnator suitable for all finishes of natural stone, as well as terrazzo, agglomerates, brick, terracotta and polished porcelain; Grout Release, for use on porous material prior to fixing to protect against grout ingress and staining and on textured porcelain, where it acts as a sacrificial surface protector that promotes quick and easy removal of grout and installation residues; Grout Protector impregnator for use with cementitious grouts; Fuga Fresca Grout Refresh to rejuvenate the colour of cementitious grout joints in floors and walls.
UltraCare also includes two sol-vent-based treatments: Intensifier S high penetration colour enhancer and protector; Stain Protector S impregnator, providing protection and anti-stain properties with a natural finish.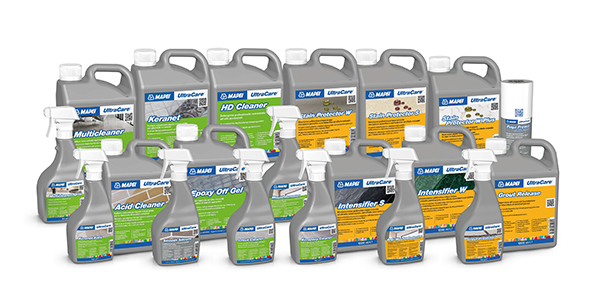 Athena the cleaner
Athena Stonecare has established a business specialising in cleaning stonework like the marble floor pictured below, which was given a full restoration and polish by the company.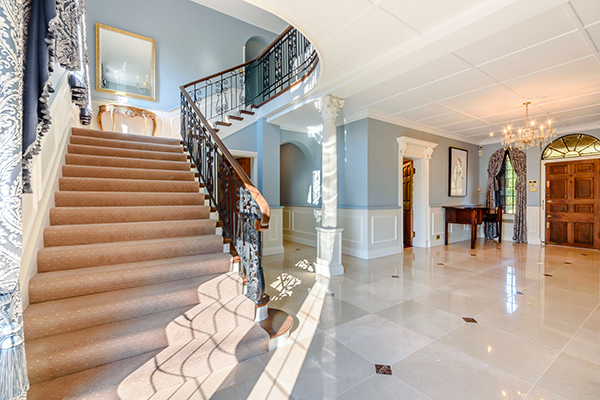 The clients were renovating the property and the marble floors throughout had seen better days. They asked Athena Stonecare if there was anything that could be done to return them to their original splendour.
At the initial site survey, Athena noted that there was significant lippage across the floor where the tiles had not been laid flat.
To re-polish a scratched or etched floor, diamond segments must be used to grind the surface. If tile edges are uneven the diamond segments will bounce over the lips and will be ineffective, so the floor was ground flat first, the clients having decided the investment in a full restoration was well worth it.
The grinding and resurfacing was carried out before new skirting boards were installed. This is always Athena's preference when grinding floors as it enables the best finish possible to reach the edges and corners.
Using the Hypergrinder Titan and Levighetor the marble floor tiles were ground flush with the grout line. Seven stages of diamond abrasives (metal bonds, copper bonds and resin bonds) were used. When the rooms had been decorated the team returned to polish the floor using Klindex KP92 before rinsing and sealing with Fila MP90.
The main contractor contacted Athena afterwards to say: "Cannot get over how good the floor looks! Amazing job."
Working magic on mosaics with Green Man Cleaning
An project by cleaning specialist Green Man Cleaning provided an opportunity to protect and enhance a magnificent mosaic floor in Frome Town Hall, in Somerset.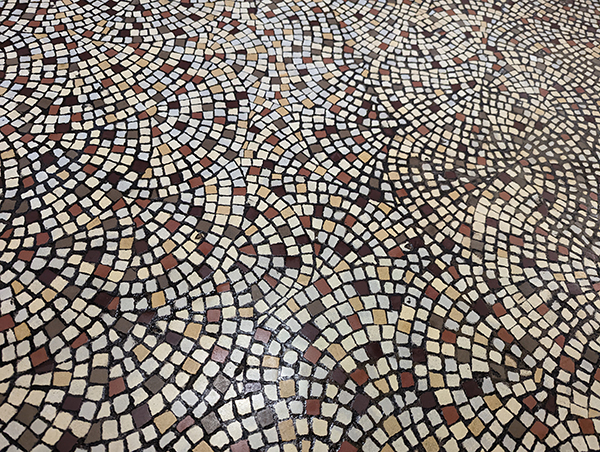 A building for the community, Frome Town Hall was constructed in 1892 in an Italian Renaissance style using local stone quarried in the Butts, along with Box Ground Bath Stone. Today, it retains many of its original features, including a mosaic floor that covers 80m2 in the entrance lobby.
Following an initial survey, Green Man Cleaning commenced works to remove a build-up of organic residue from the tile surfaces and matrix of low-lying grout lines. The floor was swept with a scissor mop and then cleaned with a Numatic rotary machine. This lifted and emulsified residue, which was then extracted and removed with a Numatic wet vac machine.
Green Man Cleaning used pressurised pump sprayers and jets, recovering water with the wet vac. This ensured removal of residue from the lower grout level, which can harbour dirt and grime. If sticky deposits are left they can attract dirt and create rapid re-soiling. The floor was left to dry overnight.
To enhance and protect the floor, Green Man Cleaning used LTP's Ecoprotec Colour Enhancing Stone Sealer. A water-based impregnating treatment, the sealer enhances the natural finish, strongly repels water, oil and grease, and helps protect tiles against staining. 
Being a non-film forming impregnator, it allows the surface to breathe, which is particularly important in historic settings with no damp proof course. Moisture from the subfloor passes through to the surface. Trapping it beneath would cause a variety of moisture-related issues. 
Ecoprotec Colour Enhancing Stone Sealer is suitable for all types of natural and engineered stone. On textured surfaces, it is applied with either a roller or paint brush. The surface is left to dry for an hour, after which any visible residue is removed. Immediately after application the tiles look glossy, but once they have dried they return to their natural aesthetic. The colour enhancer brightens the colour tone without increasing reflectivety.
Jon Gardner, Director at Green Man Cleaning, said: "It was a privilege to be able to bring life and warmth back to this fabulous floor. Our methods and Ecoprotec's sealer restored the mosaics to their best potential condition and provided essential protection. Achieving this with an environmentally friendly, non-toxic treatment protected the health & safety of our team, of the people that work and visit the town hall and the building's fabric itself."