Stone for housing: Demand for British stone remains strong
The end of the stamp duty holiday after September reduced the number of houses sold in October, but as work continued on those already under construction stone suppliers say they have not seen a fall in demand.
British quarries report that demand for walling stone has shown little if any sign of tailing off as the year comes to an end, even though the latest figures from HMRC show the number of houses bought in October, after the end of the stamp duty holiday, was down 52% on the September high and down 28.2% on October 2020.
James Hart, a Director of Lovell Stone Group, a major supplier of limestone and sandstone in Southern England, is not alone in noting: "Nothing's changed for us. We're as busy as we have been for the past four or five years and next year looks as if it is going to be busy again.
"Historically, we had a bit of a lull in the winter to build up stocks, but we haven't been able to put a bag of building stone into stock for years. What's exasperating the issue at the moment is staff shortages. Retention is difficult and recruitment nigh-on impossible."
The stamp duty holidays, which were different in England, Scotland, Wales and Northern Ireland, were designed to keep the housing market active during the first year or so of the Covid pandemic. And they worked, although how much of a bargain buyers got is a moot point.
Removing stamp duty on houses selling at up to £500,000 in England offered savings of up to £15,000 on the price of a new home. Buyers certainly seemed keen to grab the discount, but with demand soaring so were prices.
By September this year (the latest figures available as NSS went to press) the average UK house price had reached a record high of £270,000, £6,000 higher than the previous record seen three months earlier.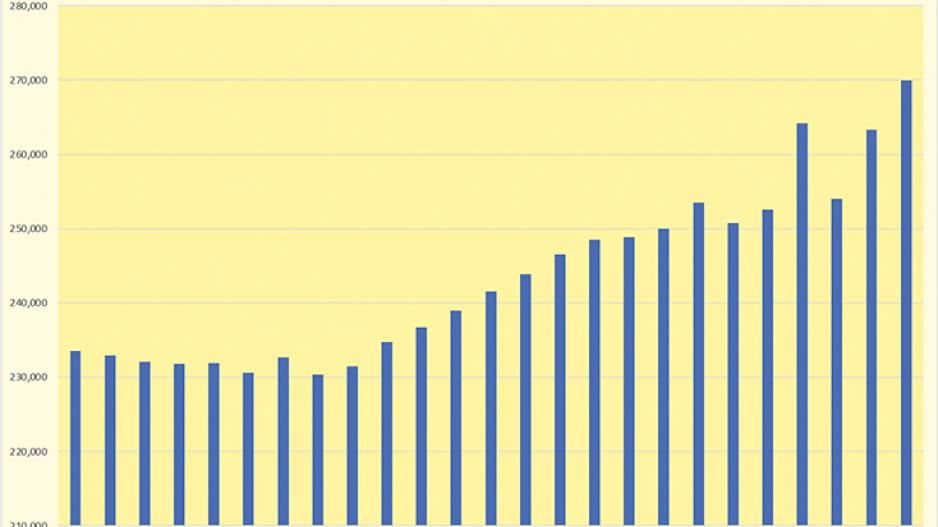 The stamp duty tax breaks were originally intended to end with March this year, which inflated prices in March as buyers rushed to complete ahead of the deadline. But the deadline was extended, and although prices fell in July they were rising again in August and September as the next deadline approached.
Monthly property transaction statistics published by HM Revenue & Customs show the seasonally adjusted number of transactions in September (when the last of the stamp duty holidays finally ended in England) increased to 160,950, which is 67.5% higher than in August and 68.4% more than in September 2020.
Hence the tailing off seen, as had been expected, in October.
The Coronavirus Job Retention Scheme also finished at the end of September. It presumably helped stimulate demand, as it was intended to, by making people feel more secure and protecting their income. Without it redundancies would probably have been high. People would have defaulted on mortgages, increasing the supply of property and decreasing the price, which would not have encouraged builders to complete more houses.
The Office for National Statistics (ONS) speculates that the full impact of the end of the furlough might not yet be felt because of redundancy payments and people working out notice periods. On the other hand, many did return to work and companies are finding it hard to recruit people.
The unemployment rate has fallen to 4.3% and the average number of job vacancies notified in August to October hit a new record high of 1,172,000.
Interest rates rise
Inflationary pressures are beginning to be felt. The Bank of England had accepted the inflation is temporary until this month (December) it has responded to another rise in the inflation rate, this time to 5.1% (the Bank of England target is 2%), by increasing the base rate from 0.1% to 0.25%.
Expectations are it could go as high as perhaps 0.75% next year. That is still historically low, but would increase the repayments on floating rate debts. Not that many mortgages have floating rates these days. Most are fixed for some years and some mortgage lenders say the level of floating rate new mortgages is now only 7%, so at least any increase in mortgage interest rates would impact gradually over several years.
Of course, new mortgages will now be more expensive, adding to price of houses already pushed up by the level of demand and inflationary pressures on the building material supply chain.
Against that background, the Office for National Statistics says there were 49,470 homes completed in the UK in the first quarter of this year – the highest figure in more than 20 years and 4% more than in the final quarter of 2020. There were also 46,010 homes started, the highest number in nearly 15 years and a 7% increase on the previous quarter.
Figures from the National House Building Council (NHBC) for the third quarter of this year (to the end of September) show that new home registrations were up by 14% to 33,779 compared with last year.
The figures relate to new homes registered with NHBC for its 10-year warranty, normally considered to be 70-80% of all new homes built in the UK.
The greatest increases were in the East Midlands (103%), North East (86%) and Yorkshire & Humberside (63%). The only falls recorded were in London (-78%) and the South West (-1%).
NHBC says new home completions were down 5% to 31,908 in the third quarter this year, although it says this reflects the post-lockdown recovery seen in the third quarter last year rather than a major drop in completions this year.
As has been widely noted, people spending more time at home tend to want nicer homes, and NHBC says detached houses now make up the largest proportion of new home registrations in the UK as demand for more space increases.
NHBC Chief Executive Steve Wood says: "With new home registrations up by a healthy 14%, the market remains buoyant. There is confidence in new homes despite the significant supply-chain disruption presently being experienced."
The supply chain disruptions relate to products such as timber and bricks and a shortage of labour, both on-site and for transport.
Steve Wood: "Housebuilders are responding swiftly to shifts in consumer demand for detached houses that offer more space. The move away from apartment blocks is affecting London... but this is only one quarter's data."
According to property tax advisor Cornerstone Tax, and based on its own research, the price of property in rural settings has increased 10.8% during the pandemic compared with  8.9% growth for city property as a result of people deciding to move into more rural areas. Cornerstone says 4.3million people (about 14% of the working population) will no longer commute into urban areas for their jobs post-pandemic as a result of what it calls 'Zoom shock', referring to the video conferencing platform.
In rural areas where stone has traditionally been used for housing, planners are more likely to want to preserve the local character by insisting that future developments use matching materials.
BDW Trading v Lantoom
Unfortunately, a fly has been thrown into stone's ointment by a legal dispute known as BDW Trading v Lantoom, relating to a development in Cornwall where pieces of natural stone started to fall off external walls before the stone was replaced with an alternative British stone.
A claim of more than £5million to cover the cost of remedial work has been made by BDW Trading, a house builder, alleging it had been supplied substandard stone from 2012 to 2015 by the defendant, a supplier of stone extracted from its quarries in Cornwall.
The case was heard by the Technology & Construction Court and a judgement had been expected in the summer. But to date, a judgement is still awaited.
It is a case nobody wants to talk too much about in public, especially before a judgement is known, but which some quarries say is being used by developers as an argument for using cast concrete instead of natural stone when they present their planning applications.
At Lantoom Quarry, Dan Angwin, a graduate of the Camborne School of Mines who is Trainee General Manager, says: "We're very, very busy here. We have about 7-8-week lead times on walling products." He said rustic slate from Lantoom quarry is selling well.
Stone is better
Even though British quarries that supply building stone are busy, they still complain about the principle of developments that would seem to be ideal for the use of natural stone not actually using it.
Geoff Pool, who looks after building stone sales at Lovell Stone Group, for example, says there is a development close to the company's Lias quarry in Langport, Somerset, that is not using stone.
In another location where all the existing buildings are Blue Lias, a 150-house development was approved using concrete bricks rather than stone. Geoff called the planning authority to question the decision. He was told they would rather see bricks laid well than stone laid badly. Geoff hopes the rapidly rising price of cement will help put stone on a more equal footing. At a 7,000-house development near Exeter, Lovell has supplied stone for just six of them.
Changes to planning regulations proposed in the Government's White Paper Planning for the Future were met with enthusiasm by the stone industry. Stone Federation Great Britain has retained Sam Thistlethwaite, of planning and design consultancy Barton Willmore, to champion its case for stone in its response to the public consultation on the White Paper. Even so, the proposals in the White Paper for the use of indigenous materials wherever possible are already being watered down.
In November, the Building Back Britain Commission published its first report, reiterating the need for more housebuilding to meet demand, although the Conservative election pledge of building 300,000 houses a year by the mid-2020s is now generally forgotten and was described by one stone supplier as "cloud cuckoo land". 
Levelling up
Nevertheless, the Building Back Britain Commission report says hundreds of thousands of new homes will be needed across the North of England and the Midlands if the 'levelling up' areas are to deliver the promised increase in jobs.
The Commission's analysis projects an annual shortfall of up to 67,000 homes in cities such as Birmingham, Manchester, Bradford and Liverpool. It says that a "radical rethink" on housing delivery is needed, with between 86,000 and 140,000 homes having to be built every year outside of London and the Home Counties. That is 13,000 to 67,000 more homes every year than the Government's current estimates, which are based on historical levels of growth and take no account of the levelling up investment expected.
The Building Back Britain Commission is a group of business leaders from Barratt Developments, Legal & General, Mace, NHBC, The Riverside Group and Thakeham. Its report is based on research it instigated, authored by former Treasury economist Chris Walker. It assumes that during the next 20 years employment levels will increase in areas the government has identified as most in need of levelling up.
The report also argues for the creation of at least one 'Construction Cluster' in every region of the UK by 2030 to foster innovation and help train up workers in the latest methods of construction. It proposes the first of these should be in Leeds, where the HS2 train is no longer going.
Terrie Alafat CBE, Chair of the Building Back Britain Commission, said: "Our results have profound implications for policy. The Government's current housing strategy simply does not fit the levelling up agenda. It is based on past growth trends and will not be dynamic enough to meet future demand. The increase in demand in levelling up areas should reduce the pressure for new homes in other areas that are already economically developed."
Robert Boughton, CEO of Thakeham Group, added the 'sustainability' and 'Net Zero' considerations. "Sustainability and Net Zero are at the core of this five-point plan for Building Back Britain. This report is proposing that every new build home across the UK must be net zero by 2030, to be able to pave the way for a green recovery. It's great to be part of collaboration on this key issue and we call upon the entire industry to make their commitments to a greener future."
That again sounds like good news for the use of inherently low carbon indigenous natural stone, although the concrete product manufacturers are lobbying hard to present themselves as carbon-reducing champions and the stone industry needs to lead the way on that discussion.
Busy across the UK
The story does not change much throughout the UK. At Denfind Stone in Angus, Scotland, Claire Findlay says: "We are the busiest we've ever been."
She says the demand is not just for housing, although housing is an important part of the story, both from developers and individuals building their dream homes. "There's money out there," says Claire, and especially with the stamp duty holiday people had decided to make the most of it. When they contacted Denfind they already knew stone would be more expensive than render (which is how a lot of houses are finished in Scotland) but had decided that was what they wanted.
She had just a note of caution that most of the projects currently in progress had got under way before the pandemic hit and the test would be what would follow them. "Time will tell," says Claire. "Architects tell us they're busy so hopefully the bubble will not burst."
At Tradstocks in Stirling and Livingston Peter Stewart said there was always a steady demand for stone for one-off houses but lately there had also been an uptick in top end developers looking to use natural stone, not so much for walling, which would tend to be rendered, but for door and window surrounds. "They elevate the appeal of the house by using stone and can recover the cost of it."
He said there had been a big surge of demand for his stone coming out of lockdown, which had specifically closed building sites in Scotland. That had steadied but "most of us have decent order books now" – and not just for housing but also landscaping and other uses. Peter: "We cover all areas of stone use because there's not so many of us in Scotland."