When it's not natural stone, quartz is still the tops
Quartz is still the most popular hard surface for worktops by far, but the number of challengers is growing all the time and they all claim to be more ecologically sound.
Unfortunately, the stone industry has been robbed by the Covid pandemic of its two-yearly Natural Stone Show & Hard Surfaces exhibitions that would otherwise have been taking place this month at ExCeL in London. But if you cast your mind back to the previous shows in 2019 you will, no doubt, remember the impressive display of 136 new materials presented by MaterialDistrict, based in the Netherlands.
MaterialDistrict is an internationally acclaimed sourcing service of innovative materials from around the world for designers. In the Hard Surfaces exhibition there was cast basalt, industrial metallic finishes, spandrel glass, acoustic lightweight concrete, natural stone paper, 3D printed structural support beams and even one material made from cow dung.
Just about everything on show was claiming to be better for the environment, often because it incorporated materials that are available in large quantities but which are currently being thrown away.
Plastic featured, of course, with a lot of people experimenting with ways to recycle it. There was plenty of recycled glass as well, but also a plethora of other waste streams, including the cow dung mentioned above.
Another product used was oyster shells. Millions of oysters are grown in Holland each year but currently most of the shells are thrown away after the fish have been eaten. The material made from the shells at Hard Surfaces was called Oesterplats, with the mother-of-pearl shine of the shells' interiors appearing as contemporary fossils.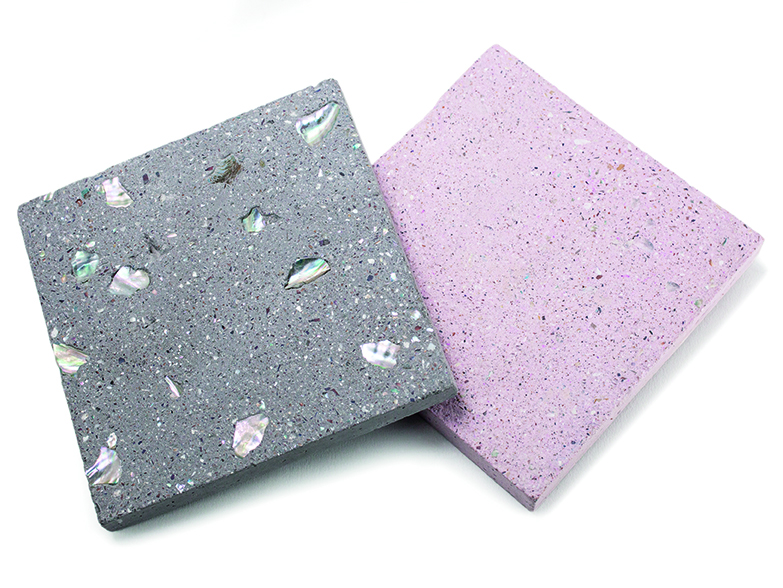 The development of new materials has not stopped. Another product using shells from the fishing industry is Sea Stone, pictured here. Newtab-22, which is experimenting with the idea, says the shells are calcium carbonate, just like limestone, and can be seen as a viable biomaterial for making an environmentally and economically sustainable material.

Other surfaces have been created using waste food, like the Chip[s]Board materials, pictured above. They are made using non-food-grade industrial potato waste.
Chip[s]Board says all its products are durable, recyclable and biodegradable, contain no toxic chemicals and have been designed specifically to create a stronger circular economy for materials. The potato waste used comes from McCain, which prepares oven chips and baked potatoes.
Designer Paula Nerlich is experimenting with cocoa bean shells, which are normally discarded by chocolate makers, in a material currently called Cocoa_001. Cocoa bean shells constitute about 40% of the product and Paula says all the other ingredients are vegan, biodegradable and non harmful to the environment.
Although still in development with no industrial production, Cocoa_001 is said to be water-repellent, solid, naturally anti-bacterial, and has a shiny surface. It can be remoulded with low energy usage several times without material loss and is showing potential for 3D-printing.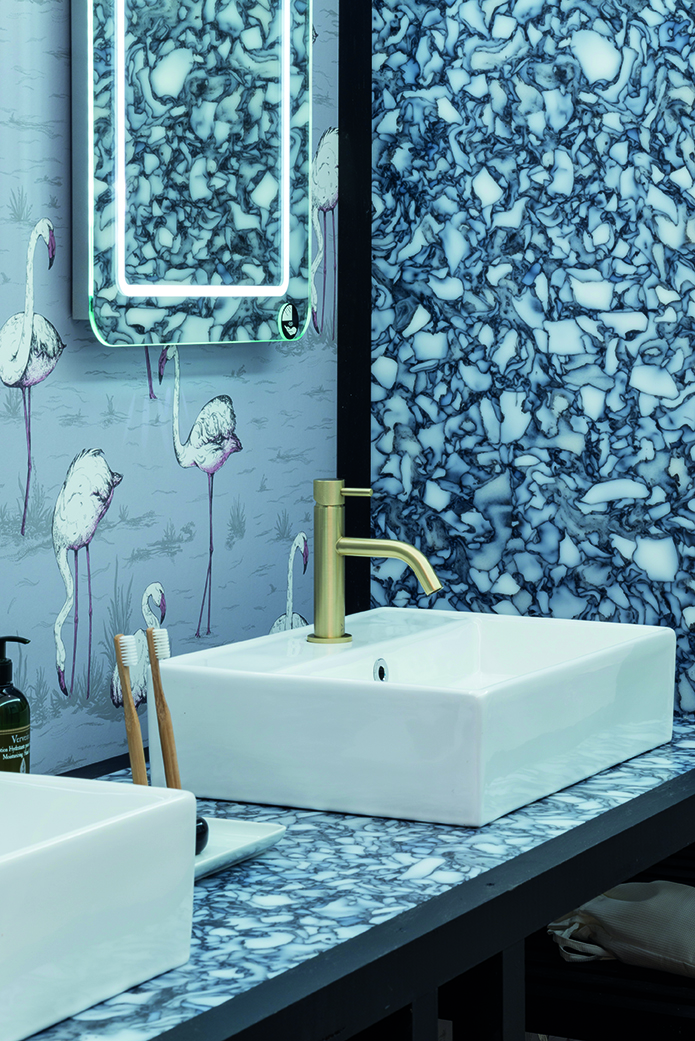 More recycled plastic products come from Smile Plastics (pictured), run by the designers Adam Fairweather and Rosalie McMillan. Adam has been making hand-crafted panels from a range of waste materials (including coffee grounds) for more than a decade, while Rosalie was a finalist for an Observer Ethical Award in 2015 for her sustainable jewellery made from recycled materials.
They say Smile Plastics materials are made from waste plastic such as bottles, yoghurt pots, packaging and plant pots and that all their materials are highly versatile, easy to work with and waterproof, as well as helping to resolve a little of the planet's plastic pollution problem.
Another way of using waste is to mix it with cement, as in Charles Goldman's Re>Crete>, as it is styled. It uses recycled paper, CDs and DVDs, wires, packaging and so on as the aggregate in a sort of concrete.
Although it is said to consist of 95% recycled material (presumably by weight), the hard cement that glues it all together tests its green credentials because the production of cement is a major contributor to man-made CO2.
Engineered quartz made using recycled materials suffer the same criticism – it is not the quartz that has been replaced that is the main cause of pollution but the petrol-chemical resin that holds it together.
There is an advantage to using recycled glass instead of quartz for fabricators, though, because glass is amorphous silica rather than crystalline silica. It is respirable crystalline silica (RCS) dust that causes silicosis and cancer among people employed in worktop fabrication companies who are not properly protected from breathing the dust. There are legal limits to the amount of RCS people can be exposed to. Amorphous silica has no such restrictions.
Stone Italiana has just launched a new range called Cosmolite containing pre-consumer recycled inert content. And Cosentino, which makes market leading Silestone, addressed the crystalline silica issue with its new Loft Collection launched in the autumn. It is made from what Cosentino calls HybriQ+, which replaces 90% of the quartz with pre-consumer recycled glass, leaving the range with only 10% crystalline quartz.
Loft is made on the same Breton production lines that have always been used for making Silestone, and adds to its green credentials by using 98% recycled water and 100% renewable energy in its manufacture, says Cosentino. 
There are a lot of experiments taking place all over the world to try to reduce the carbon footprint of all kinds of products. Most are in a fairly early stage of development and it remains to be seen which, if any, of them will make it into the mainstream marketplace.
Most of the non-natural stone products that have already made it into the worktop fabricators' portfolio do not make a particular claim to be environmentally friendly, apart from those quartz surfaces boasting of using recycled materials.
Engineered quartz still has the largest part of the hard surfaces market, in spite of the promotional spend put behind sintered stones such as Dekton, another of Cosentino's ranges, Lapitec and Neolith.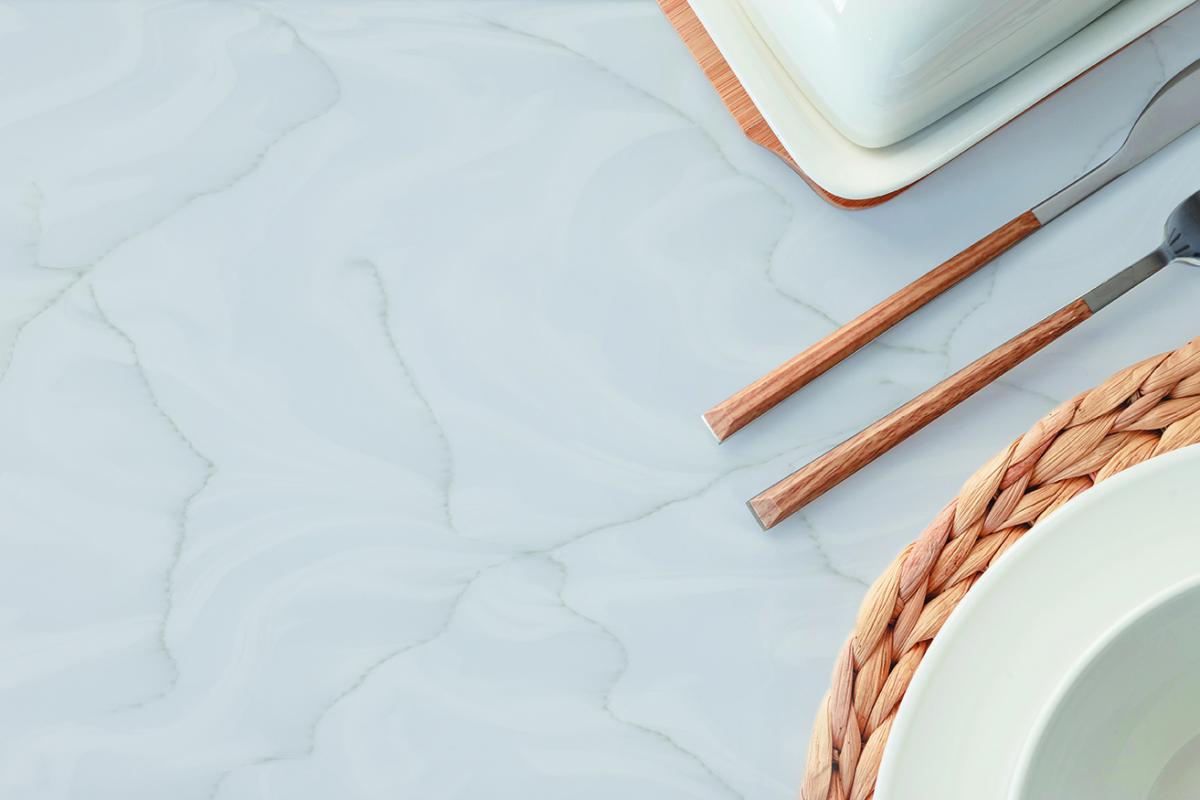 Marble effects remain popular, like this launch from Staron called Rotor Cloud.
The makers of these sintered stones have always promoted their products for use as cladding as well as worktops and interiors, and are now looking at the opportunities that might be opening up as tower blocks are re-clad in the aftermath of the Grenfell Tower fire in London.
The growth in demand for large format porcelains, which have taken a part of the worktop market, seems to have stalled in the past year or so, according to fabricators, although there are some wealthy companies involved in the market who will, no doubt, be putting a lot of money into promoting it as the coronavirus pandemic threat recedes.
The suppliers of porcelains to this market have lately been joined by another wealthy company, DuPont's Corian.
Although the name is synonymous with solid surfaces, there is already Corian Quartz, Corian Elements and Corian Exteriors. The new porcelain products come under the name of Corian Endura. It is being promoted for vertical and horizontal use for kitchen countertops, vanities, splashbacks and wall linings – and exteriors, because Corian Design, which makes Endura, says the porcelain is resistant to fading in UV light. 
Stone wholesaler Culliford's says of the SapienStone porcelain it sells: "SapienStone provides you with the opportunity to use the same surface material [as on your worktops]on dining tables, shelving and even full-length cupboard fronts – offering ultimate flexibility in design and allowing you to make a truly striking statement."
Quite how many people want that degree of co-ordination will eventually become apparent.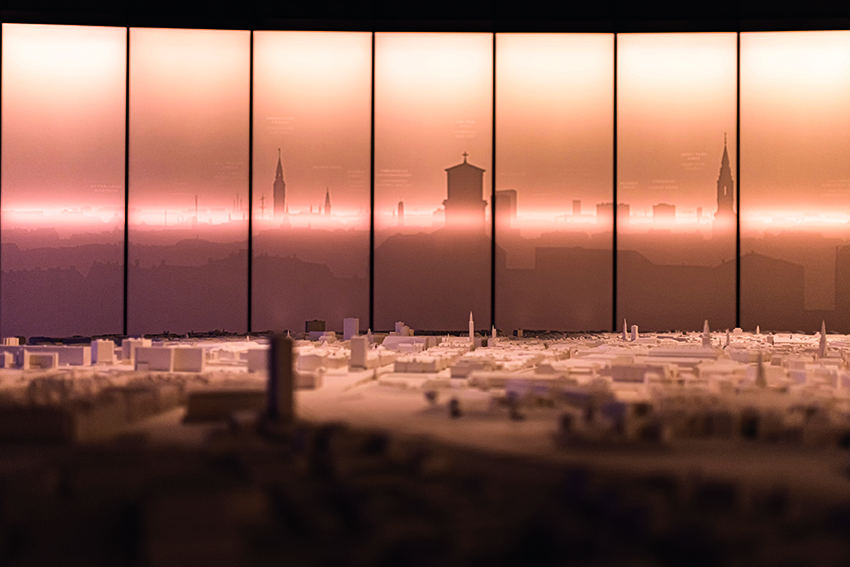 Above. Back-lit Hi-Macs translucent Opal solid surface has been milled by Yoho fabricators into a panoramic view of Copenhagen inscribed with the names of major features to form the walls of an exhibit in the Museum of Copenhagen featuring a model of the city.
Another name best known for solid surfaces is Hi-Macs from LG Hausys, which has introduced Hi-Macs Exteria to add to the cladding options it has already been offering for many years. Exteria is fire resistant Alpine White with a greater UV resistance so it stays looking bright white for longer.
The quartz manufacturers continue to produce new ranges, like the surfaces specifically for outdoor dining areas from Caesarstone introduced last month (March).
The garden kitchen, dining and living area is one of the latest must-haves, going beyond the rustic barbecue and wood or metal garden furniture to take indoor aesthetics outside. It has proved especially beneficial between the lockdowns of the pandemic when meeting friends and family indoors was still banned.
As 'normal' life gradually returns in the months ahead, our outdoor spaces will again be the first port of call for entertaining – both safely and privately.
Not all quartz is ideal for outdoors because pigments can fade and the resin in it can yellow in ultraviolet light. But Caesarstone assures us that will not happen with its new Outdoor range, which it says has been meticulously tested to demonstrate its ability to withstand harsh sunlight and variable temperatures.
The Caesarstone Outdoor collection has been developed over several years and is introduced in three designs: Palm Shade, with the look of white marble with a subtle veining; Midday, a white concrete look; and Clearskies, a pale grey concrete design.
Amir Reske, MD of Caesarstone UK, Europe, the Middle East and Africa, says: "The outdoor kitchen market is growing rapidly in the UK and we have seen an increasing desire for year-round outdoor entertaining.
"The Caesarstone Outdoor quartz collection is totally in tune with this trend and is the perfect choice for design professionals and homeowners who want to create stunning outdoor living spaces."
For outdoors it is understandable that the colours will be light because lighter colours are less likely to fade in UV light, and if they do, it is less obvious they have.
Inside, darker colours have been making a come-back. Twenty years ago nearly all kitchen worktops were black, often with some reflective mirror flecks in them. Then lighter marble effects were introduced and became popular in London first before spreading out to the rest of the country.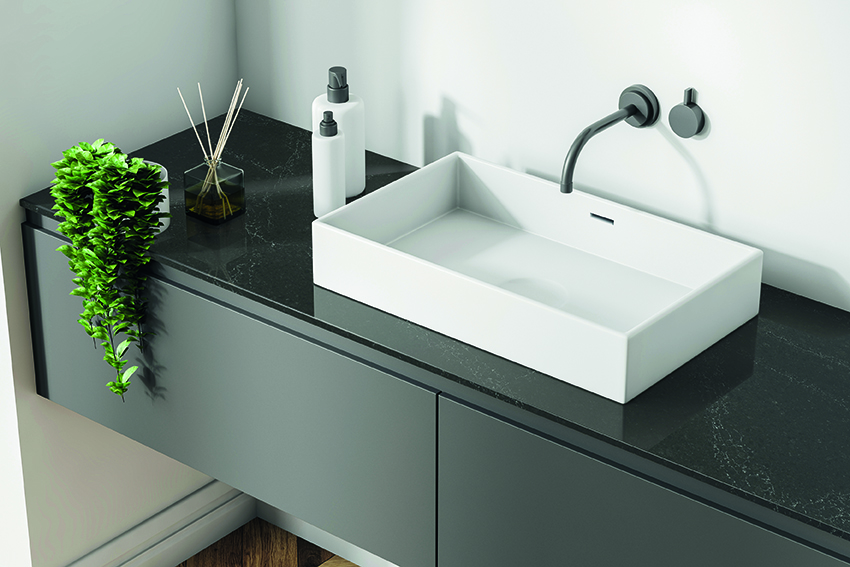 Back to black but with marbling on this Siena vanity with a honed finish in CRL Quartz from CRL Stone.
The new dark colours are not a retrospective return to Star Galaxy because the quartz manufacturers have learnt new techniques since the naughties that have enabled them to make the new blacks more interesting. Nevertheless, black does seem to be back, although the light marble look continues to feature in the latest launches.
For example, the Collection 2020 of Dekton latest launches from Cosentino included both dark designs (like Baltic and Feroe in the Chromica Collection and Eta in the Portfolio Collection) and marble effects (in the Liquid, Avant Garde and Portfolio Collections). 
For a certain sector of a largely urban audience, the industrial chic look that sintered stones in particular ushered in remains popular, and it has transferred to quartz as well, epitomised by Silestone's Loft Collection launched in the autumn last year.
The Silestone Loft collection is said to have been inspired by four cities: London, Barcelona, New York and Detroit, although there are five colours in the collection because New York inspired two (called Seaport and Nolita).
It is called the Loft Collection because it takes its inspiration from the conversion of former factories, workshops and warehouses into open-plan housing – or what became known as 'loft apartments'.
These celebrations of the unadorned wabi-sabi of stark industrialism saw concrete beams, pipes, and bare metal exposed, brick walls left unplastered, solid, often reclaimed, furniture sparsely distributed in stark, minimalistic  spaces.
This style of living became a central and popular look – and according to Cosentino's consistent market analysis, demand by both design professionals and end-users for rust, cement, steel and concrete finishes continues to rise. Hence the five products in the Loft Collection, which are called Camden, Poble Nou, Seaport, Nolita and Corktown.
The names are taken from parts of the four cities with a distinctive history and industrial aesthetic reflected in their streets, buildings, urban furniture and interior decoration.
Whatever designs customers might choose, they undoubtedly are choosing hard surfaces – for kitchens, bathrooms and outdoor living spaces. And with kitchens lately having become offices and schoolrooms, as well as centres for family life, the trend is not likely to change.
Although last year was uncertain, this year certainly seems to be getting off to an encouraging start. Caesarstone says that using its in-house consumer engagement tools and data analysis it recorded a 150% increase in consumer sales-qualified leads at the start of this year compared with the start of 2020 (before the Covid lockdown). Worktop fabricators are also reporting an increase in enquiries and orders.
Jonathan Stanley, Vice-President Marketing for Caesarstone, says: "This increase in consumer interest shows promise for 2021. We are predicting growth within the mid to high end kitchen market fuelled by a consumer desire for quality materials from proven, branded suppliers at a reasonable price."
Below. 'Luxe'-ury from Neolith in its Calacatta Luxe sintered stone.