British stones win top prizes in this year's Memorial Design Award
The winner of this year's Memorial Design Award, sponsored by the British Register of Accredited Memorial Masons (BRAMM), is Scott Taylor from Wareham, who receives a £1,000 cash prize along with his Gold Winner's Certificate and a press release to use to gain publicity for his achievement.
There were also two Highly Commended entries from Stonemasons of Worcester and Craig Price Monuments, as well as nine that received a Silver Award.
The free-to-enter national competition gives memorial masons the opportunity to showcase their work in this category of the Cemetery of the Year Awards. This year's winners ably demonstrate a growing trend towards the use of British stones, especially as rustic memorials, being seen across the country.
Philip Potts of MAB and the CYA says: "The Memorial Design Award is a relatively new category in the Cemetery of the Year Awards competition and open to any memorial already erected in a cemetery or churchyard within the past five years. The entries are marked on their innovation, personalisation and originality by a team from BRAMM, which sponsors this category. The Awards are an excellent opportunity to reward and demonstrate the central role memorial masons and cemeteries can play in the community."
The entries were judged by a team of memorial masons and Burial Authority Association representatives from BRAMM in conjunction with the Cemetery of the Year Award (CYA) committee.
Gold Award winner Scott Taylor has been a mason for more than 40 years, specialising in banker work, carving and sculpture.
He started his career in stonemasonry making memorials, but as more were being imported he switched to building masonry 15 years ago. However, he says he still loves hand-crafted memorial masonry and enjoys making memorials when he receives commissions for a stone like the one commemorating Sheilah Machen that gained him first prize in this year's Memorial Design Award.
Scott believes the environmental cost of a memorial is worthy of consideration and the use of indigenous materials have a lower carbon footprint than those imported from the Far East. He says Burial Authorities should encourage the use of British stones with incentives such as reduced fees for using local materials.
Scott's winning design is produced in Purbeck Stone. He has kept the stone in a rustic state to avoid the constraint of having to adhere to the rigid dimensions of a standard size memorial.
He says the river washed natural boulder look gives the dimensional freedom to use the material to its best advantage.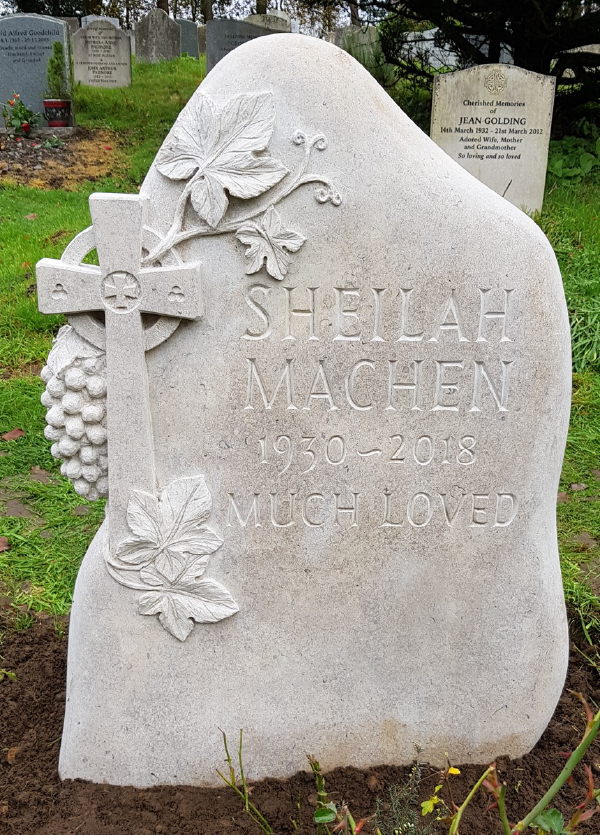 The Highly Commended Silver Awards also went to distinctive, individual memorials.
Craig Price Monuments were initially given a brief from a customer, Mrs Crowley, for a memorial worthy of her late husband.
The first job was to source the stone. They wanted it to be 'rough around the edges' Welsh slate, but despite working with several quarries could not find exactly what they were looking for. So Mrs Crowley decided to look into Pennant stone from Gwrhyd Specialist Stone Quarry in Swansea.
She had a clear picture in her mind of what she wanted. She visited the quarry and chose a stone. Despite the sad circumstances, she enjoyed her day at the quarry and says Commercial Director Michael Walton was exceptionally helpful. After completion of the memorial, Mrs Crowley kept in touch with all involved.
Now Craig Price Monuments had the stone, work began on transforming it into a fitting tribute. It had to be cut down to a size permitted in the cemetery, the 'waste' later becoming garden ornaments, one featuring the same 'serch bythol' symbol that had been carved on to the headstone. It is a Celtic knot symbolising everlasting love and eternal bonding.
The stone is in Maesyrarian Cemetery in Mountain Ash, Rhondda Cynon Taf, Wales. Cara Hake at Craig Price Memorials says: "We were honoured to be trusted to create such a unique and precious memorial and something quite unlike anything we have ever done before." 
Craig Price, who carved the stone, said after receiving the Award: "This Award is a huge achievement for us as we work exceptionally hard to achieve the perfect tribute with each individual memorial."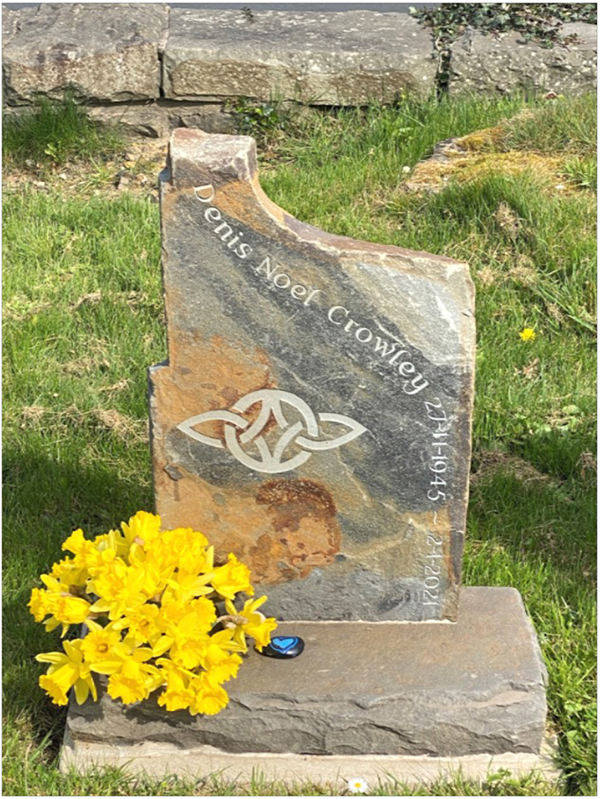 The other Highly Commended Silver Award from Stonemasons of Worcester came about as a commission from Billy's Mum. She had initially wanted to plant a tree on Billy's grave but Malvern Cemetery would not permit this, so she visited Stonemasons of Worcester. She explained what she had initially wanted and Director Zoe Adams suggested a tree could be carved in natural stone.
Billy's Mum loved the idea of a hand carved tree design that she could help create. She said she wanted a Rowan tree because Rowan was the middle name of her son. Coincidentally, it is also the name of the head stonemason at Stonemasons of Worcester. Billy's Mum also wanted stars and a heart to illustrate the wording provided by the family. Rowan (the stonemason) sketched up two designs and Billy's Mum finalised the design for the stone.
The memorial was carved in Portland limestone, chosen for its durability and brightness.
Zoe Adams says: "Billy's Mum was involved every step of the way. We even invited her in to carve some of the tree trunk and she absolutely loved being part of the creative process for her son. I shared the news with her when we won the Award and she simply said that it made her heart sing."