Memorial to 'Big Willy Collins, King of Sheffield', erected without permission, says council
A memorial said to be constructed of 37-tonnes of Carrara marble hand-carved in Italy at a cost of £200,000 is gaining as much publicity as the boxer it commemorates achieved during his career.
It has appeared in the national press of this country and around the world since its unveiling in Sheffield's Shiregreen cemetery on St Patrick's Day (17 March).
It is a memorial to William Oliver Collins, known as 'Big Willy, the King of Sheffield'. He was born in Ireland, hence the four Irish tricolours that fly over the memorial. He was brought to Sheffield as a child in 1980 by his parents and settled there, bringing up his own family in the city and becoming a well-known personality.
He died prematurely aged 49 in July 2020 after collapsing in Port de Pollença, Majorca, where he had gone on holiday with his family to celebrate his wife Kathleen's 48th birthday. Hundreds of mourners attended his funeral in Sheffield that August, with 30 horses trailing his 22-carat gold-plated casket being carried to the cemetery in a horse-drawn carriage.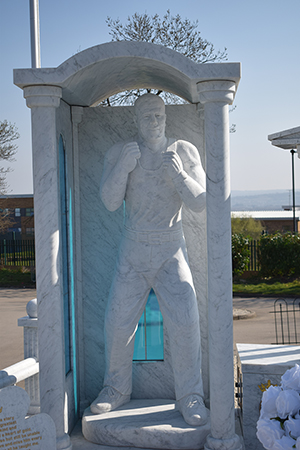 The memorial is as spectacular as the funeral, with its marble carvings of biblical scenes and Willy Collins that match his 6ft 2in life size. There is LED lighting and even a solar-powered jukebox with bluetooth to connect it to mobile phones to play music.
The memorial to the colourful 'Big Willy' Collins might have gained quite a lot of attention in any case, but it was assured of it when Sheffield Council, which owns Shiregreen cemetery, started talking about the memorial having been erected without permission, with the implication that it might have to be removed.
Councillor Alison Teal, the council's Executive Member for Sustainable Neighbourhoods, Wellbeing, Parks & Leisure, is quoted in the Sheffield Star as saying: "All plans for grave memorials should be submitted to the council and must receive approval from bereavement services before they are erected.
"For submissions, applicants must provide several details, including the material and size of the memorial, the proposed inscription and a sketch. A memorial should be less than 75mm thick and no taller than 1.35 metres from ground level.
"We are aware of a large memorial which has been erected in Shiregreen Cemetery. This memorial was built without permission and we are currently considering our next steps."
The family maintains it had bought the land and had permission to erect a memorial on it.
Seen in the context of the memorials around it, which include others to other members of the Collins family, it does not appear as out of place as some of the photographs in newspapers have made it seem.
Nevertheless, it still certainly makes a statement and leaves you in no doubt about the status of 'Big Willy' among his family – and it was a large family. William Collins was said to be one of 16 children. He had nine children of his own and about 400 nieces and nephews.