Stone memorials: the year of the pandemic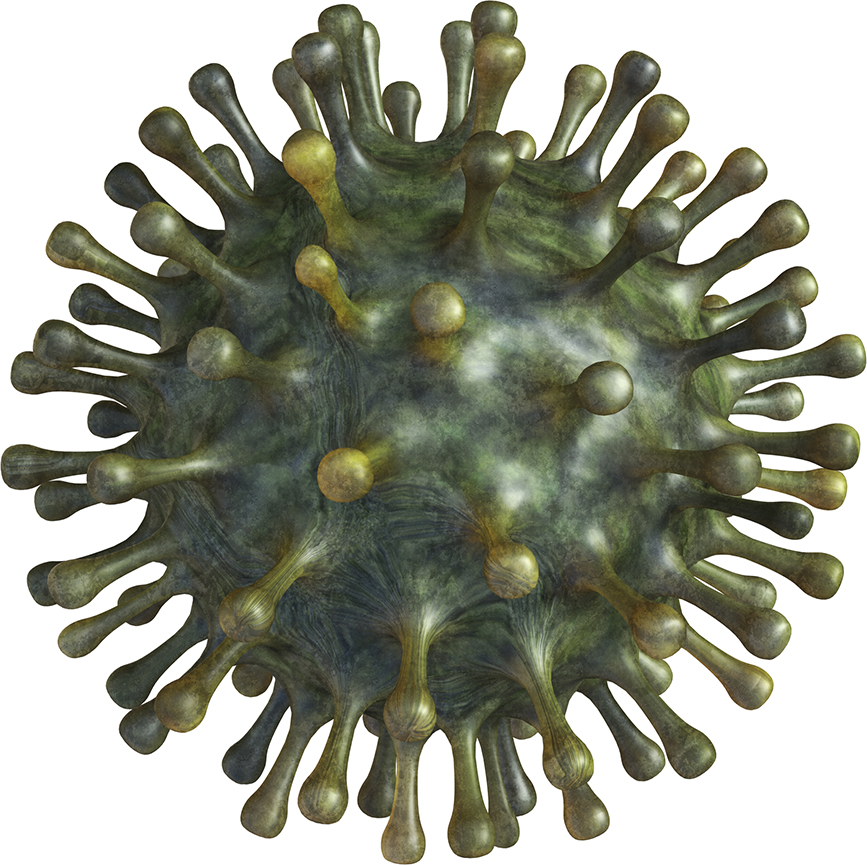 Although memorial masons are receiving lots of enquiries and orders, Brexit and the pandemic have combined to hit supplies. 
It might have been known as the year of the Brexit transition had that event not been overshadowed by Covid-19. Now 2020 will go down in the annals of the world's history as the year of the Covid-19 pandemic.
As a result, it will not have come as much of a surprise to memorial masons when NAMM announced in March that its biennial Tradex exhibition, due to be held in September this year, would be put back to 2022.
The decision came after the National Association of Memorial Masons (NAMM) asked those who had booked a place whether they would prefer the exhibition to go ahead this year, in spite of uncertainty about what level of Covid restrictions might be in place in September, or to reschedule for 2022. About half those who had booked space responded and they unanimously wanted it put back to 2022, believing that would provide the best opportunity for the event to be as successful as possible.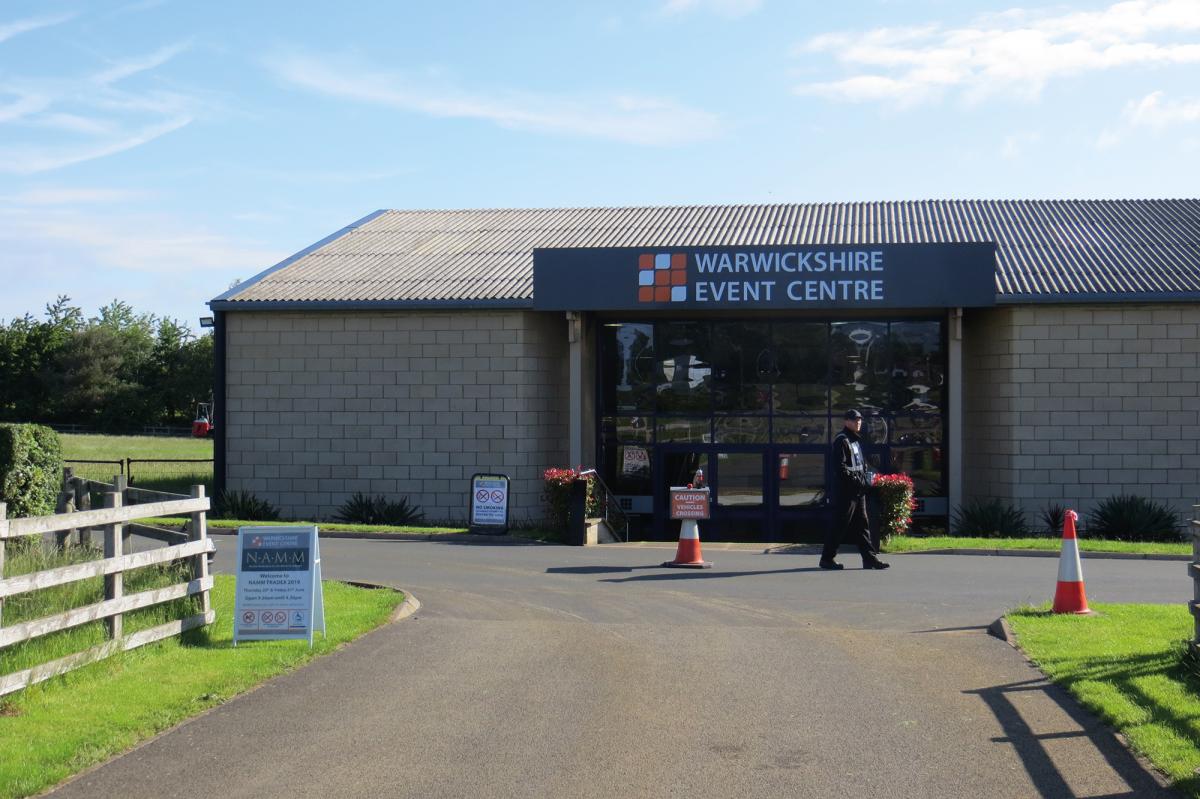 The Warwickshire Event Centre, where NAMM holds its Tradex memorial masonry exhibitions. The next has been postponed to September 2022.
It has duly been rescheduled for 15-16 September 2022, once again at the Warwickshire Event Centre outside Leamington Spa.
The 2019 exhibition had been boycotted by memorial wholesalers, although they were planning to return this time.
They had complained that an exhibition every two years, as scheduled, was too frequent for them to be able to develop new ranges and produce new catalogues.
They understandably like to exhibit new designs at exhibitions in order to attract visitors to their stands. But developing new ranges and printing catalogues to show them is time consuming and expensive, so they like their catalogues to be used for as long as possible before a new one is printed.
From the time the Tradex memorial exhibition resumed as a stand alone event in 2015 it had drawn some criticism both about its frequency and the fact that it was held so close in time and space to the National Funeral Exhibition (NFE) at Stoneleigh Park. In 2015, 2017 and 2019 the NAMM Tradex had been held just a week or so after the NFE at a venue a few miles away.
The National Funeral Exhibition planned for June this year has also been put back to 2022, although it is still scheduled for June (10-12 in 2022).
This year's NAMM Tradex had already been moved to September in response to the preference of exhibitors for it to be held after the summer holidays.
In spite of the high level of vaccination take-up for the Covid-19 pandemic, there is still some concern among the scientists that there could be another wave of the virus this year, especially as it mutates so quickly, which could have meant the NAMM exhibition would have had to be postponed eventually in any case and by then exhibitors would already have spent a lot of time and money preparing their new ranges and catalogues as well as their stands for the event. By deciding at an earlier date to postpone the show, that expense was avoided.
Companies from every sector in every country have tended to put product launches on hold during the pandemic, especially with exhibitions being postponed and cancelled that would usually provide the platform for gaining as much exposure as possible for those launches. The memorial masonry sector is no different.
The postponing of the exhibition has even been welcomed by some of the exhibitors for giving them extra time to get their new collections and stands together as their craftspeople return to work from being furloughed. As Duncan Reynolds at Odlings said: "We've been trying to run a business through a pandemic. It's had its challenges. But we're all in this together: the name of the game is to bear with."
Odlings was celebrating its 150th anniversary in 2020, which it had planned to do in style with a number of events that have not been able to go ahead. It had hoped there could have been some celebrations during NAMM Tradex this year, although Duncan says he thinks it is sensible to have put the event back to 2022. 
Saved by furlough
The fact that staff could be furloughed with the government meeting most of the employment costs, as well as making it possible to get interest free loans during the pandemic, has enabled the memorial masonry sector (like so many others) to survive essentially intact. The fallout without those measures could have been catastrophic.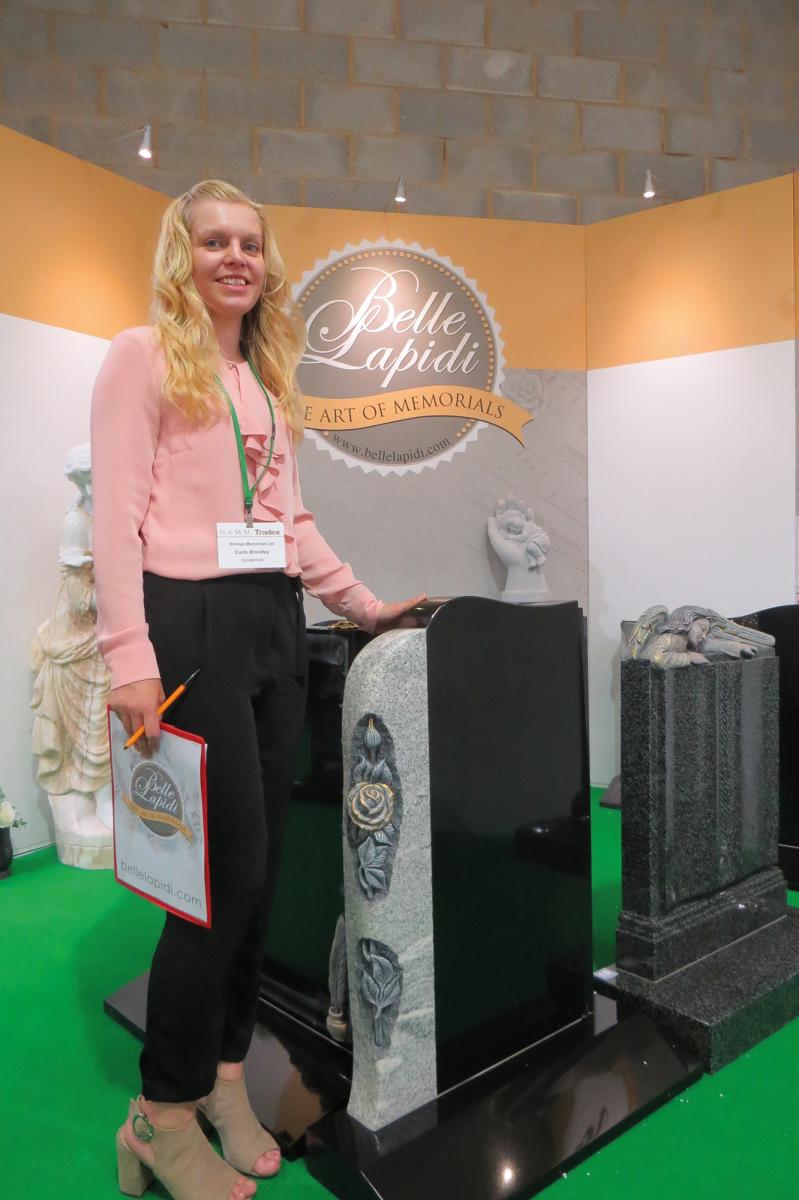 The Belle Lapidi brand was introduced by Andy Walsh's Strongs Memorials at Tradex 2017 (pictured with Carla Brindley on the stand). Last year, Strongs was voluntarily liquidated and Andy is now Director of a new company called Belle Lapidi.
As it is, the death care industry in general and memorial masons in particular have been busy – not surprisingly with a 15% increase in deaths across the UK since the start of 2020 compared with the previous five-year average (see graphs below).
Although, how much of a boost the increased death rate has been is not clear. As one mason told NSS: "Sales are up on 2019, but in 2018 we sold more than we did in 2019 as well. Sales are up, but they're not setting any records." 
More of a problem has been a shortage of supply of memorials, most of which come from India and China. A shortage of containers and ships to carry them, congestion at the docks and to cap it all the blockage of the Suez Canal by the 400m-long Ever Given container ship for six days in March combined to cause delays of the arrival of containers.
Some of the stone importers tried diverting their deliveries  to continental ports, because of the delays at British ports, made worse this year with the end of the Brexit transition period causing more delays. But stone importers were not the only sector to think of trying to use other ports and they became just as congested as British ports.
Also, it became difficult to get drivers to bring goods into the UK from Europe because the delays and extra paperwork required to negotiate customs. It eventually became just about impossible for retail memorial masons to source medium black ogees last year.
With shortages come price increases and the cost of shipping, while it varies, became as much as three times what it was before the pandemic and stayed high. While some of the increases have been absorbed by the importers and wholesalers, some have been passed on and prices have, generally, risen, although all the wholesalers say they have kept price rises to a minimum.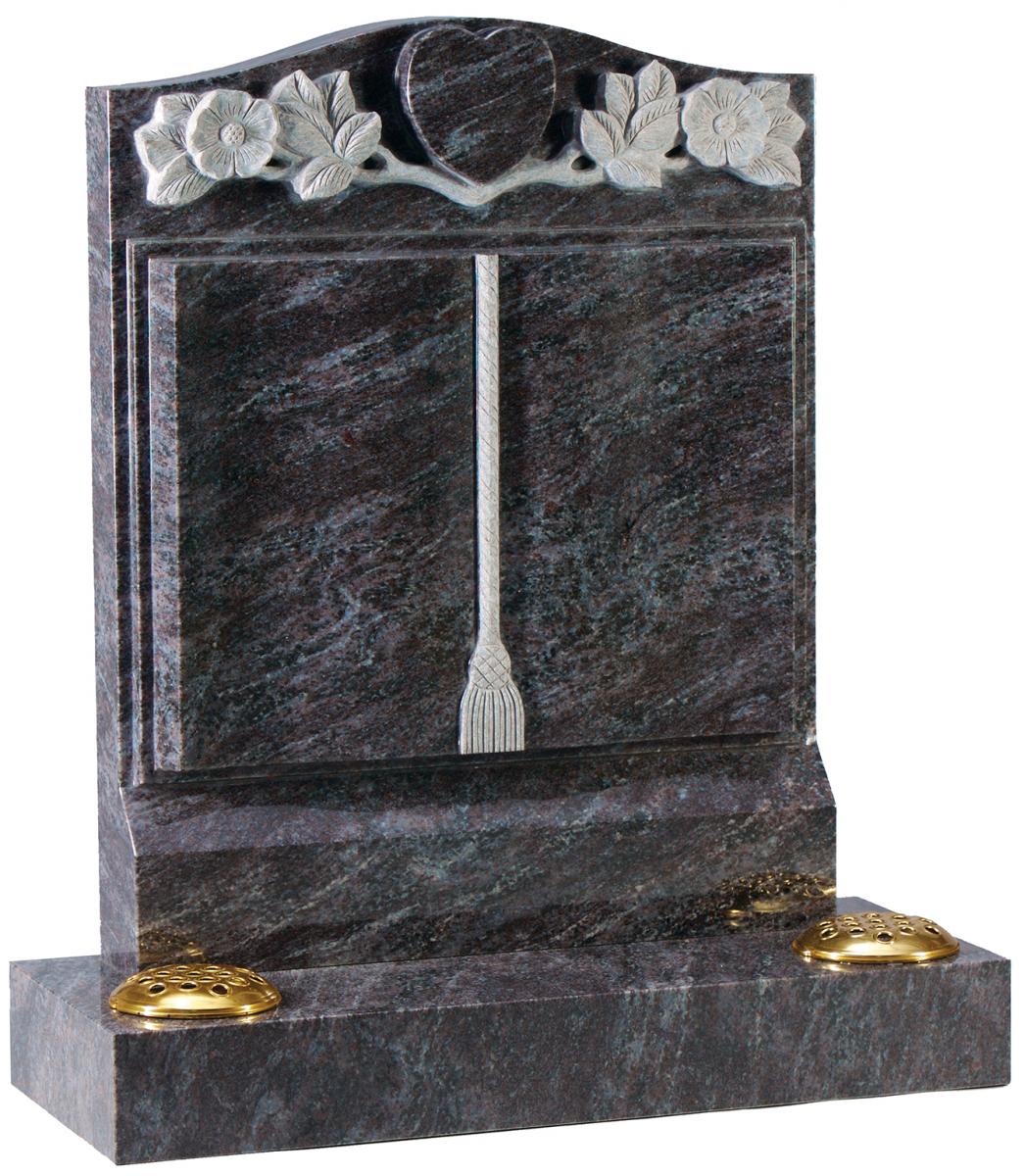 A Bahama Blue Granite book memorial from Willcox Granite. It has carved wild roses and a raised heart, replacing a resin rose on an earlier version.
One supplier of equipment and consumables for memorial masons says he was quoted a price of £5,500 to transport a pallet of goods that would normally cost £1,000. He said the UK having lost the trade deals negotiated with other countries as part of the European Union had increased prices outside the EU. Raw material prices have also increased. He was anticipating a 25% price hike on the ground anchors he sells that he says will have to be passed on to customers.
One company that has bucked the trend of rising prices is Robertson Memorials in Aberdeen. It was known as a supplier of relatively expensive memorials and last year it decided to re-think its position and cut its prices. Graeme Robertson, who heads the company, believes the move has contributed to its increased sales. So far Robertson's has absorbed the increase in supply costs hoping they will fall again, but Graeme says prices are regularly reviewed.
Memorials in British granites
Robertson's will also be launching new memorials in September. It had intended to introduce them at NAMM Tradex but says it is going ahead with the launch in any case and will show them at Tradex next year. 
They include three British granites, from Trannack Quarry in Cornwall, which is run by another memorial company, R Pascoe & Sons; Dalbeattie in south-west Scotland run by Tarmac; Avochie, run by Tennants Elgin, in Aberdeenshire, where Robertson Memorials is also based. They are all speckled grey, with Avochie the darkest.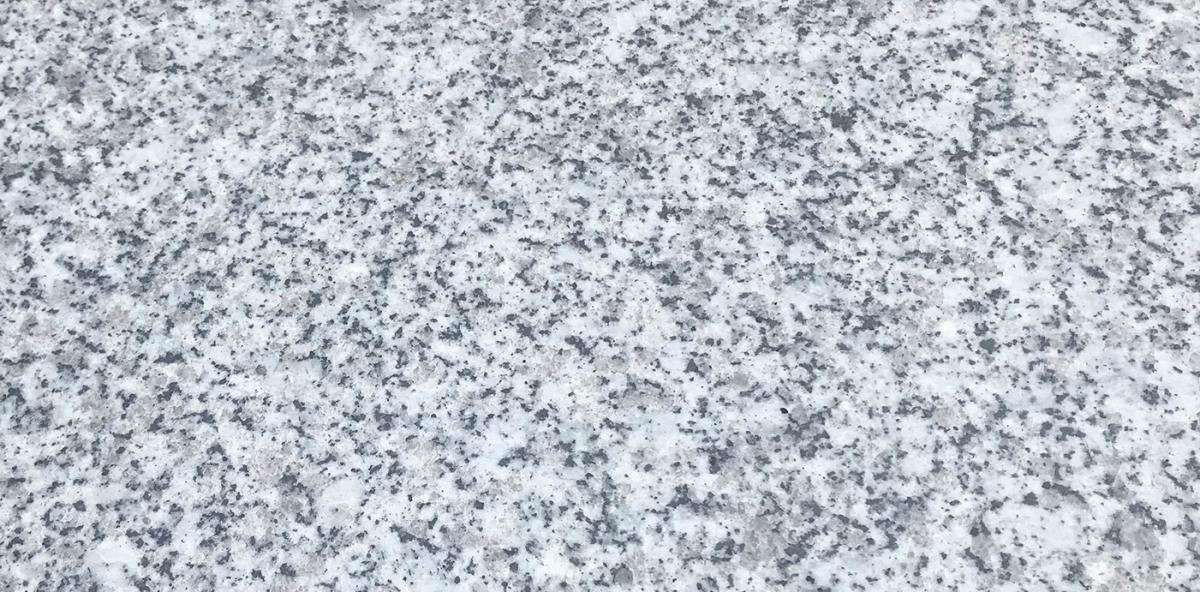 Dalbeattie granite, one of the British granites joining the Robertson's range.
British granites have been largely superseded by Indian and Chinese black granites, because the UK does not have black granite, which people especially like, and because memorials can be imported with carvings on them at a considerably lower price than they can be produced in the UK.
However, Robertson has always produced memorials in British stones in its Churchyard Collection. The British granites will be joining the Churchyard Collection, although Graeme Robertson says they will be the same sort of memorials they sell across the range as lawn memorials.
Graeme says there is a move by some burial authorities towards using indigenous stones for memorials because it removes the carbon content of shipping stone from the Far East. However, he thinks it will be harder than some imagine to move people away from black granite. "Cemetery authorities think black granite is used so much because it's cheap, but it's not. Ubiquitous black granite isn't purchased because of its price but because people like it."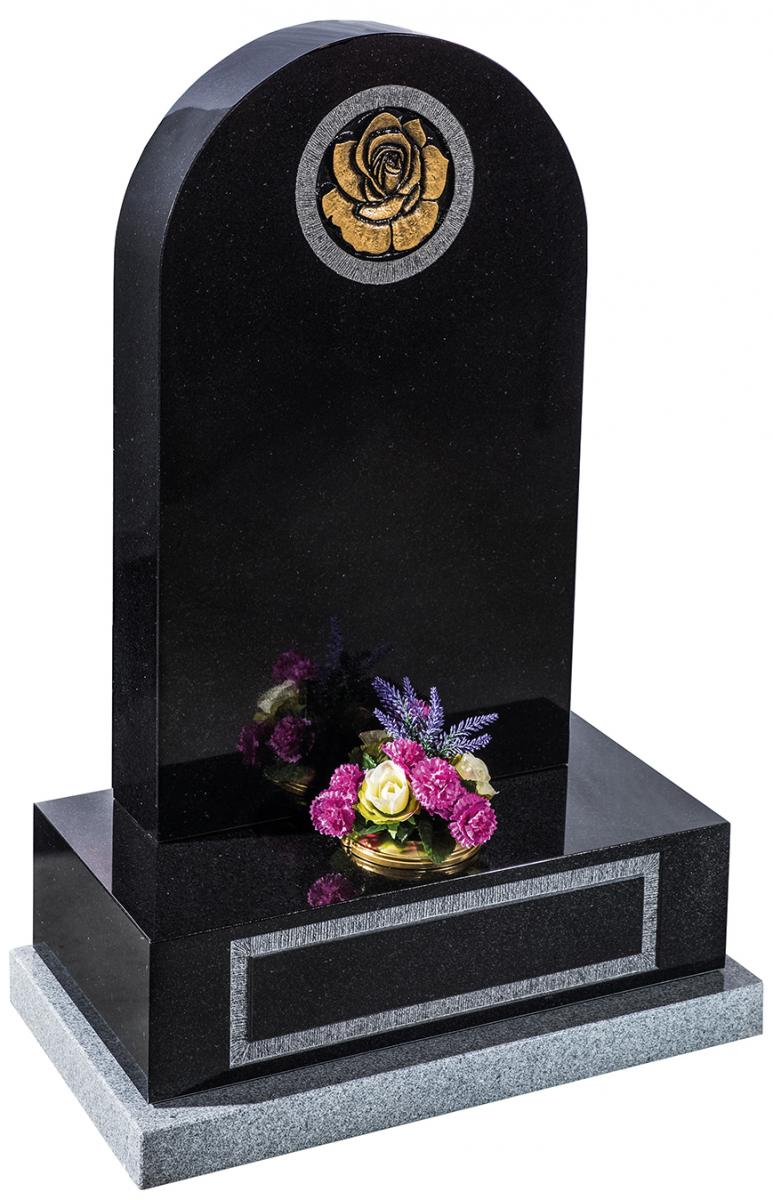 One of the new designs Robertson Memorials is introducing this year.
Certainly there are other colour granite memorials available that are less expensive, but they do not sell as well as black granite.
Graeme also questions the ability of UK quarries to meet demand. He says that a "back of the fag packet" calculation shows there are about 20,000 tonnes of memorials imported to the UK each year, nearly all granite, and he does not believe British quarries are geared up to supply that much in slabs in 75mm, 100mm and 150mm thicknesses as required for memorials.
The concern of cemeteries to reduce the carbon footprint of memorials has also taken another direction that concerns Graeme: an increased use of concrete, such as for mausoleums.
The British Register of Accredited Memorial Masons (BRAMM), a register of accredited fixer masons, is trying to spread the message about the low encapsulated carbon content of stone, which cannot possibly be equalled by concrete.
As the UK came out of the first lockdown last year, when companies did generally shut and staff were furloughed, there were initially no shortages of stone because there was plenty already on the seas making its way to the UK. As it was delivered it went into stock and the problem for some of the importers was finding enough room to store it, especially with no staff to move it.
For 15 months funerals have been held with restrictions on the number of people who can attend the burials and cremations. Now, with restrictions being lifted, some of the bereaved who have not yet commemorated the lives of lost relatives and friends want to do so with stone memorials.
During the Covid restrictions, burial authorities have not been consistent in their approach to restrictions at funerals, which has made it difficult for the National Association of Memorial Masons to issue guidance to its members about what they should do, although it has tried. "We were one of the first to put advice and risk assessments on our website," says Peter Hayman, previously Technical Advisor at NAMM and now the full-time Executive Officer.
He says one benefit of memorial masons having had their showrooms closed and not being able to travel about so freely is that it has encouraged them to explore the use of computers more.
Some memorial masons had been particularly reluctant to incorporate information technology into their business model. "It's kicked them into the 21st century," says Peter.
One way it is being used is with NAMM's City & Guild assured qualification for safe memorial installation. NAMM has its own training and testing site at its HQ in Rugby, although it is currently looking for new headquarters. With City & Guilds is a 'digital credential', which shows a badge and a logo on a mobile phone verifying the individual has been accredited. It can be updated and will include all the qualifications an operative achieves over a lifetime.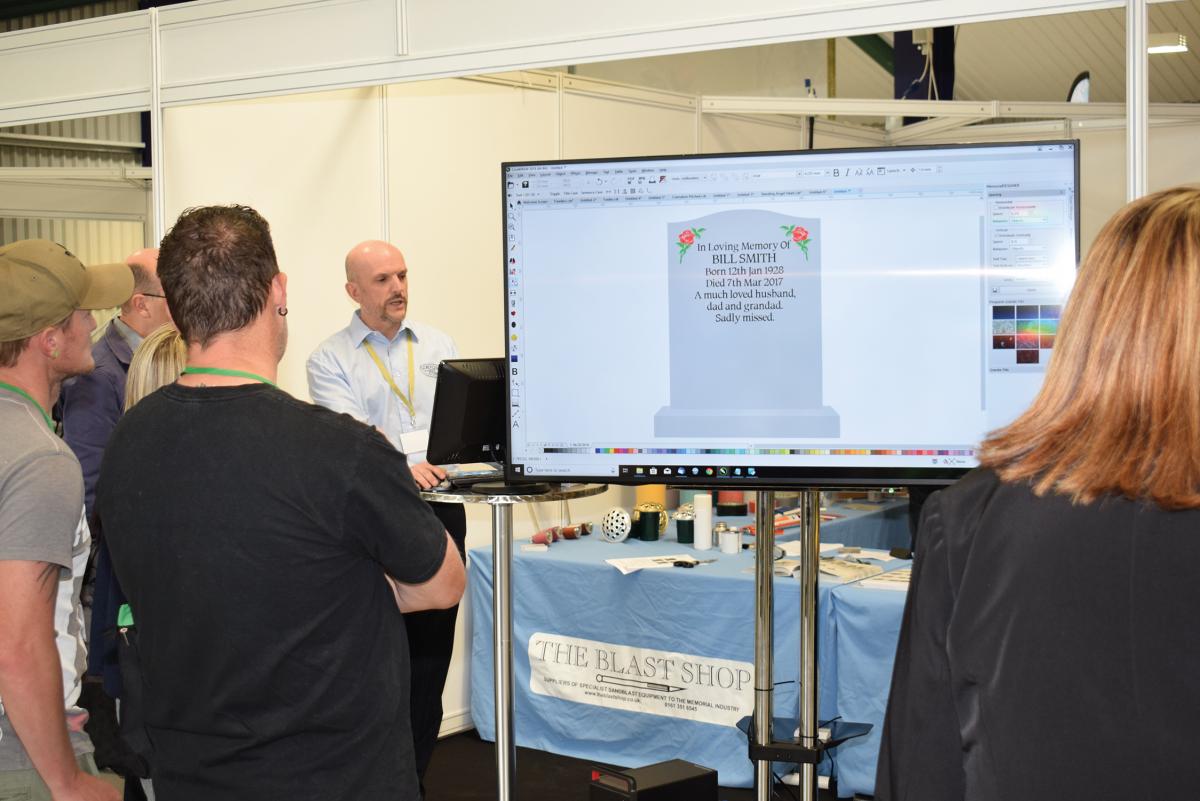 Rob Critchley demonstrating the Blast Shop's Memorial Designer UK software at the 2019 Tradex. The latest development allows you to modify individual letters.
The fact that memorial masons are looking for increasingly sophisticated digital business solutions has not been lost on Rob Critchley at The Blast Shop, which supplies tools, equipment and other essentials used by the memorial trade.
At the 2019 NAMM Tradex, Rob attracted crowds with his demonstrations of software that makes designing and sandblasting a memorial a whole lot easier and more artistic. It is called Memorial Designer UK. Like most software, it evolves and the latest innovation that The Blast Shop had hoped to show at Tradex this year allows users to customise individual letters. With Tradex being postponed, Rob says he might hold his own open day at The Blast Shop premises in Pendlebury, Manchester, in September, depending on where the Covid-19 restrictions are by then, to show the development.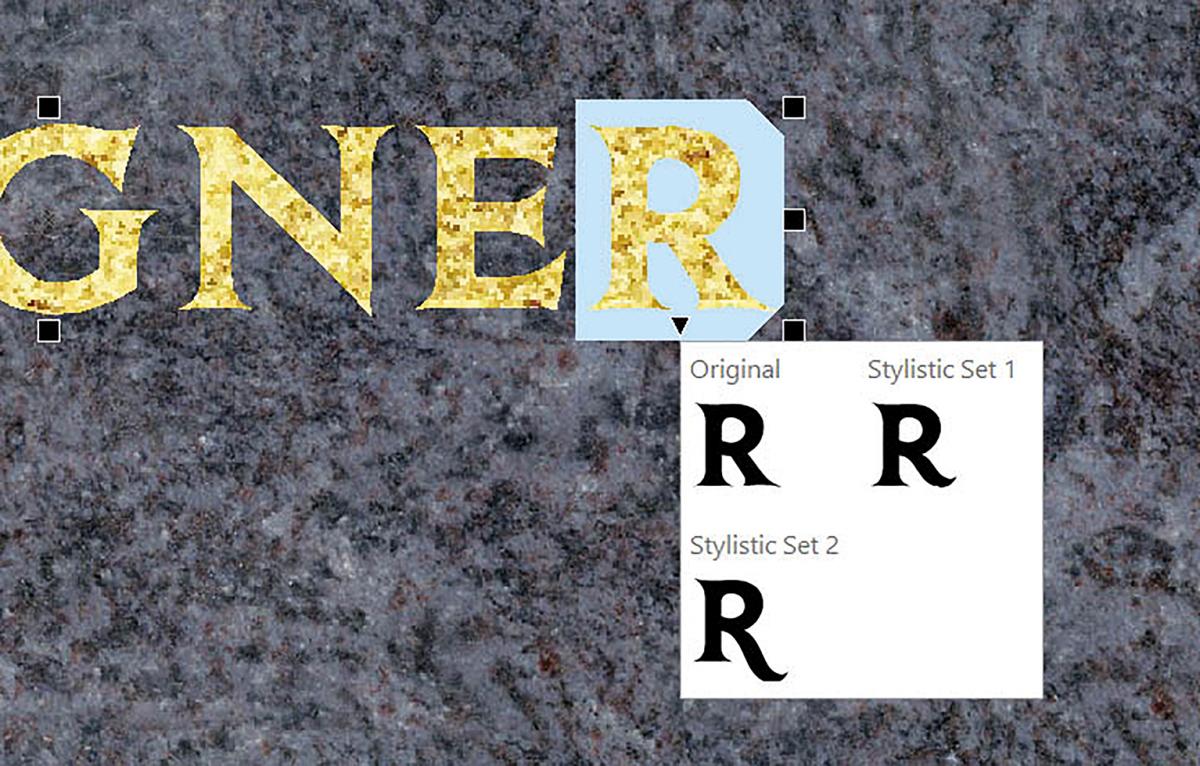 There is a closed Facebook group exclusively for those who have bought Memorial Design UK from the Blast Shop, where they help each other and propose updates to the system that would be useful. "They bounce ideas back and forth," says Rob. "It's good to see it being used so actively."
The software has proved popular and with even technophobes adopting digital and information technology in the past year, The Blast Shop is now looking at offering a comprehensive, integrated computerised management and design system specifically for memorial masons.
Management software for memorial masons already exists from SNA Software, but The Blast Shop believes the time is right for a more comprehensive, joined-up system along the lines of StoneSpot in the USA. It had been intended to introduce the idea at The Blast Shop open days last year, but the open days were cancelled due to the coronavirus.
One update The Blast Shop is now going live with on its own website is an online ordering process for its customers. It provides each customer with a bespoke list of products they can re-order directly from the Blast Shop warehouse.
The ordering system automatically keeps customers informed of when the goods are picked and shipped, and couriers email timed delivery slots. Customers can set up repeat orders, if they wish, to be sent out every month (or some other frequency), the system informing them a week in advance about what they will be receiving so they can amend or cancel it if they wish.
All of the above is a taste of developments taking place in memorial masonry. No doubt by the time of Tradex in September next year there will be even more. It promises to be an exhibition you will not want to miss.
UK sees 15% increase in deaths during the year of Covid-19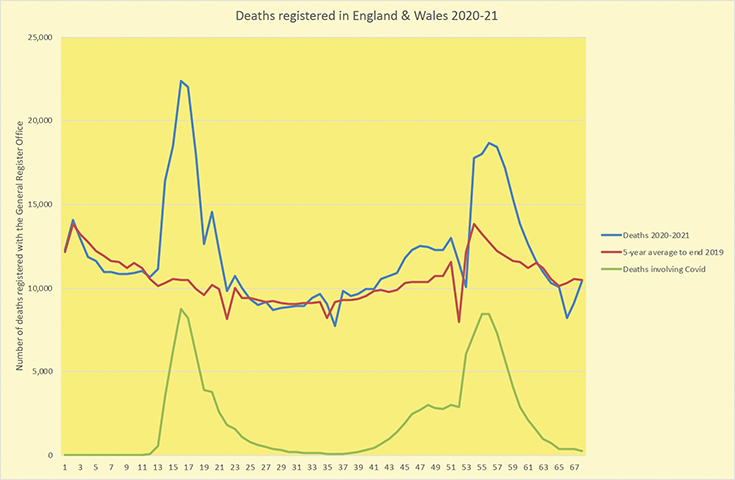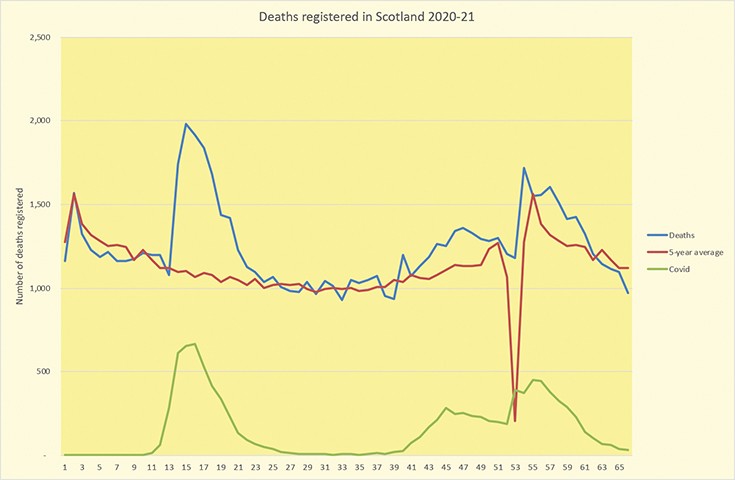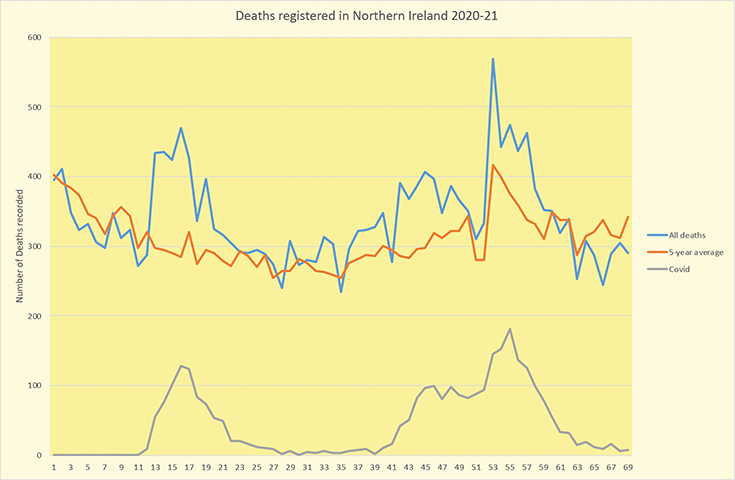 From the start of 2020 until nearly the end of April this year, the number of deaths in the UK was more than 15% above the average of the previous five-years. That's about 150,000 extra deaths.
The biggest increase, at 15%, was in England & Wales, with 11% increase in Scotland and 10% in Northern Ireland.
Most of the population of the UK lives in England & Wales – more than 59million people (88.7% of the UK population with England alone accounting for 84%). At the time of going to press (in May), there had been 826,613 deaths recorded in England & Wales at the General Register Office in the 66-weeks since the start of 2020. The five-year average to the end of 2019 for those 66 weeks was 716,319, a difference of 134,536.
In Scotland, with a population of nearly 5.5million (8% of the UK) there were 82,454 deaths recorded, 10,031 above the five year average. In Northern Ireland, with a population of less than 2million (2.8% of the UK) there were 23,529 deaths, 2,957 above the five-year average.
The figures are not quite comparable because of the different reporting procedures and slightly different number of weeks available from each region. Also, the latest figures will be updated as time goes on because some deaths are not included, usually because they are awaiting the outcome of post mortem examinations and inquests.
Nevertheless, the patterns are clear and the impact of Covid-19 obvious.
Although the number of deaths overall was up, those attributed to 'flu during this year's winter were considerably down.
Weekly 'flu reports from Public Health England (PHE) identified just seven hospital admissions attributed to 'flu between 21 December 2020 and 14 February 2021.
The year before, there had been 1,802 admissions to Intensive Care and High Dependency Units across the UK with confirmed influenza from week 40 in 2019 to week 14 in 2020. There were 103 deaths.
PHE attributed the low level of 'flu infection in the 2020-21 'flu season to the precautions being taken to avoid Covid-19.
There was also a high level of take-up of 'flu vaccinations. Up to the end of January this year, 81% of those aged 65 and over and 34% among those aged 50-64 had been vaccinated, as well as 55% of two-year-olds, 58% of three-year-olds, and 75% of health workers.
The big annual fall in death registrations during the Christmas/New Year holiday followed by a spike afterwards as those deaths are registered was less pronounced this winter as Covid-19 deaths continued to be reported in order to track the progress of the second wave of the pandemic.