20th Natural Stone Awards: Special Awards – Lifetime Achievement / Rising Star / People's Choice
Stone Federation Great Britain's 2020 Natural Stone Awards marked the 20th time the Awards had been presented. For the occasion there were three, one-off Special Awards in addition to those presented online on 19 March 2021 to the 2020 winning projects. They were for Lifetime Achievement, for a Rising Star, and for the People's Choice of stone project. These are the winners. 
LIFETIME ACHIEVEMENT AWARD – Peter Harrison
Peter Harrison says of being presented with the Lifetime Achievement Award: "I'm honoured. It really makes me feel quite humble." Not that his lifetime in stone is finished as he is not ready to hang up his boots just yet. "I think I have a few more years in me doing this," he says.
It is more than 60 years since Peter first joined the stone industry, getting a job with Kendall Stone & Paving when he left school. In the intervening years he has been involved in some of the most spectacular stone projects in the UK and overseas and has become one of the best known names in the industry, widely respected by stone companies and their customers.
Although he has left the Harrison Goldman consultancy he founded with Mark Goldman in 1993, he says he is still consulting on projects and working every day, although no longer all day every day. "I picked up three new jobs today," he told NSS when we spoke to him in May about winning this Award.
He moved on from Kendall Stone & Paving to take up a post as a junior draughtsman with a stone and concrete company called Cooper Wettern. One of the buildings he did the drawings for was even included in Hugh O'Neill's book Stone for Building published in 1965.
After a brief period with companies outside of the stone industry ("I was chasing money, like you do when you're 18") he returned to it in 1967 when he was recruited by fixings company Harris & Edgar when it wanted someone to design fixings, including those for stone buildings. In 1972 Peter was promoted to Technical Director.
He often worked on overseas projects with Harris & Edgar and his first big project was in 1971, when he design the exposed aluminium and phosphor bronze fixings for the travertine of the British Embassy in Rome. The embassy was designed by Sir Basil Spence, the architect who had been knighted in 1960 for the new Coventry Cathedral next to the World War II damaged ruins of the original cathedral.
Sir Basil's home was above his offices and the architect would descend from his living quarters into the offices, addressing Peter simply as 'Harrison'. Peter says working with Sir Basil was "an eye opener".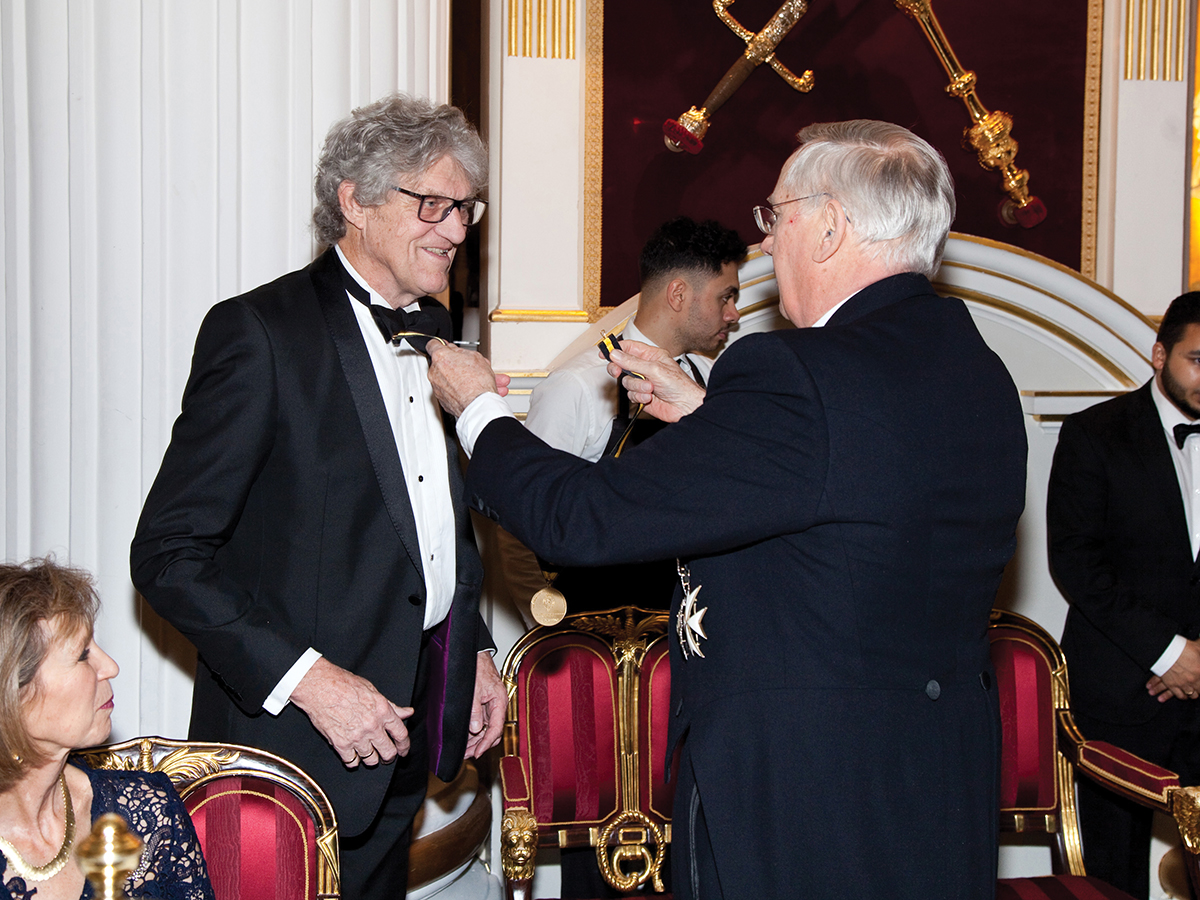 Peter Harrison receiving the Duke of Gloucester Gold Medal in 2019 in recognition of his contribution to the stone industry. The medal was presented by HRH The Duke of Gloucester at a banquet of the Worshipful Company of Masons, of which Peter is a Liveryman, in the Mansion House, the official residence of the Lord Mayor of London.
Peter is well known for his encyclopaedic knowledge of standards relating to stone, which goes back to 1969 when he joined the BSI committee producing CP 297 and CP 298. They were both published in 1972, CP 298 being the first British Standard for non-loadbearing natural stone cladding, which was taking over from load-bearing stone as the modern way of building.
From 1975, Peter was a regular visitor to the Middle East, although his working there caused his wife, Jackie, some concerns. He once missed a plane that was then hijacked, but in those days before mobile 'phones Jackie thought Peter was on that flight. "Every time I go away now Jackie checks my life insurance," he says.
Working abroad broadened his outlook. "First-hand experience working with different cultures, construction methods and regulations around the world served me well. I started presenting lectures on the design and installation of natural stone, a subject that led me to be invited to present lectures in Europe, the Middle East and the USA."
He became involved with Stone Federation Great Britain at this time and has been a stalwart ever since, including serving a term as President.
He presented an annual lecture at the Stone in Building course, organised by the Standing Joint Committee on Natural Stone, and from 2008 to 2018 lectured at the Stone in Architecture courses at the Marmo+Mac exhibition in Verona, spending a week at a time with 100-or-so architects each year, also visiting quarries and fabricating companies in Italy with them, increasing his contacts with both the architectural world and the stone supply industry all the time. He has written or contributed to a variety of important technical publications on stone, including one resulting from his investigations of the 'Regent Street disease' of stone being cracked by corroding ferrous metal.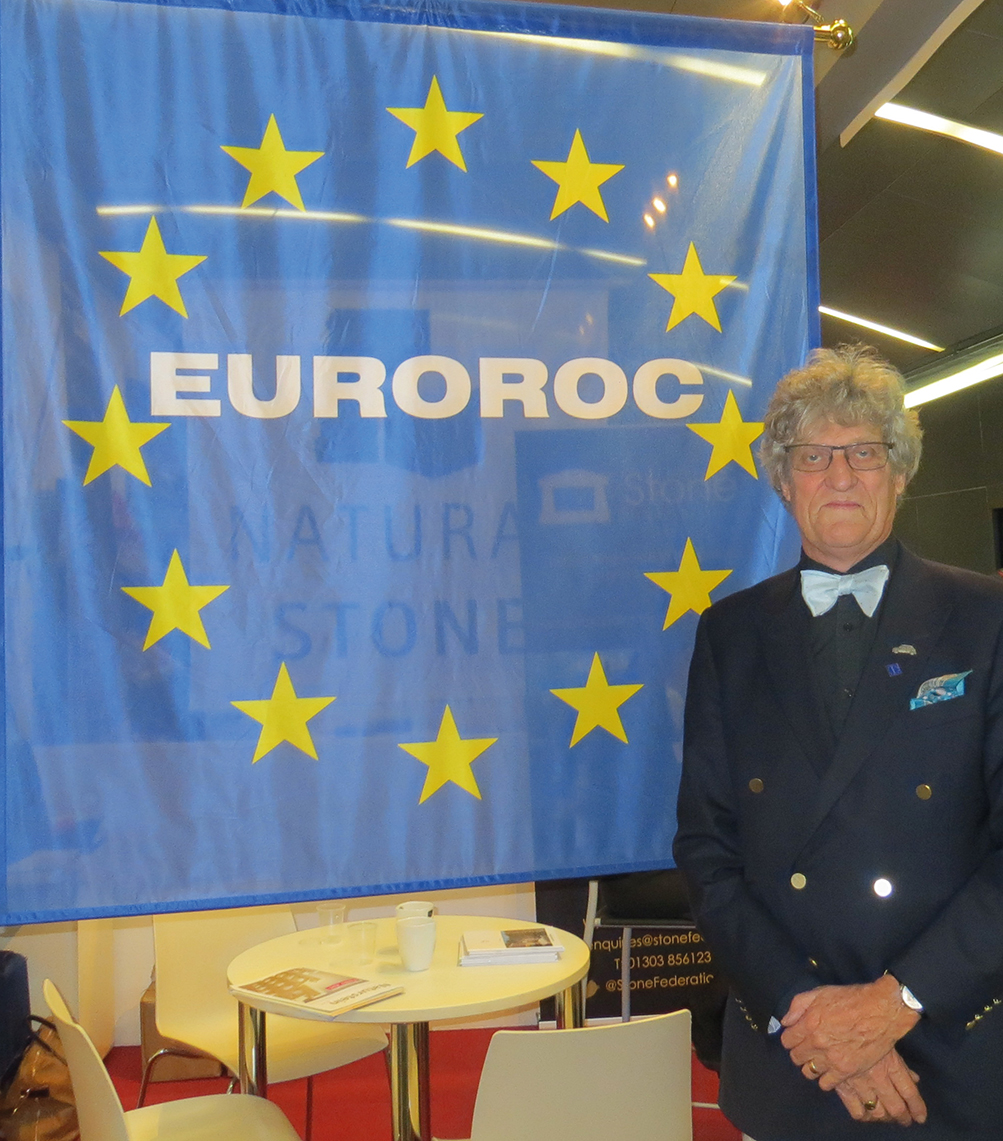 In 2016-17 Peter was President of EuroRoc.
In 2016-17 he became President of EuroRoc, the confederation of European stone federations, on which he represented Stone Federation Great Britain.
By now he was a Director of his own company, having left Harris & Edgar after it was taken over by Ancon (after which he says the culture changed) to join Nigel Cox's Stone Group in 1990.
He was first Technical Manager and then Associated Technical Director at Stone Group, positions that gave him first-hand experience in all aspects of quarrying, production, design and installation of stone. He was also able to study many aspects of restoration and conservation of natural stone, which proved invaluable in his own business.
As a Director of Harrison Goldman, Peter continued to work in various parts of the world as well as the UK and is still travelling for his work, which he says these days involves a lot of 'sanity checks' – making sure designers' ideas can work within allocated budgets.
During 60 years in the stone industry Peter has worked on so many great buildings it is hard for him to pick out those he considers most notable, but, along with the British Embassy in Rome, they would include: Kings Royal Pavilion, King Abdulaziz international Airport, Jed-dah; Caterpillar Headquarters, Geneva, Switzerland; in Ireland, University College Cork, Trin-ity College Arts Building, Dublin, and Dun Laoghaire Library, Dublin; One Hyde Park, London; restoration of the east face of the quadrangle at Buckingham Palace; the Princess Diana memorial in Hyde Park; and equal access work at St Paul's Cathedral.
RISING STAR AWARD – Arturs Legzdins
The second Special Award in the 2020 20th Natural Stone Awards recognises the emerging talent of the stone industry, so essential to the sector's long-term success.
Arturs Legzdins says no two English people pronounce his surname the same way, and however they pronounce it bears little resemblance to the way he says it, so people tend just to call him Arthur, which is fine by him.
Arturs came to the UK after achieving a Higher Professional Education Degree in Conservation as the culmination of three years' study at Riga Building College in Latvia in 2013.
He had focused particularly on stone, with his final project being the conservation of a 9m tall calcareous tufa limestone statue symbolising the freedom, independence and sovereignty of Latvia.
The degree included practical as well as theoretical modules, so his understanding of the use of stone in restoration is to a high level.
Having come to Britain, he started working as a labourer with the Irish company RBR (Redmond Building & Restoration) scraping paint off windows.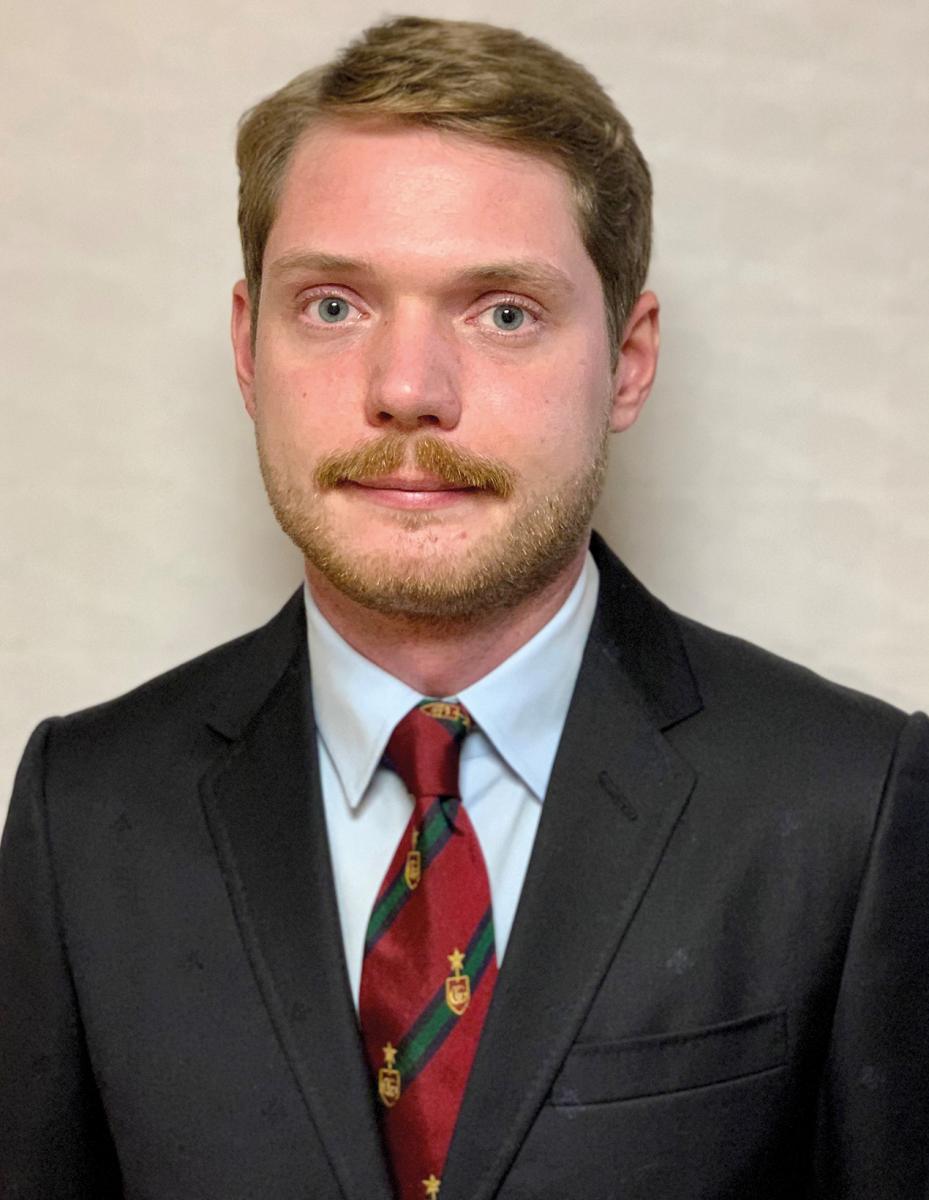 Arturs Legzdins is one of the people who came to work in the stone industry in the UK and construction in general after some of the former Eastern Bloc countries had joined the European Union. He was nominated for the Rising Star Award by his boss, John Rushworth, the Managing Director of Restore London, who says of Arturs: "He is without doubt a rising star within both our business and the wider industry."
He says at that time he had an American accent because much of his English had been learnt by watching American programmes on television. Having travelled around the UK, including spending six months in Scotland before returning to London, he picked up traces of various regional accents and says "people just think I'm a northerner".
He now works for Restore London and was nominated for the Rising Star Award by  Managing Director John Rushworth, who said: "We are delighted that the opportunity to nominate Arturs for formal industry recognition has presented itself this year. He is without doubt a rising star within both our business and the wider industry. He will undoubtedly continue to contribute to the built  environment, and in particular the stone sector, for many years to come."
Arturs says he came to the UK because there were more opportunities here to expand his practical conservation knowledge and skills and learn about other aspects of restoration. He chose the UK because of its rich building heritage and the opportunities it presented to progress his career.
As well as studying conservation, he had also taken a course in photography, and John Rushworth says: "His passion for stone and the restoration and conservation of heritage buildings goes far beyond just his day job. He will regularly spend his weekends photographing our projects and the wider built environment, having discovered an interest in architectural photography during his degree course."
Arturs was introduced to the Restore London team by one of the company's contracts managers, who had identified his potential on the Ampersand regeneration project in Oxford Street. He started working for Restore London in 2015 as a labour only sub-contractor and foreman.
In 2016, while working on the restoration of Herbal House, a former print works and now a hub of design and creative businesses, Arturs was promoted to Restore London's full-time works and quality control manager.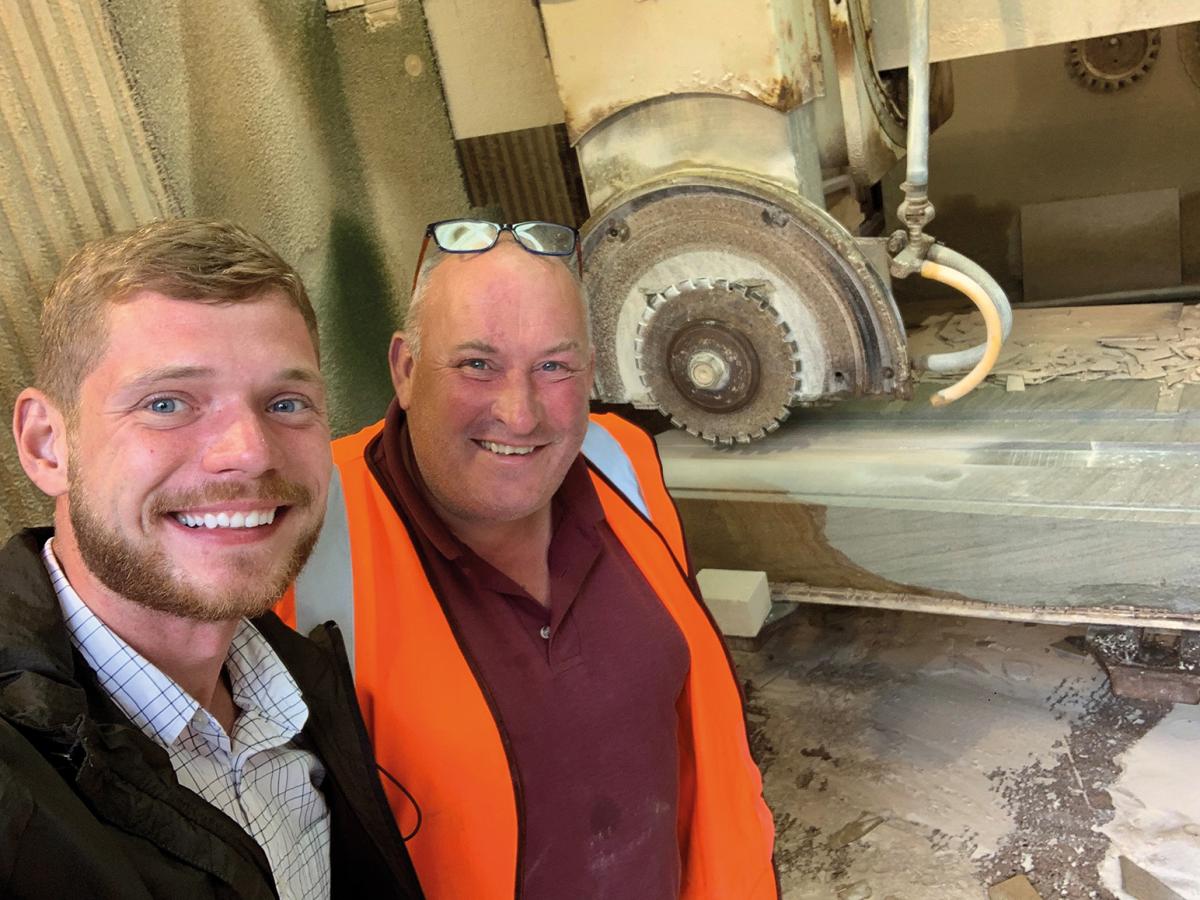 Arturs with Mick Hutchinson of MJH Masonry, which supplied Portland stone for the Strand Terrace project of King's College London. Arturs says Mick was "super helpful".
By 2017 Arturs had risen to Site Manager for the cleaning and restoration of the internal courtyard stonework on Phase 1 of Drapers Hall, a project Commended in the Repair & Restoration category of the Natural Stone Awards presented in March this year.
In 2018 Arturs' personal and project performance earned him promotion to Project Manager, a role that involves him overseeing high profile conservation works where he is involved in all aspects of each project, from the planning stages through to completion. His responsibilities include surveying buildings, compiling tender documents, creating conservation plans, managing multi-disciplinary teams, quality control, leadership, advising the design team, budget & cost management and reporting, as well as securing new business.
Arturs' projects for Restore London have included:
2018-2019 Leinster Square – all external masonry including extensive ornate stucco replacement
2019-2020 King's College London, Strand Campus, Terrace Project, a major natural stone project involving cleaning, replacement stone and banker masonry
2019-2020 Royal College of Music – mosaic flooring, internal stone monument refurbishment
2020-2021 Waltham Forest Town Hall and Assembly Hall – a large external Portland stone cleaning, restoration, and internal terrazzo flooring project.
Arturs is currently involved in stone remodelling work at the National Portrait Gallery. John Rushworth says Arturs came back to the office specifically to shake the Estimator's hand to thank him for winning such a spectacular project.
Arturs has also used his initiative to champion the company's advances in the use of digital and information technology, with bespoke mobile app development for use on building surveys and presentations. He has helped others develop their skills to improve site reporting techniques and is considered invaluable to the company's approach to the use of technology on sites.
John Rushworth says: "Arturs is a consummate professional and always gives his full commitment to his clients, his projects, and his colleagues. He has sought ever greater responsibility since being at Restore London and is thriving on the challenges."
THE PEOPLE'S CHOICE – Pier Head, Liverpool

The third Special Award is for the People's Choice – a stone project that defines a sense of place. There are so many to choose from, but this is what then public chose.
The Pier Head, Liverpool, is officially the UK's favourite natural stone project, according to a vote run by Stone Federation Great Britain. The project received the third of the Special Awards in the 20th Natural Stone Awards.
The People's Choice vote was to showcase the significant part that natural stone plays in defining the architectural identity of towns and cities across the United Kingdom.
A shortlist of projects was drawn up from a longlist created from projects nominated by Stone Federation members. It included natural stone projects from all over the United Kingdom. Castles, cathedrals, modern office developments, government buildings and public realm spaces were all among the shortlist the public was invited to choose from in order to vote for their favourite.
The public vote engaged hundreds of people from the architectural and construction sectors. The project that received the most votes (33%) was Liverpool's Pier Head Canal Link project.
Next to the River Mersey, it is part of the Liverpool Maritime Mercantile City UNESCO World Heritage Site, which includes various landmark buildings  including the 'Three Graces' (the Royal Liver Building, The Cunard Building and the Port of Liverpool Building) and new builds including the Ferry Terminal Building and the new Museum of Liverpool.
The project, containing more than 7,000m² of Chinese and Portuguese granite paving, and street furniture that includes 22 unique granite seats weighing up to 1,500kg each, all supplied by Marshalls, was the Award winner of the Landscape category in the 2010 Natural Stone Awards.
It involved the extension of the Leeds Liverpool Canal into the heart of Liverpool, with a reconfiguration of the Pier Head to form a world class space worthy of its historic location.
Delivered for Liverpool City Council by EDAW Landscape Architects, the project's main contractor and principal stone contractor was Balfour Beatty, with input from TT Groundworks, Stone Central (NW) Ltd and Marshalls PLC.
It makes this dockside area of the city a distinctive and vibrant place; a hive of activity as local people and visitors from around the world enjoy the canal, riverside walkway and plaza.
This hard landscaping scheme is of intricate detail, using bespoke natural stone to create a unique public realm area with masonry seating, steps, cladding, parapets and performance space.
The crease lines at the water's edge are highlighted to complement the façades of the Three Graces, splaying out to dramatic effect, creating a series of seat walls that accommodate the change in level, elegantly morph into flights of steps, then finally re-converge to continue their journey through the space. In addition to being sculpturally attractive, being stone, it is robust.
Natural stone was selected for its sustainability. Its long design life means it will not need frequent refurbishing, which is costly to both the public purse and the environment. In 2010, the Stone Awards judges felt this scheme set a precedent in demonstrating the capabilities of natural stone for hard landscaping.
Stone Federation's Chief Executive, Jane Buxey says of the People's Choice: "It is fantastic to see a scheme such as this recognised in this way.  The aim of this vote was to give people a chance to celebrate their favourite natural stone project and to showcase the wonderful examples of excellence in stone we see across the United Kingdom.
"It is testament to the durability and longevity of this beautiful, natural material that a project delivered in 2009 is still capturing the public's interest and admiration more than a decade later.
"It is this longevity that is part of what makes natural stone such a sustainable material choice."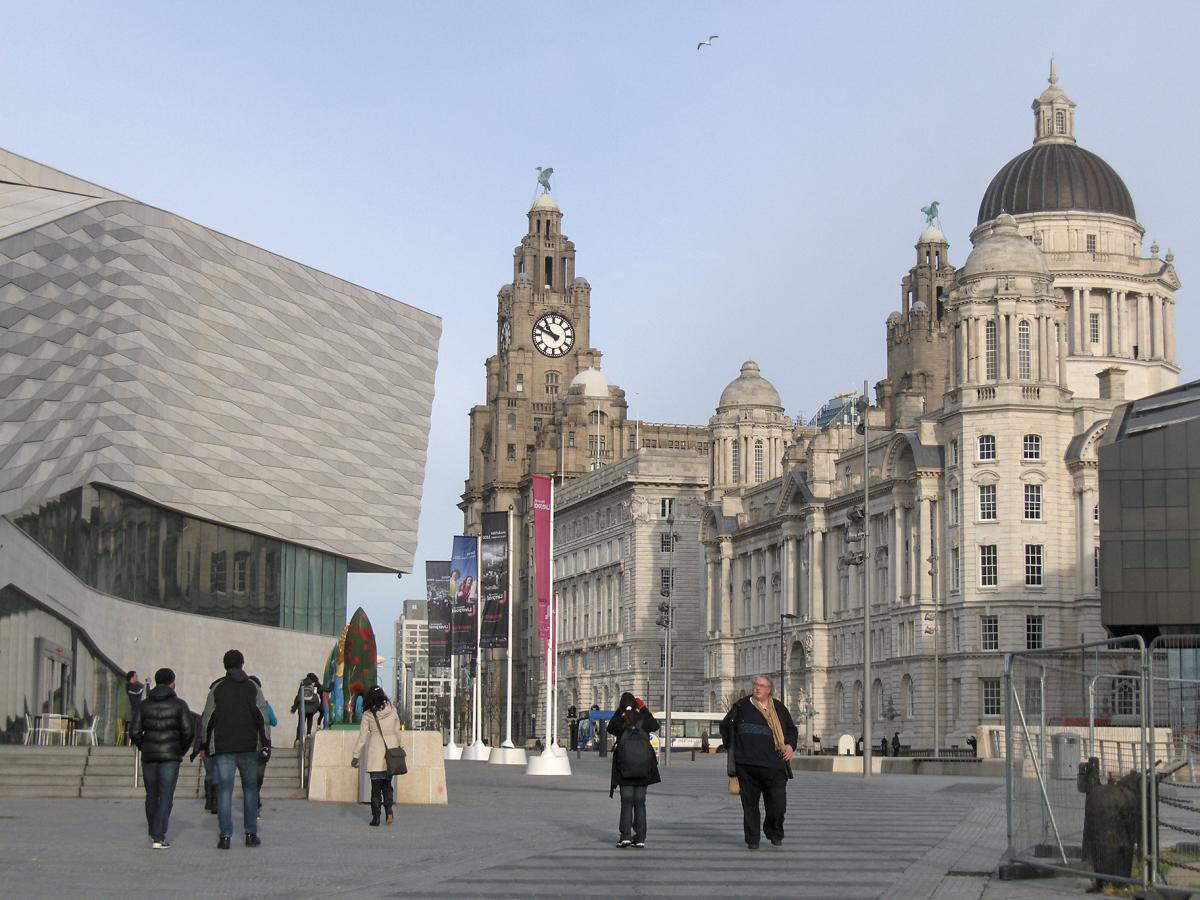 The 'Three Graces' are on the right and the new Museum of Liverpool on the left.