Grinling Gibbons Tercentenary Awards: winners work on display at Compton Verney Art Gallery until the end of January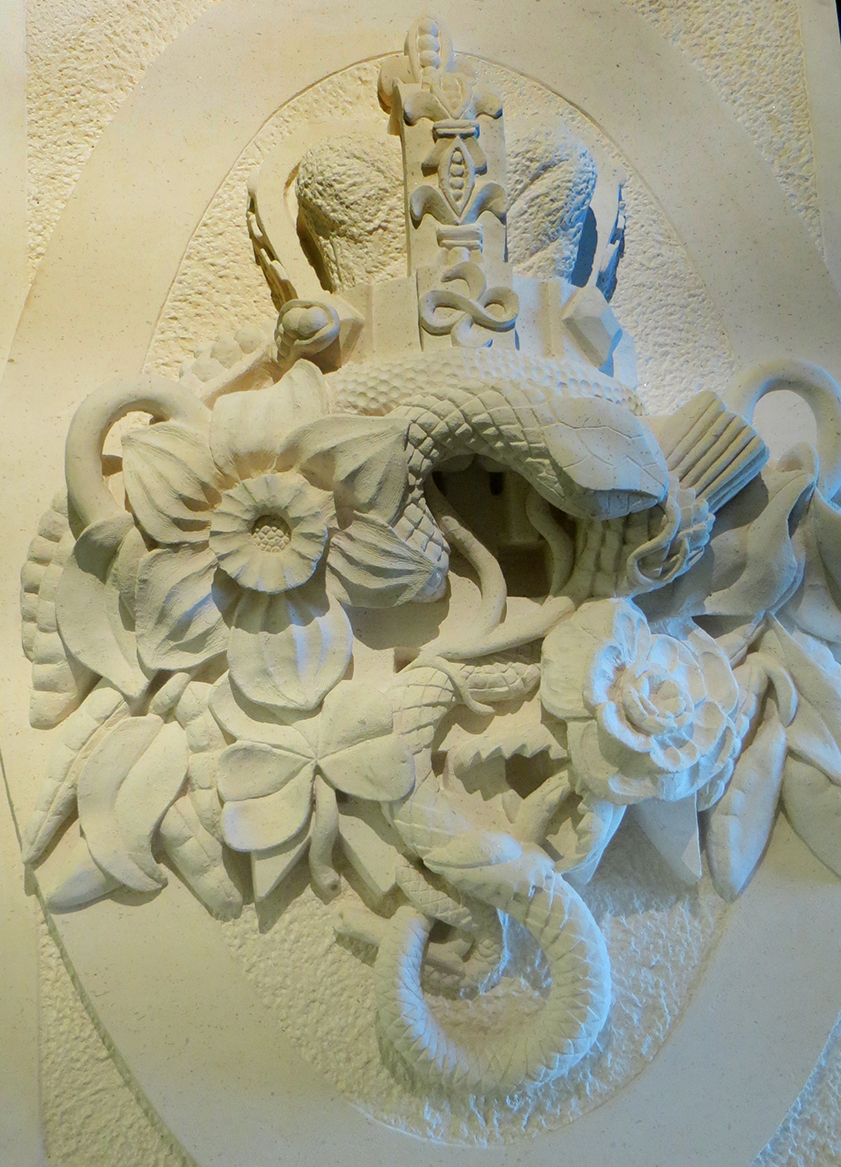 Freya Morris won First Prize in the stone section of the Grinling Gibbons Tercentary Awards with a carving called 'Line of Defence'. 
Freya, who studied at Moulton College in Northamptonshire supported by the Craft Fund of the Worshipful Company of Masons, said of her entry: "This piece aims to evoke the exuberant and complex character of Gibbons' sculpture, while expressing a contemporary political message.
"The Crown Portcullis is the emblem of Parliament and the Rod of Asclepius is a symbol of the medical profession. The rose, clover, daffodil and thistle represent the four nations and reflect Gibbon's use of plants in his compositions. The chains of the Portcullis are replaced with closed peapods and keys, a reference to keyworkers. Supposedly Gibbons included closed peapods when he had not been paid and open peapods denote the reverse.
"I want this piece to reflect my concern at allegations that some close to Government may have profited from the Covid 19 pandemic while key workers throughout the British Isles have not been financially recompensed for their extraordinary work." 
The Grinling Gibbons Society ran the competition in collaboration with the Master Carver's Association and with the support of the Livery Companies of the Masons and the Carpenters.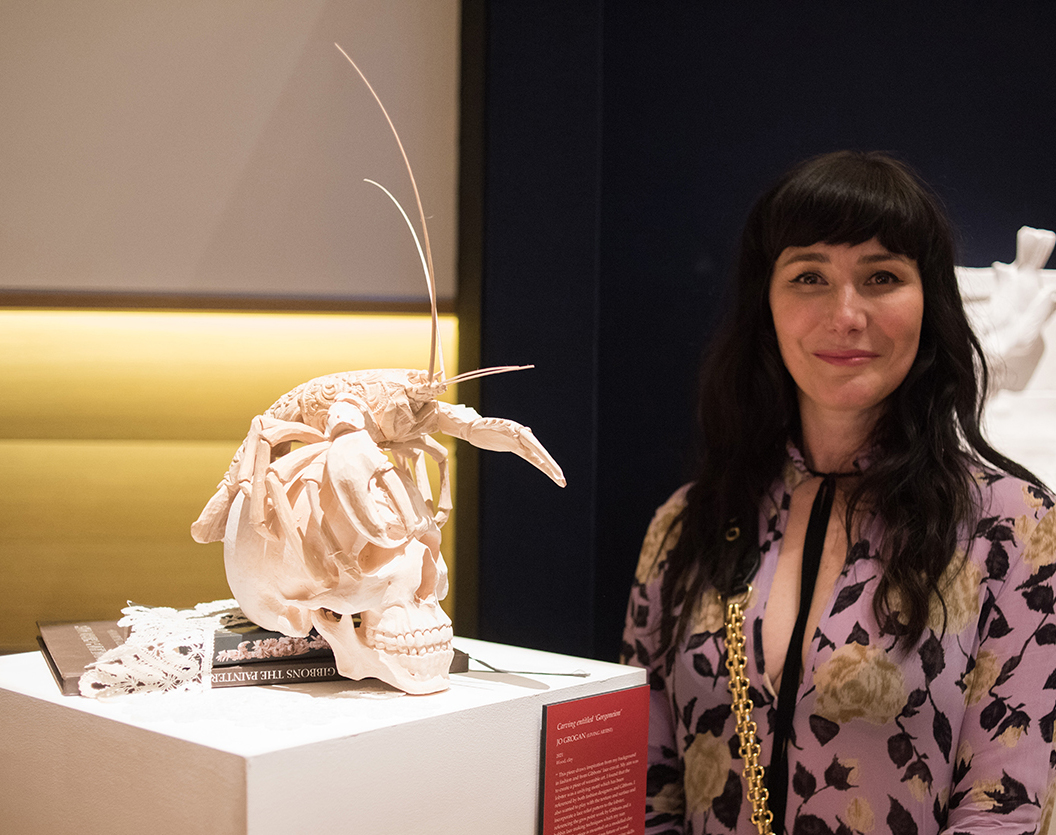 At the opening night of an exhibition of selected entries in stone and wood at Bonhams in New Bond Street, London, TV personality and heritage champion Loyd Grossman announced the winners. Along with Freya's stone carving, the first prize in wood was awarded to Jo Grogan, pictured with her carving called 'Gorgoneion'. Both winners get £1,000 and places at the annual Prince's Foundation Summer School in 2022. 
Entrants were encouraged to become familiar with Gibbons' work and reflect their familiarity in their entries, although they were also expected to use the utmost freedom to create exuberant virtuoso works of art for the 21st century; works that would challenge and delight the perceptions of viewers.
With a focus on inspiring and supporting emerging professional carvers to develop their skills of craftmanship, the awards are a major part of the national tercentenary celebrations marking the legacy of influence Grinling Gibbons has left. 
This joint initiative for works in both wood and stone has been principally funded by the Livery Companies of The Carpenters and The Masons, and as well as £1,000 prizes for the winners there were prizes worth £750 and £500 for the second and third placed entries.
Tim Knox, speaking on behalf of the judges, said: "The judges were delighted by the range and quantity of work submitted, especially as the competition was held during the pandemic. It was really encouraging to see a new generation of accomplished carvers emerging with the technical skills and imagination to keep the spirit of Grinling Gibbons fresh and alive in the 21st century."
The full Award judging panel were:
Tim Crawley, former Head of Historic Carving at the City & Guilds of London Art School
Philip Hewat-Jaboor, Chairman of Masterpiece Fair and independent art advisor
Tim Knox, Director of the Royal Collection
Hugh Petter, Director of Adam Architecture
Adam Stone, Training co-ordinator for the Worshipful Company of Masons
Godfrey Worsdale, Director of the Henry Moore Foundation 
The Judges said of Freyer's winning entry that they were struck by the depth and fluidity of the carving. "It is a highly accomplished piece creating a sense of movement in a mature and professional way. To convey Gibbons' unique carving style in stone is always difficult, and we feel that Freya has more that risen to the challenge, redesigning her concept as her work progressed. "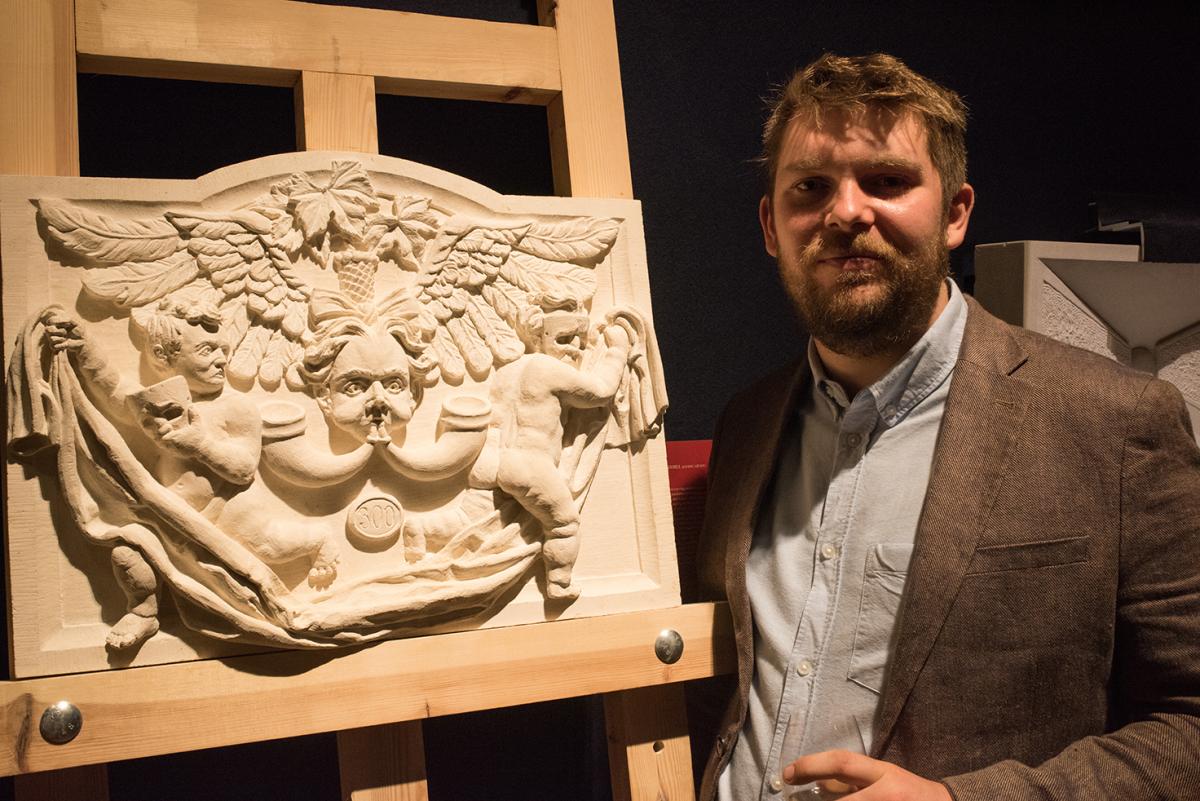 Second prize in stone carving went to Alex Waddell (pictured with his entry), whose studies at City & Guilds of London Art School were also supported by the Masons' Livery Company Craft Fund. He said: "My interest in carving started at a young age when I visited my grandfather's workshop. He made rocking horses and I enjoyed looking at his projects and his tools hanging on the walls.
"As a student I explored folk custom and the connection between people and the carvings they produced. During a stonemasonry apprenticeship at Winchester Cathedral I learned traditional techniques. I was surrounded by fine carving in both wood and stone from the early medieval to today. As a graduate student at City & Guilds of London Art School I have refined my skills and hope to establish a workshop with carving being a major part of my practice. After a hard year, this piece is celebratory and fun. It pays tribute to Gibbons but I hope it will also bring a smile to people's faces." 
The judges said: "This is an ambitious piece and demonstrates Alex's strong work ethic, rendering flesh, feathers and fabric convincingly on a small scale."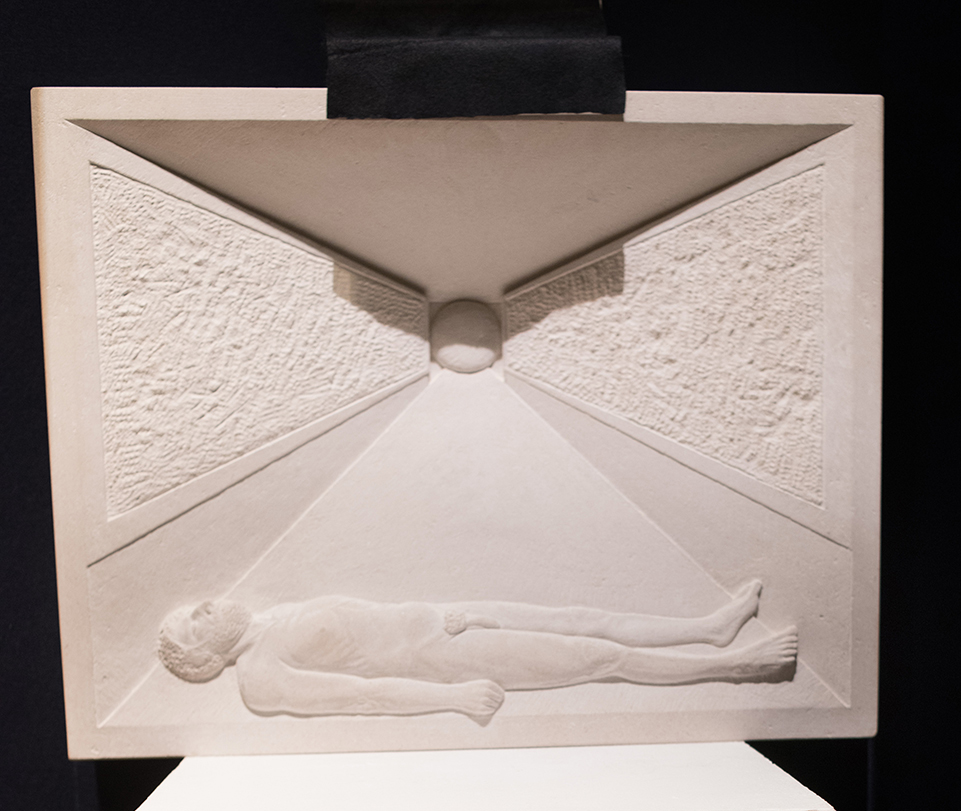 Third prize went to Tom Clark-Collins for a carving (pictured) that, as he says, "depicts a human being passively led to irrelevance. The orb represents an imperceptible force (noumenon) that governs the realm of capital, and therefore technology. This force demands exponential growth, achieving this through employing a closed system of analysis and improvement (cybernetics). Human demise is based upon our reliance on the technology and obsession with systems developed by this force, and its increasing un-reliance on us. We are sedate on a travelator headed for its fangs. The piece connects to Gibbons in its medium, through technique, and the dust inhaled in the pursuit of making something in a solid material by hand." 
For the judges, this stood out "as a modern interpretation of the brief, which has managed to create the illusion of depth and perspective with admirable technical foreshortening in the figure."
In wood, runner-up to winner  Jo Grogan was Sarah Davis  and in thid place was Tom Buchanan.  
Grinling Gibbons was an artist, sculptor and craftsman who some describe as the greatest carver in British history. His exceptional works in wood and stone can be found in museums, galleries, churches and private houses throughout the UK. During his life he inspired his contemporaries, just as he has continued to do in the 300 years since his death.
The Grinling Gibbons Award was created to mark the tercentenary of his death and to encourage the next generation of craftspeople to create radically new works of art and figurative carving, which take as their point of inspiration the skill and techniques, creativity and visionary design that Gibbons brought to the media of stone and wood.
On 8 March this year the call went out (click here to see the announcement on this website) to emerging carvers at apprentice level, Cathedrals, colleges, companies and the self-employed in order to identify fine new talent across the UK. From the submissions, five carvers in stone and six in wood were shortlisted to progress and produce their final responses to the brief.
The five stone carvers were: 
Adeline Wartner 
Alex Waddell 
Freya Morris
George Griffiths 
Tom Clark-Collins
And the six wood carvers were: 
Arielle Francis 
Jo Grogan 
Oscar Whapham 
Sarah Davis 
Silje Loa  
Tom Buchanan 
All 11 works will be on public display as part of an exhibition called Grinling Gibbons - Centuries in the Making at Compton Verney Art Gallery in Warwickshire from 24 September until 30 January 2022.
More information on this and the Tercentenary Festival, of which this competition was major part, can be found on grinling-gibbons.org. Or you can follow the Grinling Gibbons Society on Twitter @Grinling300  @grinlinggibbons300 , #GG300 #grinlinggibbons300.
Winners are pictured below with Loyd Grossman. Left to right are: Alex Waddell, Sarah Davis, Freya Morris, Loyd Grossman, Jo Grogan and Tom Buchanan.