Industry meets face to face again as Natural Stone Awards 2022 return to prestigious London venue
With Stone Federation's 2020 Natural Stone Awards presentation ceremony having to be an online event because of the Covid pandemic lockdowns, there was a heightened sense of anticipation about this year's Awards presentation ceremony as it returned to London's Leonardo Royal Tower Bridge Hotel on Friday (2 December), again attracting a capacity audience of 360.
You can see all the projects honoured in the Awards Souvenir Brochure that you can view and download at the bottom of this page.
Guest presenter of the Awards this time was architect and television presenter Charlie Luxton, pictured below at the Awards ceremony.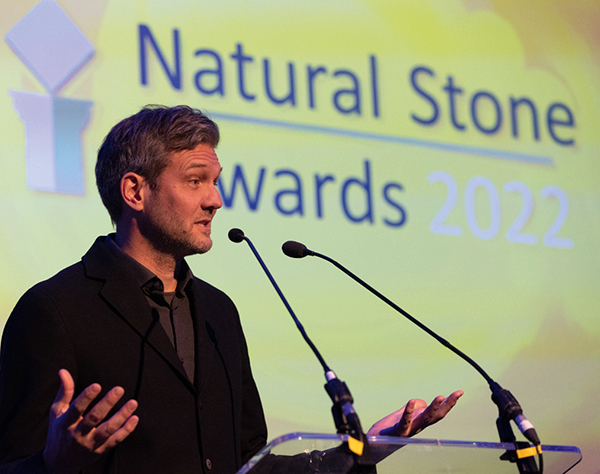 Charlie is a champion of the environment and communicates his enthusiasm for sustainable architecture and eco-friendly design on his television appearances, which began after he had achieved a first-class honours degree in Architecture at Oxford Brookes University and an MA at the Royal College of Art in London. His first television appearance saw him present Modern British Architects for Channel 5.
He has gone on to present Britain's Hidden Heritage (BBC 1), Restored to Glory and Rebuilding The Past (BBC 2), Homes and Property (ITV), Supercommuters and World's Weirdest Homes (Channel 4) and Build A New Life In The Country (Channel 5), although he also runs a 12-person architectural practice, which he said is harder than the TV appearances because "building is hard".
Sometimes, said Charlie at the Awards ceremony, building seemed hard enough on its own without adding to its complexity by worrying about the environment, but Charlie said if we do not worry about the environment we are in danger of destroying our planetary life support systems – and, he said, life does frequently seem to cause its own demise.
"We are very poor at seeing the value of the big things," he said. He told those at the Awards ceremony that buildings are at the heart of the climate challenge and "you lot are at the front of the spear on this one; your actions really count".
He said Architects Journal had called for an honest discussion about the carbon footprints of materials we use in construction. Stone clearly had to be part of that discussion and Charlie spoke about how its use could reduce the embodied carbon content of construction, citing various studies and Amin Taha's development at 15 Clerkenwell Close (you can read more about that and low carbon stone here).
"The most sustainable building is one that already exists," said Charlie as he called on the government to remove the VAT penalty of renovation. Although the construction industry does recycle, he said it was often more accurately described as downcycling, with materials losing value in subsequent applications because they tended to be crushed or burnt.
From an architect's point of view, he said it was important to design buildings with a view to how they would come apart at the end of their lives, so materials can be re-used in their existing forms without having to go through energy intensive transformations. He took the example of domestic glass recycling, asking why glass is crushed, heated and reformed when the jars and bottles could simply be re-used.
The looming recession was not going to make it easier to tackle climate change. "It's going to be tough," said Charlie, although a massive revolution was taking place in how buildings are designed and constructed. Everyone had to understand the role they can play in that revolution. "Crucially, we need to act," he said.
Charlie shared the stage with Stone Awards stalwart sports presenter Jim Rosenthal. Usually the unseen Alan Dedicoat shares the presentation announcements with him, but (as Jim said) Alan had failed a late fitness test and the behind the scenes voice describing the winning projects this year was that of Steve Madden, another of the BBC 'voices'.
Jim Rosenthal is, of course, a seasoned presenter and did an excellent job of hosting the 2020 Natural Stone Awards online. In fact, Stone Federation took some of what it had learned from going online last time forward to the latest presentation. But nothing beats a live event and the industry was glad to play host to its clients, customers and colleagues at the presentation lunch, which is always a highlight of the stone industry calendar.
The Awards provide an opportunity for the professionals involved with the natural stone sector to join in the celebration of exemplary projects and the teams behind them.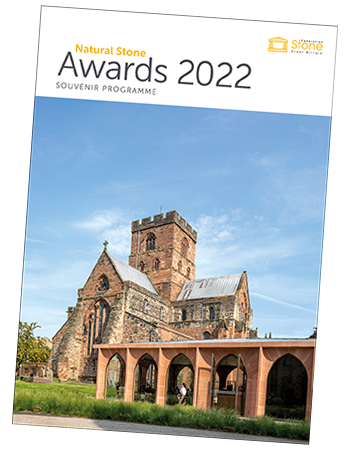 You can see all the people and projects that won the Awards, or were Highly Commended or Commended, in the latest issue of Natural Stone Specialist magazine, in the centre of which are the winning projects in the Awards souvenir brochure. They are also available to download here and below.
The judges this year were: John Burton, Paul Gibson, Graham Lee, Ulrike Knox, Ingval Maxwell, Dr Vanessa Brady, Clara Willett, Adam White and Zac Tudor. The technical advisors were: Sean Collins, David Richardson and Dr Tim Yates.
An overall winner of the projects featured in this year's Natural Stone Awards will be chosen in a 'people's choice' vote that will take place between now and the Natural Stone Show, which returns to ExCeL London 6-8 June 2023. The winner will be announced during the exhibition.
The 2022 Natural Stone Awards enjoyed the support and sponsorship of a number of well-respected trade bodies and industry firms including Hardscape, Historic England, Marshalls, Sandberg, SBID, Schluter-Systems, Welsh Slate, Natural Stone Specialist magazine and the Natural Stone Show.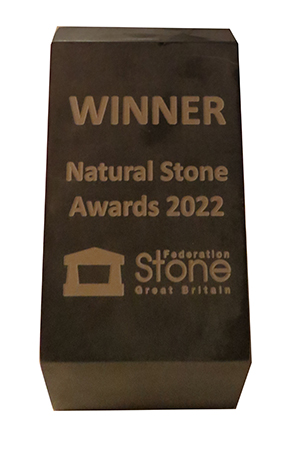 A message from Jane Buxey, Chief Executive of Stone Federation
The Natural Stone Awards are an excellent opportunity to celebrate the very best that the natural stone industry has to offer, and this year is no exception.
The Judges were impressed to see that the industry appears as strong as ever despite the adversity it has gone through. The project entries came from all parts of the UK and showcased excellent uses of natural stone across the different sectors of the industry.
The Awards Judges, a mix of renowned architects and stone industry professionals, were joined this year by four guest Judges, all experts within their respective fields who helped create an even stronger panel.
The Judges were pleased to see that, in most entries, alongside an innovative design approach and creative use of the material was a good demonstration of the fundamentals of best practice. They also noted the increased awareness of inclusivity and accessibility in designs.
However, there were, unfortunately, still projects where correct stone selection and basic design principles had not been followed, resulting in potentially impressive projects missing the mark.
The number of projects featuring a mixture of traditional stonemasonry and CNC machinery is a good example of the intelligent approach taken by the sector in embracing innovation while maintaining the skills that form the bedrock of this industry.
As specifiers become increasingly aware that a 'business as usual' approach to the carbon impacts of construction is no longer an option, there is a fresh drive to consider and reduce the whole-life carbon impact of a building, either through retrofitting or using a lower carbon material such as natural stone.
It has been encouraging to see the number of projects utilising the UK's indigenous stones, which sits alongside the ongoing efforts by bodies such as Historic England to see our historic, smaller quarries given the support required to extract these historically significant materials for use in modern day restoration.
I would like to congratulate all those involved with successful projects for their part in the creation of these truly stunning natural stone projects.
Jane Buxey, Chief Executive,
Stone Federation Great Britain.
Video of the Natural Stone Award presentations in December 2023.