Thanks to greater collaboration, the care of older buildings is being kept firmly on the agenda
The National Federation of Builders (NFB), formed in 1896, defines heritage and traditional buildings as "those built in or before 1919. These may include buildings that are listed, those in conservation zones and scheduled monuments". This means that approximately 25% of buildings in the UK fall into this category. But in order to best maintain and conserve them, we are reliant on certain skills.
In early September, the NFB held its Heritage and Traditional Build Conference where a host of speakers explored how to ensure that future generations will still be able to enjoy the buildings that are part of our landscape today.
Last November, the All-Party Parliamentary Group on Conservation, Places & People published its first report, entitled The Value of Heritage, with contributions from organisations including Historic England, that revealed not just what we can do for heritage and what it can do for us. In fact, the report revealed that "Works on historic buildings in England alone generate £7.1bn per year in construction sector output."
In addition, it explored how heritage can play a crucial role when it comes to reducing emissions in the construction sector as the UK works toward its 2050 net zero commitment. An almost make-do-and-mend ethos of reusing and retrofit are key themes in order to avoid the need to release embodied carbon in the production of creating new building materials.
With more than 200 independent heritage organisation members, The Heritage Alliance is England's largest coalition of heritage interests and its chief executive Lizzie Glitheroe-West (who contributed to The Value of Heritage) talked conference attendees through The Heritage Manifesto. The manifesto calls on political powers to take action to realise the power of heritage in the following ways:
Support community cohesion and put heritage at the heart of regeneration
Embed the historic environment in nature recovery and net zero strategies
Reform the tax regime to promote long-term sustainable growth
Harness cultural learning and skills at every age and help the workforce
Futureproof heritage institutions at both a national and a local level.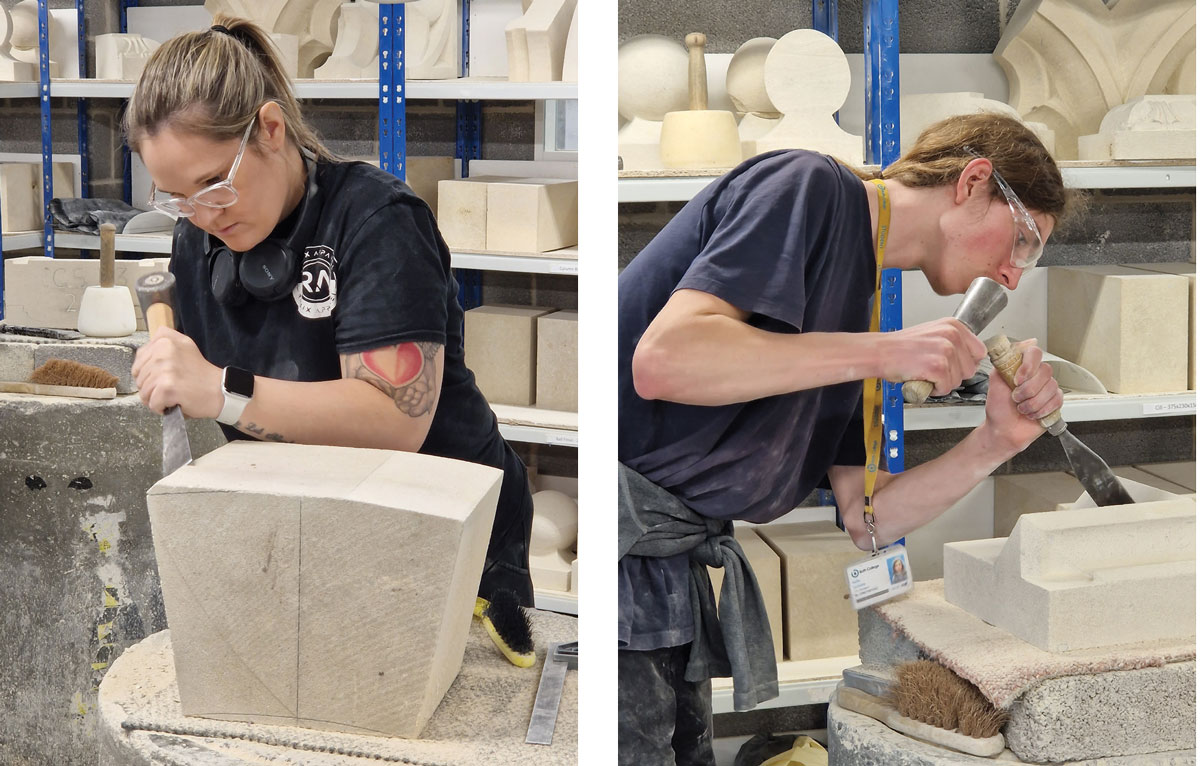 Training then is paramount if we are to encourage people to enter careers where heritage plays a key role. The Natural Stone Industry Training Group (NSITG) places its focus on being a principal source of information about careers, training, development and skills in the natural stone industry. Led by Claire Wallbridge (who also spoke at the conference), its work is sponsored by the Construction Industry Training Board (CITB) and, being so intrinsically linked to the construction industry allows it to have greater influence across the sector.
As part of her presentation, Claire explained "that everyone within the built environment sector has a role to play in keeping heritage skills alive". Currently, there are only four colleges in England offering stonemasonry courses – Building Crafts College, London; York College; Bath College; Moulton College – and NSITG works closely with each.
Claire believes that collaborative work across organisations is essential and will promote the industry as a rewarding career opportunity, with many individuals within the stone industry welcoming the opportunity to share their own experiences with new talent.
James Butcher, director of policy at NFB, says: "One of the biggest misconceptions with heritage and traditional building work is that it is a closed shop, or only for those who have been in the sector for decades. While it is true that our heritage workforce is aging, the reality is that with the range of trades and skillsets needed there is a place and an opportunity for those at the start of their career to explore their passion in heritage work. Most of the specialists I have ever spoken to would love nothing more than to pass their knowledge and craft onto the next generation".

Enabling those who work with or indeed live in heritage buildings to be able to tackle issues with confidence is the Society for the Protection of Ancient Buildings (SPAB). Founded in 1887 by William Morris it is one of six National Amenity Societies as directed by the Secretary of State and must be notified by Local Planning Authorities (LPAs) of all applications that involve the total or partial demolition of a listed building.
It has a membership of more than 7,000 and offers an extensive database of skilled contractors in as part of its Advice Line, which is open to anyone who is looking for guidance. Its website is a comprehensive resource, too featuring advice that spans everything from alterations and extensions to planning and legislation.
Douglas Kent, head of technical and research at SPAB, reveals that one of the main issues affecting pre-1919 buildings is damp. "Older buildings need to breathe and breathable materials like lime mortar rather than modern mortars can be more flexible, accommodating seasonal movements. Lime can also self-heal to a certain degree whereas cement can crack when it becomes brittle."
The use of traditional techniques however, doesn't just benefit older buildings, it can be used to create better, longer-living buildings today – and with so many organisations highlighting the importance of heritage, there's every reason to be optimistic.