Industry experts are looking for better ways to build - creating beautiful residential properties that will stand the test of time
Sustainability isn't a new thing. It's just we hear the word a lot more.
As our columnist Robert Merry explains [in the September/October 2023 issue], our ancestors were building sustainably for years. They created stone masterpieces that have survived wars, global disasters, plagues and much more.
But at the time, it's likely they were just using the materials they could lay their hands on – the gifts that Mother Nature had bestowed on them. Given, there was a lot of physical effort required, but they did it, and what they built was made to last – even if they didn't know it would outlive them.
Somewhere along the way though, humans got greedy. They wanted materials that were cheaper, easier to produce and for the most part, uniform and linear – reinforced concrete and steel arrived in the 19th century and stone took a back seat being primarily used as an embellishment rather than a structural material.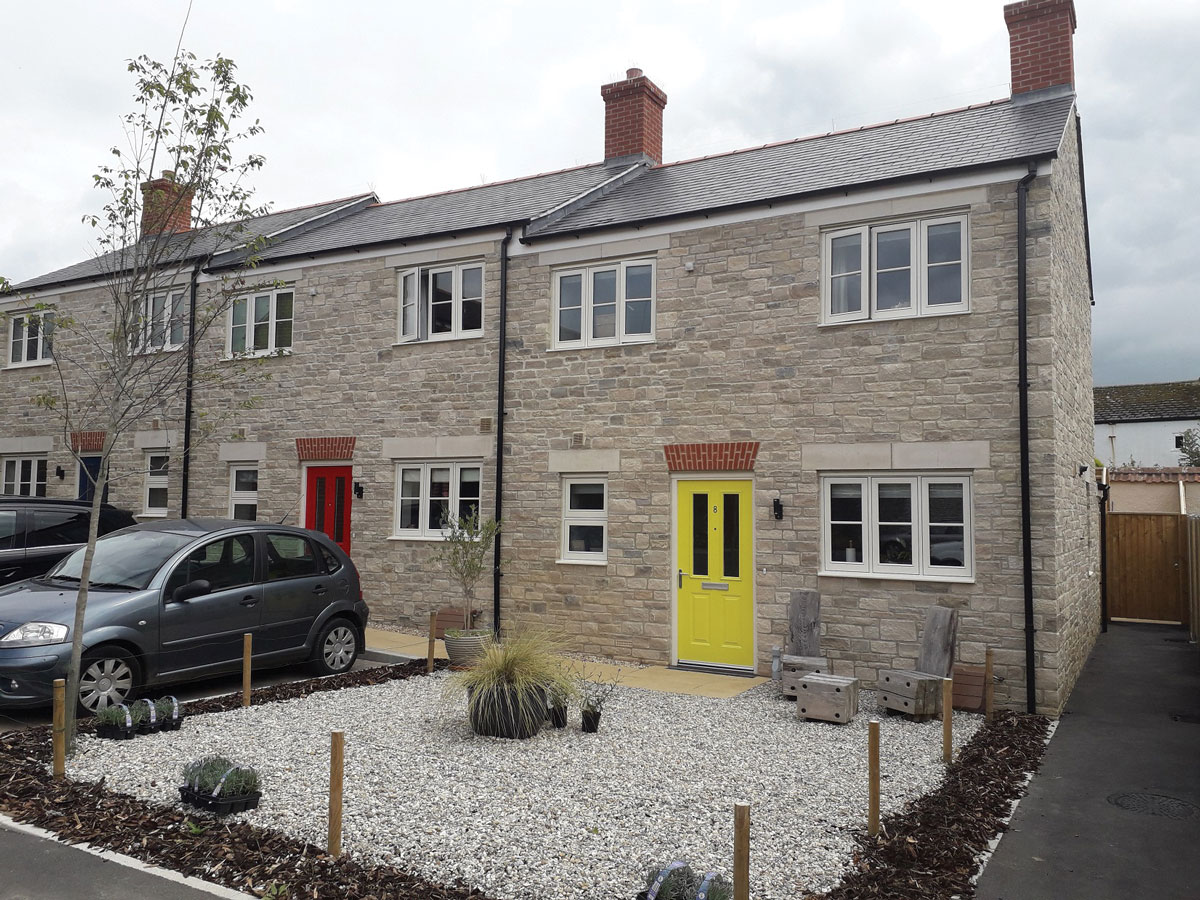 Everything however is cyclical and while we'd rather confine some fashions to the back of the proverbial wardrobe – the use of stone (as opposed to brick) as a construction material is firmly back on the agenda as a more environmentally-friendly resource. But it's not without its challenges.
Clay bricks are estimated to be worth around £8bn to the UK economy each year with an estimated 2bn bricks being sold in the same period, according to Amin Taha, of Groupworks who has collaborated with the Design Museum on its Building a Low Carbon Home exhibition. He believes that there's a reason why clay bricks (which he says involve 97% more CO2 than stone) are still being seen as the default for construction across the board.
"This happens because we get into habits and don't bother asking for an alternative. Stone bricks is one quarry and some cutting. [You're] looking at five quarries needed for making bricks and that's before the process and baking even starts, so it doesn't include gas, oil or coal extraction for the ovens," Amin said.
So is it the cost of stone bricks that is prohibitive when it comes to building houses? Amin: "We asked a stone quarry to cut brick dimensioned blocks and let us know the price", he adds. "It's the same price as brick. Why aren't they selling to housebuilders? I didn't know that we could, came back the answer!"
Some companies are starting to introduce clay brick alternatives. Earlier this year, Albion Stone launched its own range of Heritage Portland Stone bricks.
Amin is clearly not afraid to ask difficult questions and believes that "if we replace 100% of the 2bn bricks sold every year then the UK alone will be saving the same CO2 emissions as 83 countries round the globe each emit as an annual total".
But it's not too late. There are some exceptional residential properties being built that utilise the beauty and durability of natural stone. Changemakers including Amin Taha and his collaborators, engineer Steve Webb and Pierre Bidaud of the Stonemasonry Company, are raising the profile of stone not just within the industry but in the wider world. Just last month, the three contributed to a feature in the Guardian entitled Back to the Stone Age that celebrated the unique qualities of natural stone.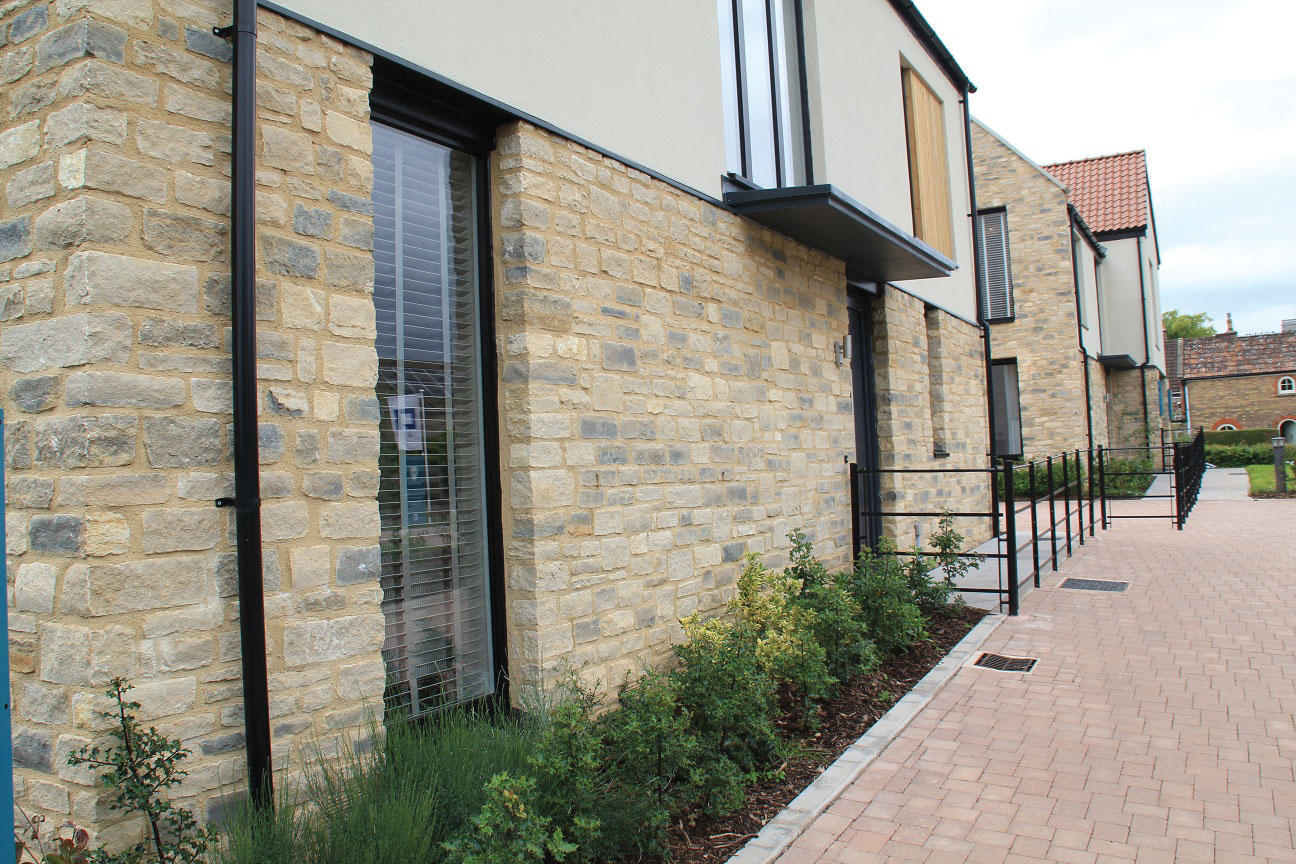 Lovell Stone Group operate quarries across the country including Lovell Purbeck, Hartham Park Bath Stone, Chicksgrove and Chilmark, Somerset Lias, Hurdcott Greenstone and Forest of Dean Stone Firms. Established in 2009, stone for housing is the volume side of the business and the company deal with home builders (including individuals) and housing developers.
Geoff Poole, sales manager for Lovell Stone Group, explains that Wiltshire Ragstone is one of the most popular stones: "It travels well – we've done jobs from Devon to Gloucestershire with it and it's been a great product for us. It's a neutral stone, full of shells with a bit of buff and when used properly, it looks like it's been there for a while. Changing mortar can change stone colour."
Wiltshire Ragstone can be supplied as guillotine cut or sawn, split and tumbled and is often chosen for use in the Bath and North-East Somerset area as it isn't considered too dissimilar from the original stone used there.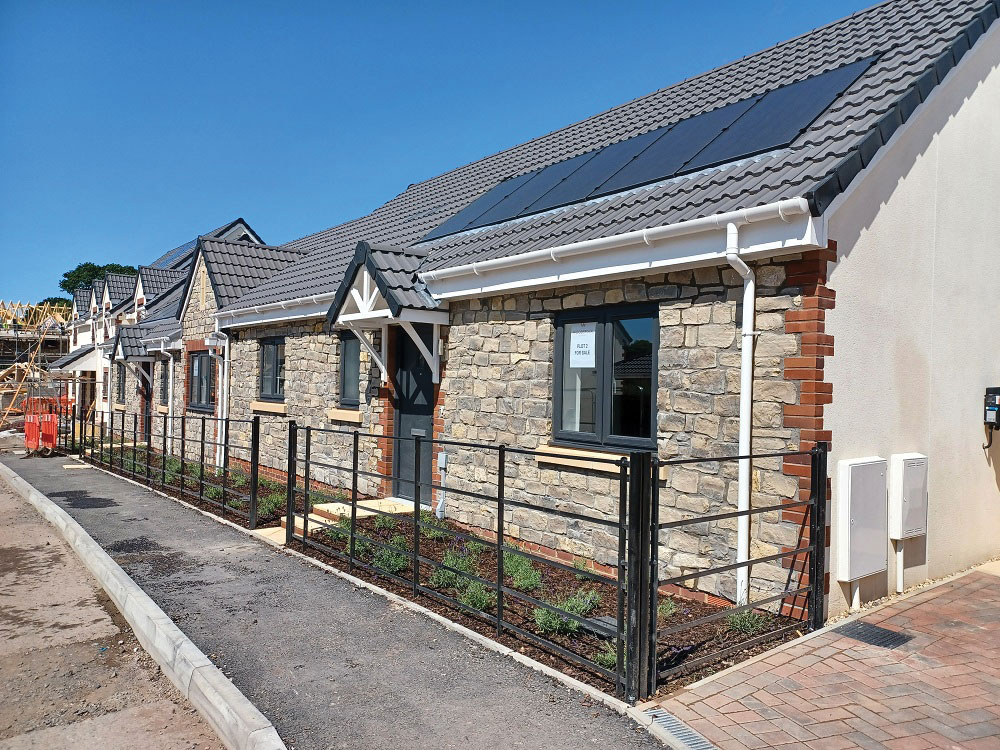 Stone blends have proved particularly successful with the company responding directly to feedback from its clients. "We developed different blends including the Langton Grey Blend that combines a mix of three grey Purbeck beds from Langton Matravers. We found that it makes the stone go further – why just sell one when we can blend beds together at our quarry? It all comes out of the same hole in the ground so naturally works together," said Geoff.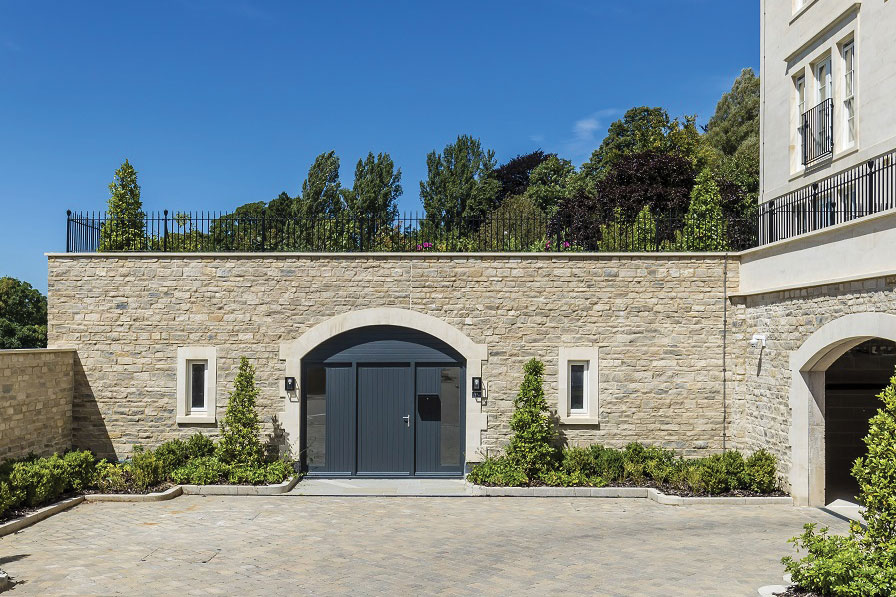 The company has worked on various large-scale residential projects including a 60-home development on Duchy of Cornwall land in Somerset using its Royal Blue Purbeck building stone, a 54-home development of a Grade II-listed building in Bath (Hartham Park Bath Stone block and Purbeck White Buff) and smaller developments such as the creation of modern terraced houses in Bridport using Purbeck White Buff.
Traditional Stone in Horbury Bridge stocks stone that comes from UK quarries and demolition sites in addition to imported products from across the world. Customers include construction companies, landscape contractors, house builders, civil engineers, monumental masons and specialist stone fixers. Reclaimed stone accounts for around 50% of the business.
Emma Taylor, sales and marketing executive at Traditional Stone said: "Using reclaimed stone reduces the demand for new quarrying and extraction, and helps divert waste from landfills. Instead of discarding stone materials, they are salvaged, redressed, and prepared for reuse.
"Reclaimed stone often comes from older structures, which may hold historical or cultural significance. By repurposing this stone, we preserve a piece of history and maintain the character of the original structure. This practice helps to conserve cultural heritage and fosters a sense of connection to the past.
"The natural variations in reclaimed stone give it a unique and authentic appeal and offer distinctive charm and character. By choosing reclaimed stone, you can add a touch of individuality and timeless beauty to your project while embracing sustainable design principles."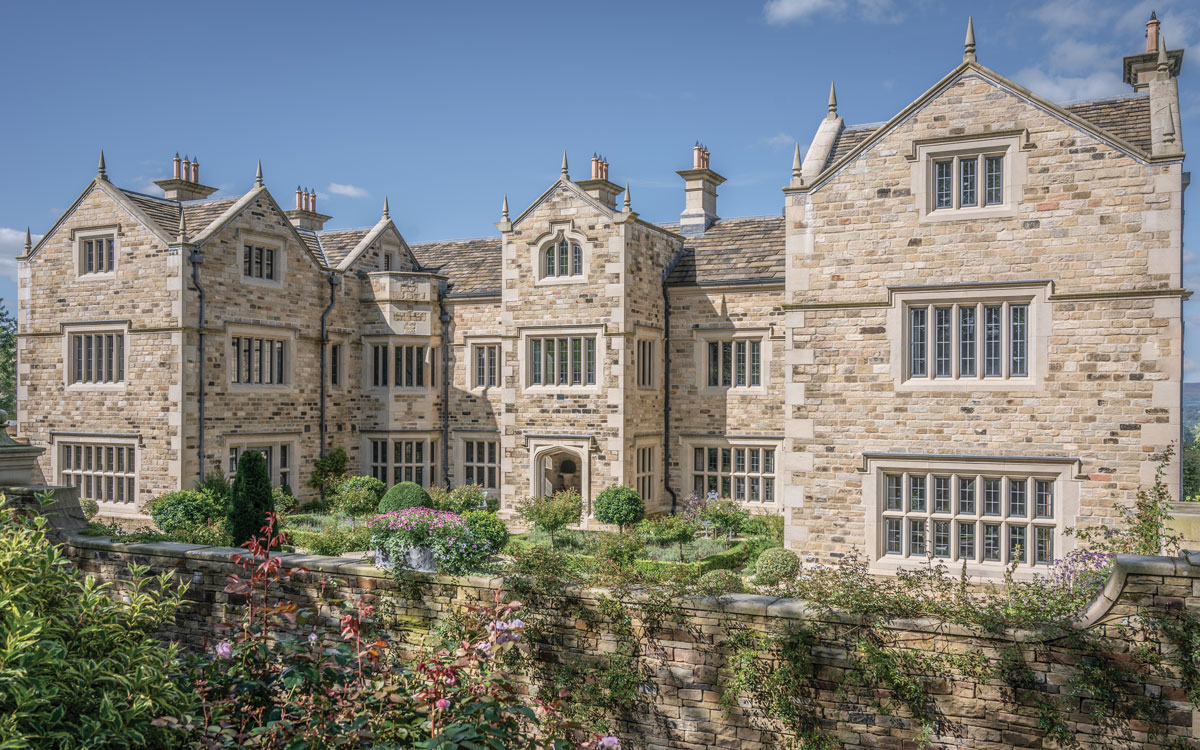 One of the largest and most impressive residential projects Traditional Stone has undertaken was constructing the shell of a new three-storey Jacobean-style mansion in Lancashire using coursed reclaimed punched faced walling, Arden Gritstone, Reclaimed Yorkstone Roofing, Reclaimed Granite Setts for the driveway and Flame Textured Yorkstone Paving for all other external landscaping.
With many years of experience between them, the team was also able to take on a bespoke housing development in Cleckheaton. The developer asked for the houses to blend into the vernacular and appear as if 'they had always been there'. The result was achieved using Horbury Punched Face walling, sandstone masonry, natural sandstone roofing and blue slate, sandstone plank paving and dry-stone walling.
The brief was that each property has its own unique character and, as such, different materials were used on each, ranging from weathered natural sandstone on one roof and blue slate on the remaining properties.
Clay bricks will continue to be manufactured and used but when future generations are looking for homes, we have every reason to believe that what we build from stone today will still be standing long after we have gone.
The Low Carbon Home exhibition runs at the Design Museum, London until March 2024. For more information see designmuseum.org