Forget minimalism and think maximalism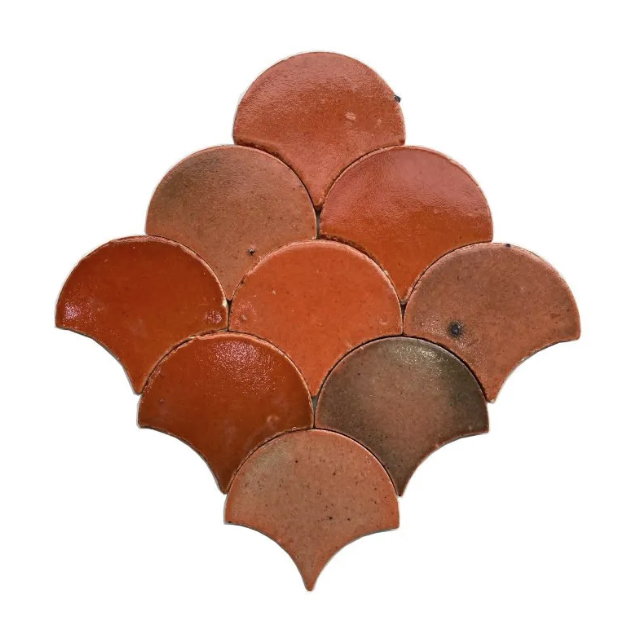 In my previous blog I wrote about the prominence of wallpaper-effects in XXXL formats up to 1,800mm by 3,600mm. These digitally-decorated porcelain panels are the logical end-point for continuous pressing technology and non-impact printing.
But they were not the only trend exhibited at Cersaie in Italy this year. These decorative monsters competed for stand space with small format tiles that harked back to the days when England led the world in double-fired, glazed wall tile production. 
Now it is leading European tile manufacturers that are using cutting-edge, 21st century production technology to reproduce the hand-made, authentic artisanal imperfections and glaze effects that Stoke-on-Trent tile makers couldn't avoid.
The allure of shabby chic and the Japanese art of perfect imperfection (wabi sabi) has seen tile designers turn back the clock to ideas that first saw the light of day centuries ago and reached their commercial zenith in the 1970s and '80s. 
The avocado bathroom suite seemed to be a design aberration firmly consigned to the dustbin of history – and with good reason, some would say. The tile sector felt much the same about the avocado suite's partner in aesthetic crime, the Provençal tile.
But the dustbin of history has turned out to be a recycling bin.
Avocado suites were proudly on display at Cersaie in Bologna this year. And the Provençal tile is enjoying a new lease of life alongside fish-scale tiles, convex and concave listelli, chevrons, triangles, hexagons, tear drops, and various other small, interlocking, unusually shaped wall and floor tiles.
This trend has been spurred on by the prolific use of metro tiles.
A long-established mainstay in the ceramics industry, the metro has moved from subway stations to the home. Now, in a fresh design twist, different shaped small formats have replaced these classic rectangles.
At Cersaie, specialist producers such as Decocer, Harmony, Keros, Codicer 95, Monopole, Equipe, Wow, CeViCa and Realonda displayed a striking array of shapes, colours, and patterns that take 'maximalism' to its outer limits. This is something I intend to explore during the Hard Surfaces exhibition co-locating with the Natural Stone Show at ExCeL London in June next year.
Significantly larger than a classic mosaic, these new versions of small format tiles (up to 150mm) can be used in creative ways. They can break up the uniformity of space, decorating large walls in a mix-and-match form, providing colourful, tonally diverse landscapes.
Decorative accents are being freely combined with a variety of surface textures. They can be mixed with large format tiles to add colour and intrigue, or they can act as a barrier between paint and wood.
Smaller format tiles can smooth out uneven walls or minimise the impact of irregular angles in unusually shaped rooms. In compact spaces they can help make a room appear larger, stretching the space with their profusion of grout lines, whether they form a feature or the bulk of the surfaces. 
These small format tiles can also be used to reference specific architectural periods and movements – Arts & Crafts, Art Deco and Mid-Century Modern still exert a significant influence.
From bar fronts to splashbacks, bathroom niches to hotel receptions, feature walls to whole room décor, designers are rediscovering tile's ability to define a space while also addressing today's obsession with wipe-clean, hygienic surfaces.
Small format tiles might be at the opposite end of the ceramic product spectrum to large format porcelains, but small formats are proving just as relevant to modern architects and interior designers.