CHARGEHAND STONEMASON – ALLOA, SCOTLAND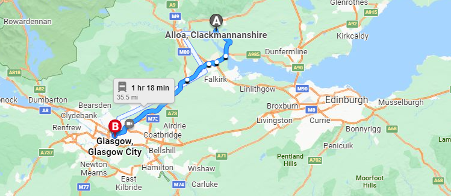 As the global leader in commemoration with over 12,000 sites in the UK, Ireland, Gibraltar, Scandinavia, Iceland, and the Faroe Islands, the Commonwealth War Graves Commission are dedicated to ensuring the memory of those members of the Commonwealth forces who died during the two World Wars will never be forgotten. 
We take a conservation-based and sustainable approach to maintaining our sites and conserving our heritage estate; maintenance work and repairs are performed by our own in-house specialists. We are excited to offer this opportunity for an experienced Chargehand Stonemason to lead a small team carrying out structural maintenance of the war graves and memorials in our care, mostly across the central belt of Scotland, in the Alloa, Glasgow and Edinburgh areas, however the team you will be leading are responsible for the maintenance of all our site across Scotland and Northern England. There will also be opportunities to work with the wider works team across the whole of the United Kingdom and Northern Area.
Strong, fair and effective leadership is important in this role and there may be times where you must provide immediate solutions to problems, so the ability to analyse and resolve situations quickly is essential. As a natural leader you will be approachable, confident, and resilient, with the ability to positively influence at all levels and set standards of performance and behavior at work. 
This is a mobile role with lots of travel. Most of the time you will be working alone or as part of a small team. You will have use of a van, so it is essential you are able to park it overnight at your address or a secure parking area. The role is practical, hands-on and requires a decent level of physical fitness. There will be occasions that you are expected to stay overnight (occasionally this could be up to 4 nights a week), and costs will be covered.
Everyone who works for us, or with us, shares our Values, which are formed around our concept of CARE (Commitment, Ambition, Respect and Excellence). We are proud and committed to ensuring we bring this to life every day, for ourselves, each other and those who lost their lives. 
You will be able to demonstrate:
NVQ level 2 or equivalent level qualification in Stonemasonry 
Good computer literacy using Microsoft Office, including Word, Excel and Outlook
A reasonable knowledge of general building practices 
Current NAMM and BRAMM Licences
Abrasive Wheels Certificate
PASMA Mobile tower scaffolding Certificate
Significant practical experience in Stonemasonry
Good experience in the use of chisel and letter cutting 
High-quality handling and repairing of stone structures
Strong leadership skills with ability to build and maintain positive and strong working relationships
Team leadership and people management 
Dealing effectively with external contractors and suppliers
What We Offer:
Generous pension scheme with employer contributions up to 15%
Training and development opportunities
A generous holiday allocation of 25 days per year
Paid time off for all the public and bank holidays & paid closure between Christmas and New Year. To compensate for working additional hours over the course of a year, there are an additional 7 paid non-working days at Christmas.
Life Assurance of up to 6 x salary
Employee Benefits: 24-hour wellbeing helpline, Discount Scheme, Cycle to Work Scheme
Workwear, PPE, van and tools and equipment
How to Apply:
Send your CV and application form to [email protected]. Visit Careers | CWGC for more details about the role and a downloadable copy of the application form.
Applications close: Friday 21 July 2023
First interviews: Will be held on Microsoft Teams
Second interviews: Will be held in person at Alloa, Scotland
We value the differences that a diverse workforce brings and are committed to creating a respectful work environment where everyone is treated with dignity and respect and where any unlawful and/or unfair discrimination is eliminated. We will not unlawfully discriminate directly or indirectly in recruitment or employment on grounds of sex, gender reassignment, pregnancy, race, colour, nationality, ethnic or national origins, age, sexual orientation or marital status, religion or belief.
 
Salary
Up to £36,766 per annum, depending on skills and experience.
Posted Date
Mon 26 Jun 2023
Closing Date
Fri 21 Jul 2023