Natural Stone Memorials
The latest news from the Stone Industry
Despite the Coronavirus restrictions that have put Burial Authorities under increased pressure this year, with many Cemetery Managers working from home, the Cemetery of the Year Awards received more...
Architect Liam O'Connor and stonemasons S McConnell & Sons, who worked together on the Armed Forces Memorial at the National Memorial Arboretum and the Bomber Command Memorial in Green...
Carrie Horwood of Cat's Eye Carving in Lydney, Gloucestershire, has resumed work on a commission for a First & Second World War memorial that had been delayed by the coronavirus lockdown....
You have to feel sorry for Ian Credland of Draper Memorials in Lincolnshire. He does a lot of work for the RAF, as he has done since 1974. In June he was asked to re-word the memorial to a dog owned...
The UK's long-term lower mortality rate has not been great news for memorial masons but nobody wanted it to end like this.When the number of people dying weekly is more than twice what would...
Here's an interesting case of a memorial headstone decay posted on Twitter by someone who calls themselves graveyarddetective. The answer to what has caused it is kindly supplied by the...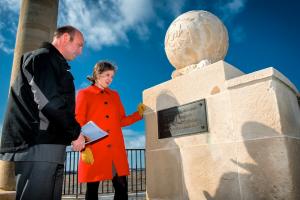 Jon Gedling, the Commonwealth War Graves Commission Director of Works, and Marie Smallwood, Historic England's Development Advice Team Leader for the North West, at the Grade II listed Merchant Navy War Memorial on Liverpool Docks, which has been restored. The CWGC's approach to conservation has been formally recognised in a new agreement with Historic England.
Historic England and the Commonwealth War Graves Commission (CWGC) have renewed a joint commitment to care for England's commemorative heritage, mostly recorded in stone.Historic England and...
This year's Cemetery of the Year Award winners were announced at the Institute of Cemetery & Crematorium Management (ICCM) Learning Convention & Exhibition at the Chesford Grange Hotel,...
Following the Ministry of Defence (MoD) presentation at NAMM Tradex inviting tenders for the supply of stone memorials, it has now advertised its requirements for Karin Granite Memorials and...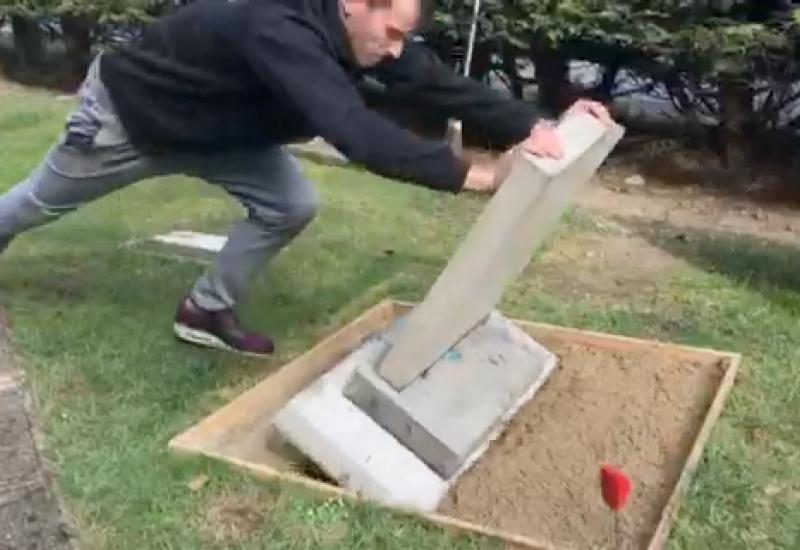 StoneSafe proprietor Anton Matthews maintains there is an error in the new British Standard for memorials (BS 8415) and has made a video showing how easy it is to push a memorial over when what he believes are the correct test conditions are used. The video (below) begins with two people trying to pull 150kg on The Blast Shop Stand at the NAMM Tradex exhibition this year. They could not do it.
The British Standard for lawn memorials, BS 8415, was reviewed and amended last year. Among the changes were the requirements for testing memorial safety systems that stop headstones from falling...
A new World War I memorial in Nottingham with 13,501 names cut by laser into its Cwt-y-Bugail Welsh slate (supplied by Berwyn) was unveiled yesterday (28 June) by HRH The Duke of Kent supported...
The Commonwealth War Graves Commission (CWGC) has opened its first, specially built visitor centre in Beaurains, France, just an hour's drive from the channel ports. See the CWGC video...
The NAMM Tradex exhibition for memorial masons is back at Warwickshire Exhibition Centre near Leamington Spa on 20 & 21 June. The UK's memorial wholesalers say they have decided to take a...
David Francis was a hands-on mason who specialised for many years on the memorial side of the stone industry. If you have an issue regarding memorial masonry, David is happy to help. In the...
NAMM is offering to re-test at no charge ground anchor memorial fixing systems it has already approved.The need for them to be re-tested is a result of the clarification of the testing method to be...
Pages