Natural / Engineered Stone Company News
The latest news from the Stone Industry
Toffolo Stirling says the latest technology allows it to be old fashion where it matters – in personal relationships with customers.Scottish stone specialist Toffolo Stirling uses Alphacam...
Nick Williams, Managing Director of Strata, the UK arm of Indian stone company Stone Age Private Ltd until the coronavirus pandemic hit, and before that a Director of Burlington, has started his own...
Neo Granite, which last year doubled its production area by extending into a unit adjoining its factory in West Bromwich, Birmingham, has bought two kitchen worktop companies in the South of England....
Cosentino has launched a new formulation of its Silestone quartz in order to reduce its crystalline silica content. In the future all Silestone will be made this way. There has been a lot in the...
Solid surfaces company Hi-Macs has added three new colours (Cotton Field, Windy Hill and Highland) to the three existing colours (Santa Ana, Tambora and Gemini) in its Granite collection of the...
Hard landscaping leaders Marshalls published half-year results today (15 September) showing a 25% fall in reveue to the end of June compared with the first half of 2019. However, the company...
Plus two new British sandstones and new finishes on Indian sandstones Hard landscaping leader Marshalls has partnered with Tarmac to introduce a range of bedding and jointing...
Neolith sintered stone has marked the launch of its new 'Six-S' range of surfaces with a campaign to give 1kg of food to food banks for every 1kg of the surfaces sold. For the Six-S...
Quartz company Caesarstone has entered the global porcelain worktop market with an agreement to purchase a majority share of Indian manufacturer Lioli Ceramica. Caesarstone says the move is a...
TV presenter and environmentalist 
Ben Fogle has updated his kitchen with Cosentino's Silestone quartz worktops. Ben Fogle is best known for his appearances on BBC, ITV, Channel 5 and...
Ranil Jayawardena, who was appointed Minister for International Trade in May and is the MP for North East Hampshire, dropped in on stone specialists stoneCIRCLE this week. Steve Vanhinsbergh is...
This is the latest addition to Italian stone supplier Antolini's Textures+ collection, which has patterns cut into the face of natural stone slabs. This one is called Flexwave, on one of the...
When quartz started to really boom as a kitchen worktop at the turn of the millennium nine times out of ten what people choose was black, albeit with mirror chips in it to make it star galaxy. Then...
Amastone.com, the e-commerce website specialising in tools and equipment for the stone industry, already receives more orders from the UK than from any market outside Italy. Now it is upping its...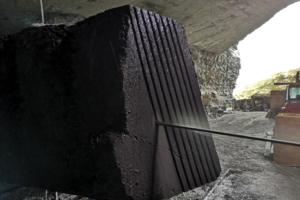 A block of Valentia Slate being sawn with a wire for architectural use. An added emphasis is being put on architectural uses of the slate as the new owner aims to re-cultivate the slate's historical market in the UK and obtain an Environmental Product Declaration to facilitate its use in green and low carbon buildings throughout Europe.
Valentia slate from Ireland was used by Pugin for the floors of the Houses of Parliament when he rebuilt them after a fire in 1834. It has been used for the repair of those floors since 2004. The...
Pages