Natural / Engineered Stone Company News
The latest news from the Stone Industry
by Mark Atkins, Technical Director of LTP, the British made, environmentally friendly stone & tile cleaning, sealing & maintenance products. The popularity of stone-effect porcelain...
The executive team and board of directors of Marshalls have agreed to take a 20% pay-cut to contribute to the long-term sustainability of the business. At the end of March the company put some...
Marshalls has decided to make it easier to choose low carbon, environmentally friendly British stone. Director Dave Stanger talks about this and other developments at the market-leading company...
New for 2020 from CTD Architectural Tiles are four leisure pool collections, adding to its growing portfolio.CTD Architectural Tiles is part of the Saint-Gobain family. It specialises in ceramic and...
Possibly the only place Collyweston slate roofing has been used outside of the UK is on a mansion in New York's Long Island called Westbury House.And about 55 more roofing squares of it (around...
After a career in information technology Andy Phillips wanted to make something tangible. Stone worktops filled the bill nicely. Andy Phillips has not entirely left his first career in computers...
Abingdon Stone & Marble has completed a renovation project at the prestigious Hatherop Castle School in the Cotswolds that included restoration of exterior mullions and transoms finished by using...
The Proliner played an essential role in a countertop project for the Michelin-starred restaurant Pétrus in London.Classico Marble in Langley, Berkshire, is a family owned stone fabricator that...
Simon and James Hart of Lovell Stone Group, operating five quarries in the South of England, have started a new company called Belvedere Stone to sell imported stones as flooring and paving.Managing...
Client: HarrodsDesigner: GA GroupContractor: JaysamStone Contractor: stoneCIRCLEFollowing a commission to supply and install a marble staircase for the Fine Watch Room at London's world famous...
Stone hard landscaping specialist CED Stone Group's North American arm has won a prestigious Natural Stone Institute Pinnacle Award in the Public Landscapes/Parks/Memorials category for the...
Three ornamental pillars crafted of Peterhead granite from Aberdeen by stonemasonry company Fyfe Glenrock have gone across the Atlantic to be used in the restoration of the historic building of The...
Stone wholesaler Nile Trading introduces 'The Top' from Marazzi to the UK.Nile Trading is sole distributor of the large size porcelain stoneware from its headquarters and warehouse in...
Louis Livramento, Director of London stone company Livra, used the Surface Design Show at the Building Design Centre in Islington this mont (February) to introduce his new company, Clay International...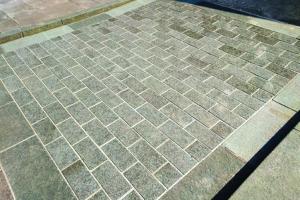 Tradstocks has introduced a range of Whinstone setts. These traditional paving stones are extremely hard and durable, produced with an attractive and slip resistant flame-textured surface.
Hardscape Stone provides all the answers in Birmingham Hardscape was approached to assist in developing proposals for the paving design for Centenary Square, Birmingham. Having provided a...
Pages