Natural / Engineered Stone Company News
The latest news from the Stone Industry
Quartz company Caesarstone has entered the global porcelain worktop market with an agreement to purchase a majority share of Indian manufacturer Lioli Ceramica. Caesarstone says the move is a...
TV presenter and environmentalist 
Ben Fogle has updated his kitchen with Cosentino's Silestone quartz worktops. Ben Fogle is best known for his appearances on BBC, ITV, Channel 5 and...
Ranil Jayawardena, who was appointed Minister for International Trade in May and is the MP for North East Hampshire, dropped in on stone specialists stoneCIRCLE this week. Steve Vanhinsbergh is...
This is the latest addition to Italian stone supplier Antolini's Textures+ collection, which has patterns cut into the face of natural stone slabs. This one is called Flexwave, on one of the...
When quartz started to really boom as a kitchen worktop at the turn of the millennium nine times out of ten what people choose was black, albeit with mirror chips in it to make it star galaxy. Then...
Amastone.com, the e-commerce website specialising in tools and equipment for the stone industry, already receives more orders from the UK than from any market outside Italy. Now it is upping its...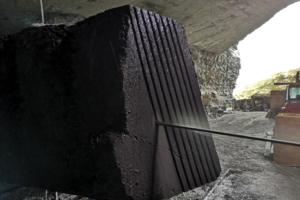 A block of Valentia Slate being sawn with a wire for architectural use. An added emphasis is being put on architectural uses of the slate as the new owner aims to re-cultivate the slate's historical market in the UK and obtain an Environmental Product Declaration to facilitate its use in green and low carbon buildings throughout Europe.
Valentia slate from Ireland was used by Pugin for the floors of the Houses of Parliament when he rebuilt them after a fire in 1834. It has been used for the repair of those floors since 2004. The...
From tomorrow (24 July) it becomes compulsory to wear masks in shops (it already was in Scotland). And it is already compulsory to wear them on public transport. The World Health Organisation also...
Work has drawn to a close on a year-long project to re-clad with a patented system of Welsh slate a listed Georgian dairy that has been re-purposed for the 21st century.The Grade II* listed Cobham...
After two years of surveys, consultations, meetings and discussions, the Bath Stone Group has gained planning permission for a new mine entrance at Hartham Park Bath Stone underground quarry in...
The Coronavirus lock-down forcing the closure of Caesarstone's studio showroom at its headquarters in Enfield, London, did not stop people visiting – but they did it virtually.Jonathan...
Pictured is a computer-generated preview of the new 'Clay International' showroom being opened in London by Louis Livramento of stone specialist Livra in conjunction with the Italian...
Carlos Zanarotti, who, as UK representative of Solancis from Portugal has major large external cladding projects underway in London, Ireland and Jersey, has now also been appointed as UK Sales &...
Colourful self-made park home multi-millionaire Alfie Best has taken over the Marnhull stone quarry at Red Lane in Todber, Dorset. Alfie, the owner of Wyldecrest Parks, says he was aware of the...
The Surface Design Show in London or KBB in Birmingham this year left the visitor in no doubt that porcelain manufacturers have adopted the stone look with large format slabs. That is certainly...
Pages