Natural / Engineered Stone Company News
The latest news from the Stone Industry
The Lettering Arts Trust, the champion of the lettering arts in stone and other media, sees an exhibition of the work of John Skelton open on 13 March at its gallery in Snape Maltings, Suffolk. The...
"We're building our business on solid foundations focussed on adding value to our customers" – Phil Winter, Sales & Marketing Director. Italian Luxury Surfaces has...
One of the UK's leading worktop companies, J Rotherham Masonry Ltd in Yorkshire, has gone into Administration. Howard Smith and David Costley-Wood from KPMG have been appointed joint...
Stone companies will find improvements for waterjet cutting and for sawing surfaces and solids in the 2020.1 release of Alphacam software.You can now create waterjet tools and specify parameters...
Lovell Stone Group, which quarries a number of English limestones including Purbeck and Hartham Park Bath Stone, has set up a company called Belvedere Stone to sell a range of imported stones for...
Wanting to help the animals rescued from the fires raging across Australia, stone company Stoneworx in Ropley, Hampshire, made a Silestone Kangaroo to auction in a local pub in order to raise money...
We are used to ceramics on horizontal surfaces (worktops and patios) but they are also increasingly being used for vertical surfaces (façades). Here are some examples from Shakerley.Shakerley is one...
Returning from another research trip to Europe to meet some of my stone suppliers, I have been thinking about the process of finding the perfect stone for a project.For us, it's a two-sided...
Ben Newman has joined the management team of Cliveden Conservation as Stone Project Manager. He is the company's third SPAB Fellow and an award-winning stonemason,Ben has in-depth practical...
The parish of Bamburgh, Northumberland, is understandably proud of its new war memorial, created in a collaboration between Classic Masonry, based in North Shields, Newcastle, and celebrated stone...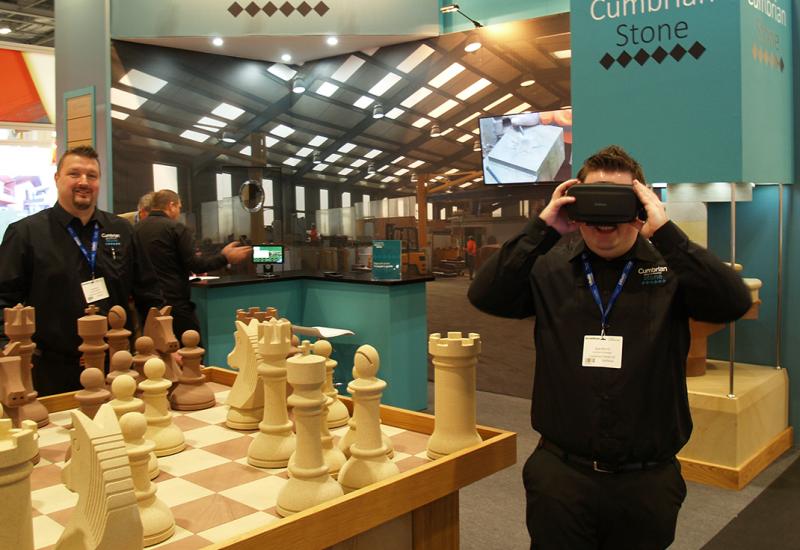 Cumbrian Stone at the Natural Stone Show in London last year. Sam Morris, the company's Sales & Marketing Manager, is trying out the virtual reality headset the company had on its stand to give visitors a virtual tour of its premises. This year Cumbrian Stone is Principal Partner of its local Penrith Show.
Cumbrian Stone, the Penrith-based natural stone manufacturer that exhibited a giant stone chess set and had virtual reality tours of its factory at the Natural Stone Show at ExCeL last year, is this...
In the Scottish borders a country house has undergone a top to bottom renovation, with an Ian Knapper Moleanos limestone staircase connecting the top to the bottom.The renovation project was led by...
Natural stone specialist Fyfe Glenrock, based in Oldmeldrum just outside Aberdeen, has paved the way for the re-opening of Aberdeen Art Gallery by laying Scottish granite paving.Fyfe Glenrock...
Hi-Macs solid surfaces company LG Hausys has expanded its products for exteriors with a new range called Exteria. Following the Grenfell Tower fire in London developers and planners have become...
On the Houzz wesbite, Cosentino has posted '10 Kitchen Trends Sizzling Into 2020'*. It says "Be a step ahead in the style game with these game-changing kitchen trends from those in the...
Pages