Market Intelligence
The latest news from the Stone Industry
A new 68-page report from the Chartered Institute of Building (CIOB) says the construction industry is about twice the size official figures say it is.The assertion is made in The Real Face of...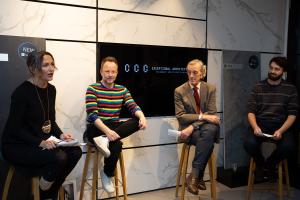 Pictured at the official UK launch of C-Guide in Cosentino City London are (left to right): journalist and writer Anatxu Zabalbeascoa, who hosted the event; Tom Dyckhoff, the British writer, broadcaster and historian on architecture, design and cities; Rafael de la-Hoz Castanys and Jorge Martin Gacia from La Fundación Arquitectura Contemporáne.
There are two websites that are a bit unusual and could make a difference to the stone industry in the UK. One is new. The other was launched in 2009 and is about be relaunched.The one launched in...
As flooding once again hits communities all over the UK it is clear it is a growing problem. Yet sustainable drainage systems (SuDS) tend to be an afterthought in most hard landscaping in England, in...
The Mystery Surfer revisits the websites of the stone industry and is generally impressed, but has some advice on getting noticed. Back in the day I was this magazine's Mystery Surfer. The...
Following the appointment of Administrators at stone company J Rotherham Masonry this month (read more...), 78 of the 200 or so people made redundant have contacted a law firm in the hope of claiming...
The Worktop Fabricators Federation, introduced in Natural Stone Specialist magazine in December, is being launched softly on 17 February and officially at the KBB exhibition at the NEC in Birmingham...
This is a learning and development day for sub-contractors and contractors who want to raise their awareness of construction contracts and run them successfully. It takes place in London on...
NAMM (National Association of memorial Masons) does seem to have more than its fair share of internecine conflict. The latest has stemmed from a three-day industrial tribunal last month (22-24...
Natural stone pavements have tangible benefits. Here's an extract of an architect's viewpoint on using natural stone when designing pavements:The treatment of the surface of streets and...
In response to this column in December about the white marble floor turning yellow I had several emails from marble folk, advice from an eminent geologist and contact from an architect who seems...
Building Information Modelling (BIM) may still be in its infancy but it is already beginning to look out of date as technology continues to evolve. And BIM is only one of the digital technologies...
A contractor calls. They have installed acres of 20mm Bianco P marble in a very large mansion on the top of an expensive hill in London. But the owner is upset. His nice white floor with its classic...
Five worktop fabricators have formed an organisation called the Worktop Fabricators Federation (WFF). They plan to start accepting others from across the UK into membership in the new year, when they...
Ever since tile manufacturers realised they could make porcelain slabs as big as those of stone and quartz they have had an eye on worktops.Stone fabricators paid £500 each to attend a three-...
The Dry Stone Walling Association has once again published a calendar for the coming year featuring dry stone walls from around the country. The calendars are £6.50 each. To buy a copy click...
Pages